Watergate Scandal: Grand Jury Was Ready to Hit Richard Nixon With 4 Criminal Charges, Newly Released Documents Reveal
Court documents unsealed after nearly 45 years show that a federal grand jury in February 1974 was prepared to indict former GOP President Richard Nixon on four criminal counts for his role in the 1970s Watergate scandal that led to his resignation.
The charges, including bribery, conspiracy, obstruction of justice and obstruction of a criminal investigation, would have been for Nixon and his administration's attempt to cover up the break-in and wiretapping of the Democratic National Committee headquarters at The Watergate Hotel in D.C.
Five men were arrested on June 17, 1972, for their involvement in the matter. The men attempted to photograph DNC documents and wiretap DNC officials' phones, potentially sabotaging the Democrats' chances at unseating Nixon in the upcoming 1972 presidential election.
The draft of the indictment from a Washington grand jury stated that "from on or about March 21, 1973…Richard M. Nixon unlawfully, willfully and knowingly did combine, conspire, confederate and agree together and with co-conspirators…to commit bribery…obstruct justice…and obstruct a criminal investigation."
It further added that Nixon met with John Dean, Nixon's White House counsel, and Harry Haldeman, Nixon's chief of staff, on or about March 21, 1973, in the White House and "instructed" them to pay approximately $120,000 to E. Howard Hunt Jr., a former CIA agent and organizer of the Watergate break-in. Hunt Jr. had made the initial demand for $120,000 for his role in the break-in of the DNC headquarters, according to the draft indictment.
That same day, March 21, 1973, Hunt Jr. received approximately $75,000 in cash from Nixon messengers to influence his testimony to criminal investigators, according to the draft indictment. The following day, Nixon aides told the president that Hunt Jr.'s "money problem had been taken care of."
Despite the ongoing investigation and a bombshell report from Washington Post journalists Bob Woodward and Carl Berstein that said the FBI believed Nixon aides were responsible for the Watergate break-in, Nixon won re-election in 1972 against Democratic Senator George McGovern of South Dakota.
Facing three articles of impeachment in the House, Nixon announced his resignation during a live TV and radio broadcast from the Oval Office on the evening of August 8, 1974.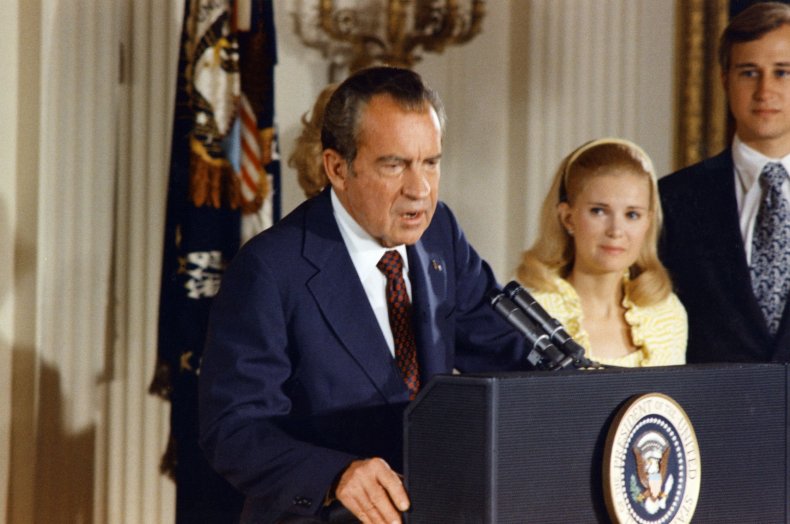 "From the discussions I have had with Congressional and other leaders, I have concluded that because of the Watergate matter I might not have the support of the Congress that I would consider necessary to back the very difficult decisions and carry out the duties of this office in the way the interests of the Nation would require," Nixon said. "To leave office before my term is completed is abhorrent to every instinct in my body. But as President, I must put the interest of America first. America needs a full-time President and a full-time Congress, particularly at this time with problems we face at home and abroad."
Nixon went on, saying: "To continue to fight through the months ahead for my personal vindication would almost totally absorb the time and attention of both the President and the Congress in a period when our entire focus should be on the great issues of peace abroad and prosperity without inflation at home."
"Therefore," Nixon said, "I shall resign the Presidency effective at noon tomorrow."
Vice President Gerald Ford was sworn in the next day on August 9, 1974, as the 38th president of the United States.
Several former aides and associates of Nixon's served months or years in prison for their roles in the scandal.