Grand Jury Indicts Police Officer Ray Tensing for Shooting Death of Samuel Dubose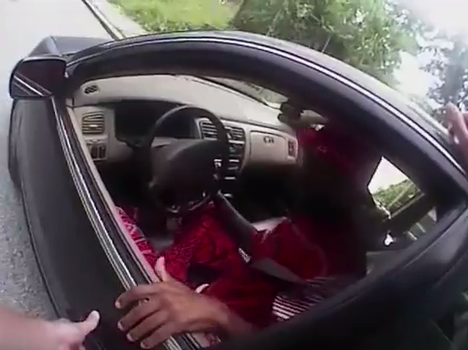 Updated | A grand jury in Ohio on Wednesday indicted a university police officer on murder charges for the killing of Samuel Dubose earlier this month, Hamilton County Prosecutor Joseph Deters told reporters.
Ray Tensing, a 25-year-old University of Cincinnati cop who is white, fatally shot 43-year-old Dubose, an African-American, in the head on July 19 during a routine traffic stop for missing his front license plate. After reviewing evidence earlier this week, a Hamilton County grand jury decided to indict him on murder and voluntary manslaughter charges.
At the family's request, city officials released footage from Tensing's body camera, which he was wearing at the time of the incident. The video appears to show that Dubose was shot to death by Tensing after a relatively calm exchange between the two men. No violence or physical altercation is shown.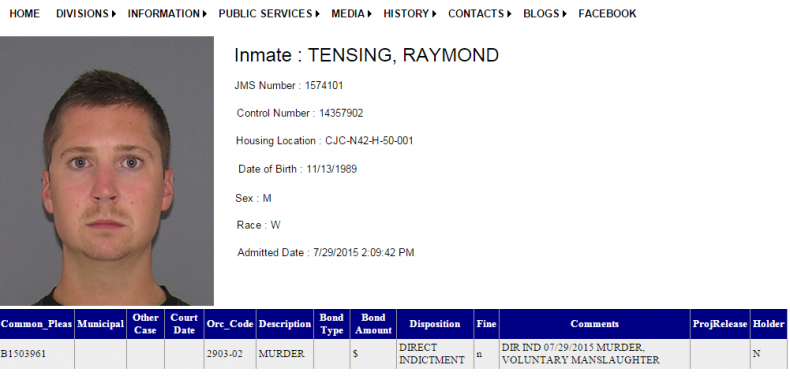 At one point in the video, Tensing asks Dubose for his driver's license, to which the man responds, "I have a license. You can run my name." Dubose questions why he was stopped, and says he doesn't think he has his license with him.
"Be straight up with me, are you suspended?" Tensing asks. He questions where Dubose lives. The man answers, and Tensing says: "Well, until I can figure out if you have a license or not, go ahead and take your seatbelt off for me."
"I didn't even do nothing," Dubose says. Tensing appears to put his hand on the door handle, then fires a single bullet. Tensing falls to the ground as the car begins to roll on the street. The officer chases after the vehicle and finds it stopped at a corner before the video ends.
In a police report, Tensing previously said he was dragged by Dubose's car and forced to shoot after he stopped the motorist.
"You can't look at that video and say that that police report follows the video. It doesn't. It contradicts it," said Mark O'Mara, the Dubose family's attorney, on Wednesday during a press conference. "If there was not a video available, I do not believe he would have had an indictment."
Deters said the officer's report was "nonsense." "I don't care what his motivation was. I just know that he intentionally killed somebody," he said. He called the incident "an asinine act" and "an absolute tragedy."
Tensing surrendered at Hamilton County Courthouse while Deters was speaking to reporters. Tensing faces the possibility of life in prison, if convicted.
Tensing activated his body camera at the beginning of the traffic stop around 6:30 p.m. EDT, according to a statement released by Deters' office. Cincinnati officers and other university police later responded to the scene and took control of the investigation.
The incident has put residents on edge. On Wednesday, local police prepared for possible protests, and the University of Cincinnati's campus was shut down in anticipation of the announcement.
O'Mara called on the community to react only peacefully. "Sam was a peaceful person. There have been some questions about how peaceful Sam was," he said. "I think those questions have been put to rest now that we've seen the video."
His mother, Audrey Dubose, addressed reporters with a prayer for her son.
The Hamilton County Coroner ruled Dubose's death a homicide. He was buried on Tuesday.
Police killings of African-American men have been in the forefront of the national conversation following the deaths of Eric Garner in Staten Island, New York, last July, and of Michael Brown in Ferguson, Missouri, in August.