Grand Rapids Police, Community Were at 'Boiling Point' Before Lyoya's Death
The Grand Rapids Police Department on Wednesday released video footage of an officer shooting an unarmed Black man named Patrick Lyoya in the head, prompting hundreds of protesters to gather outside police headquarters.
Lyoya's death on April 4 and the outrage that followed the release of the video came after years of strained relations between Grand Rapids police and the city's Black community. Even before the video's release, Lyoya's fatal shooting further escalated the tension. The New York Times reported that activists at a City Commission meeting on Tuesday spent hours expressing their grievances for what they said was complacency toward police problems by city leaders.
Many high-profile incidents have transpired between law enforcement officers and Black residents of Grand Rapids in just the past several years. This includes during a city commission meeting in April 2017, when anger simmered about an incident from a month earlier where police officers ordered five unarmed Black boys—ranging in age from 12 to 14—to the ground at gunpoint.
"I think Grand Rapids is at a point where, it's a boiling point, and we've reached it," Bomesa Sims, the father of two of the boys in the incident, said during the 2017 meeting, according to Michigan Radio.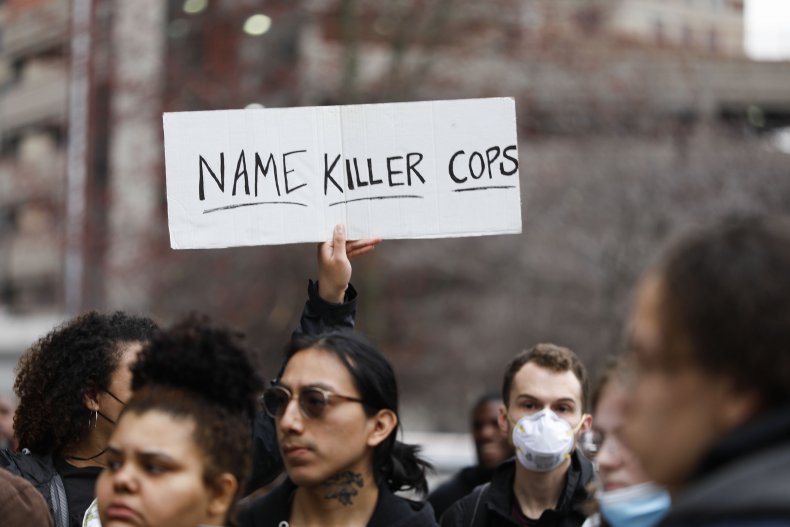 Former Chief of Police Dave Rahinsky apologized to Sims' sons and the other boys for the 2017 incident, as well as to the city's entire Black community. He also defended the officers involved, claiming they had followed police protocol.
His apology did little to quell the public outcry, according to local Fox affiliate WXMI. The station reported at the time that church groups, the NAACP and the boys' family members demanded a public apology from the officers and a review of the manner in which police are taught to interact with young people.
Not long after that incident, a study was released that showed Black drivers in Grand Rapids were twice as likely to be stopped by police than non-black drivers. The Traffic Stop Data Analysis was released during a town hall meeting, where City Manager Greg Sundstrom expressed remorse for failing to listen to citizens' complaints before.
"Why we didn't wake up and listen to you, I don't know," Sundstrom said, according to the Associated Press.
The city's police department hired a consulting firm to reevaluate its policies after the release of the traffic study. Among the firm's recommendations was for police officers to receive additional training for better cultural competency, the news outlet Bridge Michigan reported.
Before the year had ended, though, police were embroiled in another controversy when an officer pointed a gun at an unarmed 11-year-old Black girl before handcuffing her. A youth interactions policy was announced by the department soon after the incident.
In 2018, the police department found itself amending the youth interaction policy a year after it was announced after two incidents involving police officers being allegedly too aggressive with Black and Brown youth.
The mounting complaints about unfair policing of Black and Brown people in Grand Rapids eventually resulted in the Michigan Department of Civil Rights hosting two public hearings in March 2019, for city residents to raise their objections. However, according to Bridge Michigan, the state decided not to open an investigation into the police department at that time.
The 2020 murder of George Floyd in Minneapolis resulted in protests throughout the world, including in Grand Rapids. A curfew was put into place, and altercations between law enforcement and protesters during that time resulted in police using tear gas and flashbangs.
The April 4 killing of Lyoya, a 26-year-old Congolese immigrant, by a Grand Rapids police officer has already caused further unrest in the city.
The attorney for Lyoya's family, Ben Crump, spoke during a Thursday press conference about holding the police accountable. He called for the name of the officer who shot Lyoya to be released, as well as for the officer to be fired and prosecuted.
"We need police reform on the federal level," Crump, who is well-known for Civil Rights work, said. "We can't afford not one more day to pass, because as Tamika Palmer [mother of Breonna Taylor] said, 'How many more of our children have to die before we change the laws and change the policy here in the United States of America?'"
When contacted for comment, Grand Rapids Police Chief Eric Winstrom provided a statement to Newsweek.
"Building relationships in the Grand Rapids community is very important to me. Even before I started in this job officially and in the first weeks of my tenure, I had several conversations with local organizations and community leaders to help me understand concerns in the past and look for ways to build trust," Winstrom said. "My commitment to transparency and accountability is not just in response to this tragic event, but how I intend to lead this department."
Newsweek reached out to the local chapters of the NAACP and Black Lives Matter for comment.
Update 04/14/22, 6:55 p.m. ET: This story was updated to include comment from Grand Rapids Police Chief Eric Winstrom.