'The Grand Tour' Season 3 Kicks Off in Motor City With 'Motown Funk'
Mark your calendars and start your engines. The third season of Amazon's bonkers motoring adventure show, The Grand Tour, hosted by Top Gear alums Jeremy Clarkson, Richard Hammond and James May, will return to the streaming service January 18. A few days before the first episode drops, on January 15, fans will get the chance to take The Grand Tour Game for a spin on Xbox One or PS4.
It's been quite a long hiatus for The Grand Tour: the last episode of Season 2 aired back in February 2018. But May told Newsweek at a press event last fall that the cast and crew have been hard at work on Season 3 since late 2017.
"We actually started the end of last year. The films have become very big and elaborate and take longer. And we had a bit of a delay because of people being ill and what have you last season, so it's all knocked on," he explained. "And we've had to do the game and everything else. But we're not slacking!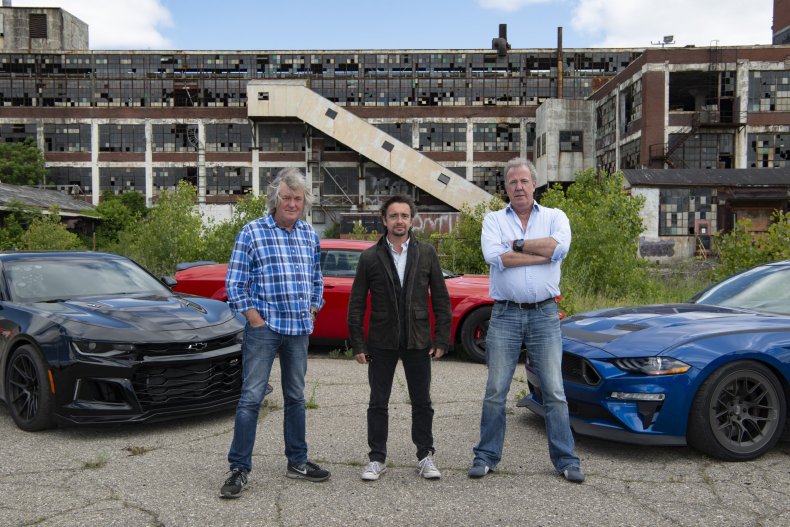 Here's the official lowdown on the first episode of The Grand Tour Season 3, courtesy of Amazon:
In the first episode of a brand-new season, Jeremy Clarkson, Richard Hammond and James May make a pilgrimage to Detroit to drive three highly tuned muscle cars, the Ford Mustang RTR Spec 3, the Dodge Challenger SRT Demon and the Hennessey Exorcist Camaro. Horrified to discover that this once-great motor city is a shadow of its former self and devotes more energy to making organic kale than oversized V8s, the hosts set about bringing some noisy life back to the old place and establishing it as a sort of playground for people who'd rather talk about superchargers than spinach. After staging a drag race on the deserted streets and performing a noise test in an old theatre, the three find an abandoned car factory and set about turning it into a race track. They then head to a local airfield for the ultimate battle between good and evil. Also in this show, Jeremy drives the super-lightweight, super-hardcore, 789 horsepower McLaren Senna around Donington, because it's too fast for the tree-lined Eboladrome.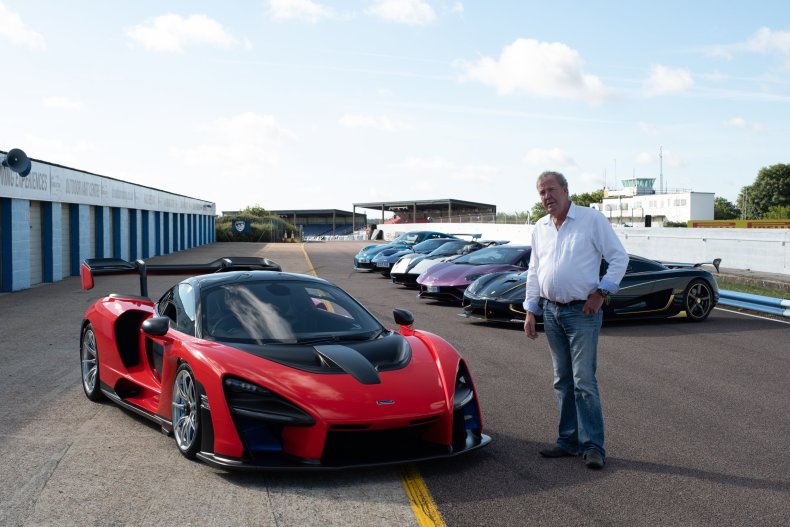 The Grand Tour Game will feature challenges, cars and locations from previous seasons, and will roll out new content to coincide with each new episode. Available now to preorder on PS4 and Xbox One, The Grand Tour Game includes a four-player splitscreen mode, so players can race against each other—and hurl their best insults—in person, from the comfort of their own couches.
May told Newsweek that making the game didn't demand too many changes from their typical approach to filming episodes. "The only thing we had to do—which was sort of, slightly arduous, in a way—was that we had to be more certain earlier on about which cars we were going to feature. Which is particularly difficult if you're going to feature, say, old cars, which we do quite often. They need to model the cars for the game, which is quite a lengthy process. So it sort of brought us into line a bit and made us plan a bit better."
The Grand Tour Game aims to allow players to go straight from watching the show to being in it, but thankfully you don't need to be as comfortable behind the wheel of a supercar as Clarkson, Hammond or May. Check out a trailer for the game below:
Will you feel the need for speed or take your cues from Captain Slow? Let us know your thoughts about the upcoming season of The Grand Tour—and the companion game—in the comments below.