Grandma and Granddaughter Get Matching Tattoos in Adorable Viral Video
A teen took to TikTok to share her experience getting matching tattoos with her 71-year-old grandma in a now-viral video.
Set to the song My Girl by the Temptations, @hannahbanana81374, whose first name is Hannah, takes viewers through the day she and her grandma both got their first tattoos.
She wrote over the video that her grandmother, or "nana," wanted to go first and then showed photos of her sitting in the tattoo chair grasping her grandmother's hand.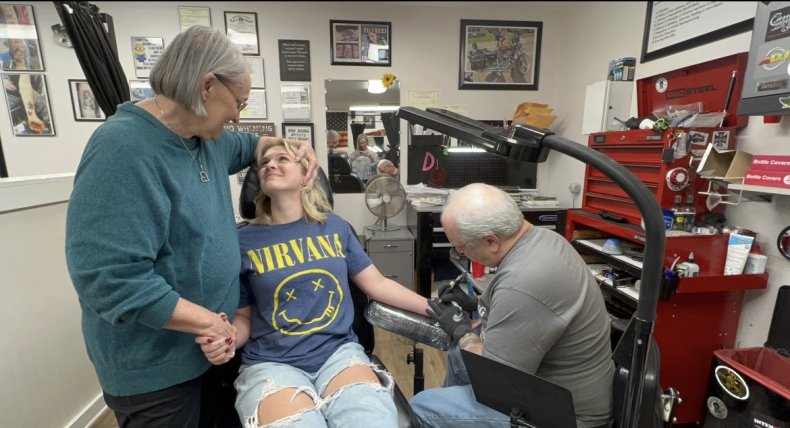 Both Hannah and her grandmother got tattoos of a hummingbird on their wrist and ankle respectively.
In the comment section, Hannah who is 17, explained that they had to travel out of their home state of Texas into Louisiana in order for her to get tattooed—with parental consent—as a minor.
She responded to another comment, written by someone claiming to be 72 years old, that while the pain was not so bad for her, her grandmother was "on the verge of tears" during the outlining process though she said the shading in was fine.
One commenter asked Hannah if there was a meaning behind the two hummingbirds.
"Her favorite birds have always been hummingbirds," she said in a video responding to the comment. "We talked about it a year ago, over a year ago, because I was going through some mental health struggles and she's kind of like my peace."
Hannah told Newsweek in an email that it was important to her grandmother to join her granddaughter under the needle.
"When I asked my grandma [nana] why she agreed to do this with me her response was 'well I love you and it was important to you...and if It's important to you it's important to me,'" Hannah told Newsweek. "We have talked about this for over a year now and she was always on board and frankly it amazes me that she hardly hesitated to do this with/for me and it really shows how much we care for each other."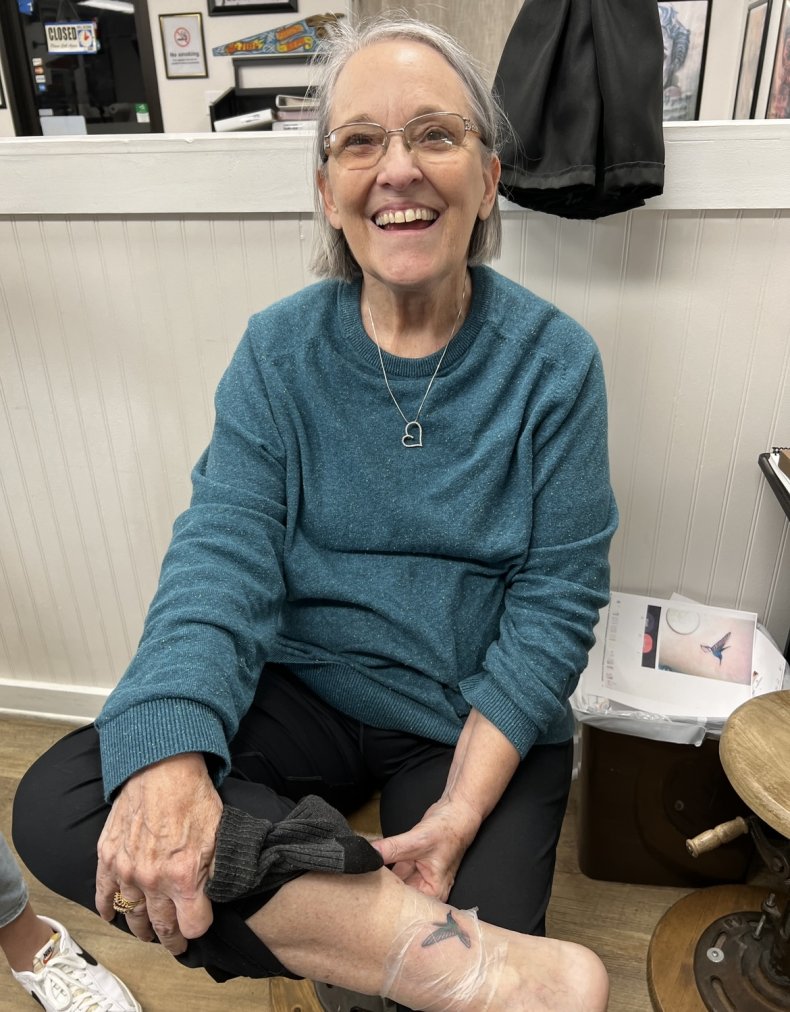 Hannah said her grandmother helped her a lot when she was struggling and continues to do so to this day. She said her mom suggested she get something to be reminded of her nana's love.
"Whenever you're anxious you can just look at your wrist and be like 'Oh my gosh, she's there for me, I have people that support me and people that love me'," Hannah recalled her mom saying.
Hannah told Newsweek that though her grandma was initially scared, she has no regrets.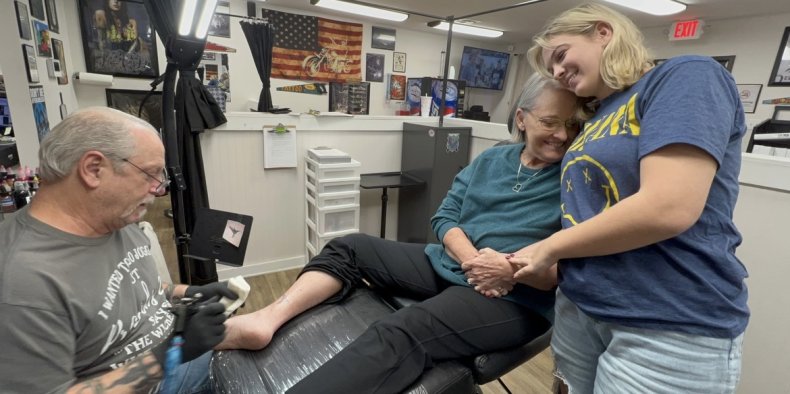 "[M]y family loves it and my grandpa [her husband] jokes around with her about getting a tattoo at 71 calling her his 'biker girlfriend,'" Hannah told Newsweek.
In October another grandmother named Judy Dede went viral on TikTok after the 83-year-old shocked her granddaughter with a request to get a tattoo, Newsweek previously reported.
She headed over to the tattoo parlor, but not without company. Dede's daughter, granddaughter, granddaughter-in-law, two grandsons and both of their wives joined her to get matching ink.