Grandma's Viral 'Toy Story' Slinky Dog Halloween Costume for Grandkids Is Amazing
Halloween is just over a week away, which means costume planning for many families is fully underway. Every year photos flood news feeds of the creative ways parents and caretakers dress the tiniest members of their families.
But one grandma on TikTok took her creativity to the next level and definitely "understood the assignment."
@breecebabies is an account run by a family of twin toddler girls. This week, it posted a video of the twins dressed up in their homemade Halloween costume that has now been viewed over one million times.
The text overlay on the video read: "had to be a slinky dog for Halloween. Grandma Nailed it."
Each of the twins is dressed in a yellow dog costume and attached to each other with a silver spring-looking apparatus. The costume is modeled off of the Slinky Dog character from Disney and Pixar's Toy Story franchise.
The result is adorable.
"Grandma is beaming this is too cute," one commenter wrote.
Other people in the comments section shared they had also tried this costume on their twins.
"Are you even a twin mom if you don't dress your kids up as a slinky dog!?" @breecebabies responded to one of the comments.
Additionally, @breecebabies revealed the piece attaching them is actually an oversized slinky.
According to Fast Company, Americans spend $3 billion on Halloween costumes each year. A more affordable and sustainable option is to make your own costume rather than adding to waste created by the disposable, cheap ones made with materials that are 83 percent plastic, the article read.
The National Retail Federation (NFR) reported that this year the United States will spend a record $10 billion dollars on Halloween. That is up from the $8.05 billion that was spent in 2020—but as USA Today noted, that was a year when the Centers for Disease Control and Prevention (CDC) advised avoiding most trick-or-treating due to COVID-19.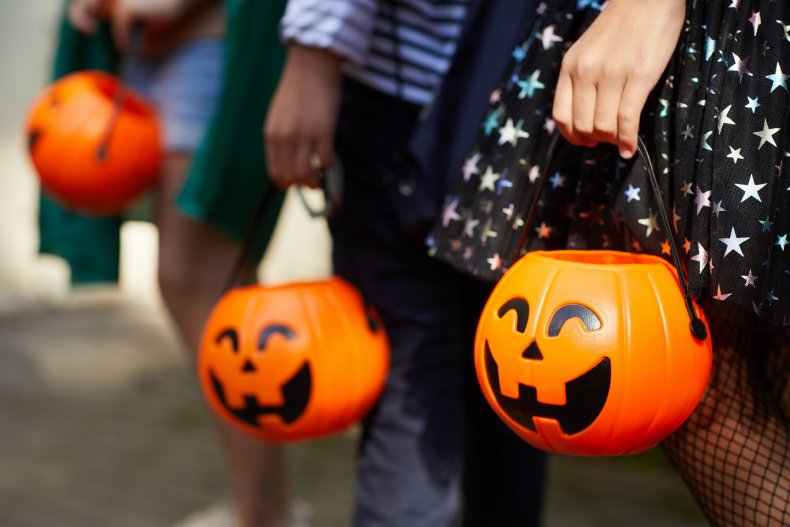 As noted in the report from NRF, Halloween is continuing to be popular among adults and children alike — 55 percent of households without kids said they plan to celebrate this year.
According to the report, which was released in late September, more than 1.8 million children plan to dress as Spiderman and over 1.6 million as their favorite princess. More than 1.2 million kids will don Batman costumes and over 1.2 million will imitate one of their other favorite superheroes.
Newsweek contacted @breecebabies but it did not respond in time for publication.