Grandmother Arrested After 4-Year-Old Girl Was Allegedly Killed by Mother
A grandmother in Charlotte, North Carolina, was arrested Thursday for allegedly aiding and concealing in the murder of her 4-year-old granddaughter.
Tammy Taylor Moffett, 53, was arrested by police after her daughter, Malikah Diane Bennett, 31, was charged three days earlier with killing her 4-year-old child, Majelic Young.
Police arrested Bennett on May 21 after investigators discovered the young girl's remains in her backyard while responding to a missing persons report. According to the report, police received tips that the 4-year-old had not been seen in several months and that foul play may have been involved.
On Monday, police charged Bennett with first-degree murder, felony child abuse, inflicting physical injury and felony concealing a death.
Charlotte-Mecklenburg Police Department Lieutenant Bryan Crum said that Bennett likely killed her daughter in early September 2020. Police concluded that Bennett then buried the child at her home off of Braden Drive in northwest Charlotte.
"I've worked homicide for most of the last 10 years. I can tell you that this case is deeply disturbing. It's disturbing to everyone who's worked it," Crum said during a news conference Monday. "Many of us are parents, and it's very difficult to understand how someone could do this to their child—kill their child and bury them and move on with their life as if nothing happened."
Following further investigation, police announced Thursday that Moffett had been arrested and charged with concealing a death and accessory after murder. It was not immediately clear exactly how Moffett was involved in the child's death.
According to neighbors, Moffett was often at Bennett's house visiting her daughter and grandchildren, but she appeared to become more distant after police began investigating.
"It's shocking on so many levels," Corey Thomas, a neighbor who lives across the street from where the child's body was found, told WCNC. "You'd think trouble to that degree, you know, family would be involved. [I] didn't see Grandma."
Before the 4-year-old girl was killed, neighbors and other family members told local news outlets that Bennett's children appeared to be in danger.
According to court records, Bennett has a pending misdemeanor child abuse charge after she left her two other children, a 9-year-old and a 7-year-old, at home by themselves for over 24 hours, WCNC reported.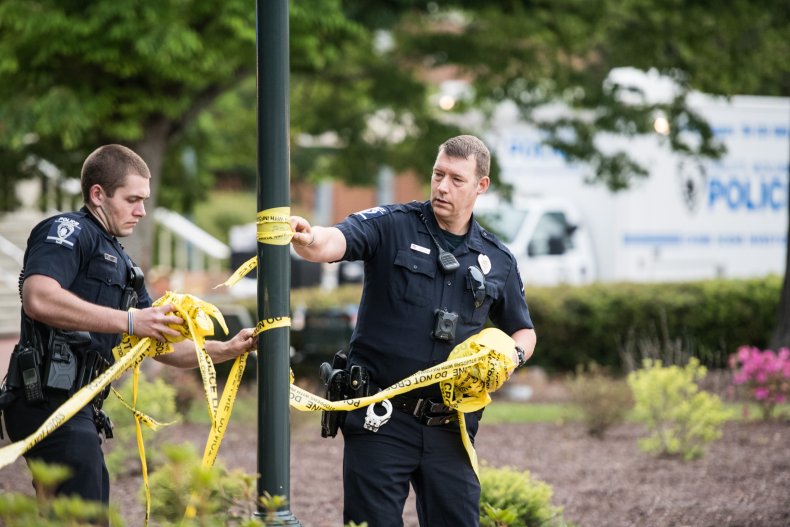 Since January 2020, police were called to Bennett's address 77 times, often for reports of domestic violence, WSOC-TV reported. On Wednesday, Bennett's sister told the news station that the young child was moved from her father's house to live with Bennett less than a month before she was killed.
"This could have been prevented," she said. "I feel that Social Services failed Majelic and the rest of those kids.
"She didn't have her a month," Bennett's sister added. "She didn't have her a month before everything happened."
Bennett is now being held without bond at the Mecklenburg County Jail and is scheduled to appear in court on June 2. Police said Thursday that the investigation is ongoing.