'I'm a Grandmother Re-creating Lockdown Life With My 'Quarantine Barbies''
I loved Barbies growing up and my mother loved to sew, so she made all kinds of clothes for them. My sister and I spent thousands of hours playing with them and they were our favorite toys. Barbie was a big part of my childhood.
Then when I was a teenager I went into modelling. I got to see the beautiful side of that business and I also saw the very ugly side of it. At 118 pounds, people would tell me that I was fat. I'm 5ft 7.5inches. When I was 108 pounds, I got all kinds of praise.
So I ended up with eating disorders. I modelled between 15 and 18-years-old, and by the time I was 18 I felt suicidal because of the pressure of meeting everyone's standards, and the idea that your whole worth is based on the way you look.
I left modelling in 1982, and had a very negative view of the whole fashion industry. I didn't want my daughters to grow up thinking they had to meet beauty standards shown on commercials, in magazines and by early Barbie dolls.
My husband is a mix of Spanish, Native American, Irish, and African ancestry. My daughters are very beautiful and they have darker skin, so I didn't want them thinking that particular Barbie; tall, white and skinny and with blonde hair and blue eyes, was the only definition of beauty.
I wrote a book and used to travel around and speak to different groups about body image. I always had props, including older Barbies to show that it's anatomically impossible to look like that. Back in 2003, I found a more realistic "Grandma Barbie" had been made, with sensible shoes, grey in her hair and crow's feet. I would hold her up and say that I'd finally found me as a Barbie, as a joke part of my speech.
I left my job about ten years ago to be a caregiver for my husband—he had multiple spine surgeries and needed someone to care for him. I put all my notes and props away in a box in the attic. In 2017, a couple of my grandchildren were in the attic and found the box. They found "Grandma Barbie" and thought Mattel had actually made a Barbie doll of me!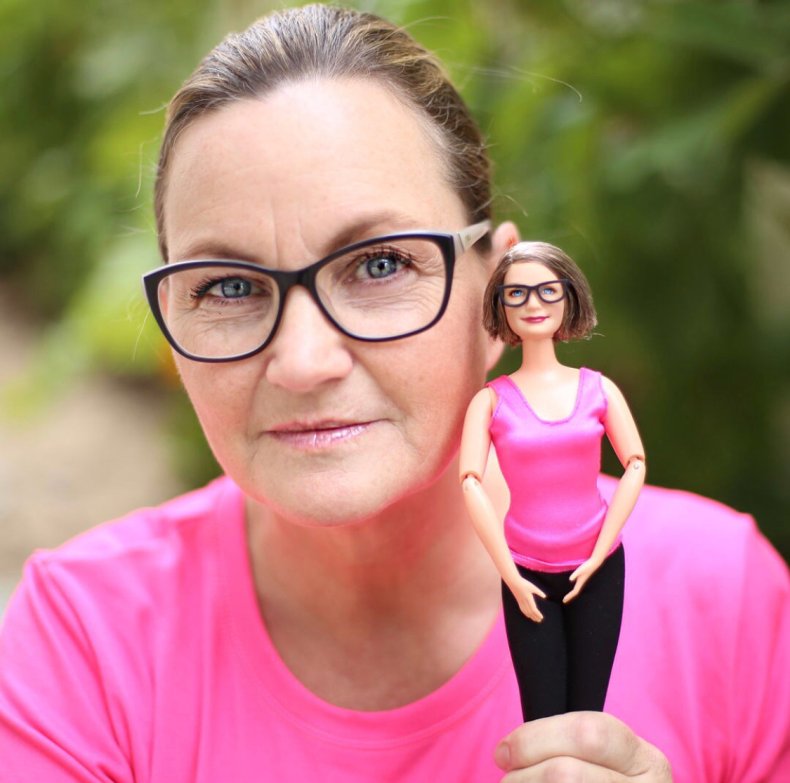 I had seen new dolls, in all sorts of sizes, shapes and skin tones. And so I suggested we find some of these new Barbies to represent each of the 19 people in our family.
From there, my granddaughters and I would set up these pictures with the dolls, and I started shopping on eBay to find miniature things, and posting the pictures on Instagram as @grandmagetsreal. There's such a wonderful community of people on Instagram called "dollstagrammers." If you look up the hashtag "dollstagram" it's this community. And then my page just got bigger and bigger and it has turned into a great hobby. It's a great way to share my story when I have an opportunity—of me loving Barbie, us having a little falling out and then me coming back to loving Barbie. I've come full circle.
I love that they have different shapes and skin tones now. There are now petite, tall and curvy Barbies. And though the curvy doll is probably not as curvy as a lot of people are, it is curvier than they were. And there are Barbies that are bald, some have disabilities, and there's one with a prosthetic leg.
Ellen Degeneres has had some funny Barbies on her talk show—one was "Distracted Driver Barbie." I love comedy and wanted to make my own parody Barbies some day.
When the lockdown started here in California, I saw on Instagram someone had made a "Pandemic Barbie" wearing a bathrobe and a mask, with toilet paper and Clorox wipes.
Then I saw a doll called "Non-Essential Worker" which was a Barbie drinking wine.
So I thought I should make a parody Barbie that looked like me in quarantine—which is wearing stretchy pants, eating all the snacks and trying to keep herself busy. My daughter said it was like a quarantine starter pack.
I got so much positive feedback on "Quarantine Starter Pack Barbie"—so many people commented saying, "this is me!" or, "that's exactly what I'm doing." Everyone thought the curvy doll with stretchy pants was so funny because it was so not the Barbie they grew up with. It's my comedic commentary on life in quarantine.
Once I got started, I thought I should do a whole set of parody Barbies. My daughter was home-schooling and saying that her littlest son was permanently attached to her leg, and how hard it was. So I did that, the mom who needs her hair dyed, and it says "hair dye not included."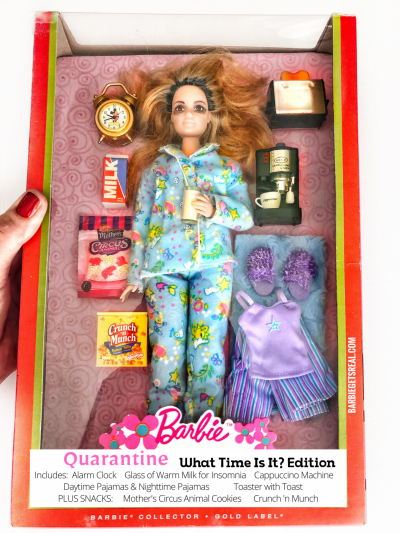 I knew what I was experiencing, and when I heard other people were experiencing the same thing I thought I would do parody dolls so people could relate to them. It was a way of finding something we all had in common. Whether people are living in Dubai, Italy, or New York, Lithuania, Russia, Poland or Brazil, I've heard the same thing—"this is me!" It's something we've all had in common because so much of the world has been on lockdown. When does that ever happen, that the whole world can relate to a Barbie doll?
I've created 17 parody "lockdown Barbies" now, because every time I create one, somebody will suggest other things. People said they were binge watching shows, so I did "Binge Watching Barbie." My husband was baking so much—banana bread and cookies—so we did "Quarantine Bread Baking Barbie". The "What Time is It? Barbie" really struck a chord and is probably the most talked about. I think she is just the most universally recognized because that's a feeling we're all experiencing.
I'm not selling them, the whole intention is to make people smile. I wanted to just find something that we could smile about, and find a happy place of common connection.
I collect stuff for my photographs, but it's not like I'm buying the number one Barbie and paying $5,000. I buy Barbies that go swimming in the ocean and swim in the pool and play in the dirt. My grandkids are playing with them.
Buying miniatures turned into a really fun hobby because we go to a lot of flea markets, thrift stores and garage sales, looking for tiny things. There's a thrill in the hunt, because there are so many amazing, tiny little collectibles out there.
My Barbies are looking forward to going camping soon, they have an RV and a tent and they're ready to hit the road and do some outdoor photos. So that's next on my agenda, a Barbie camping trip.
I think that what I've learned from this is that no matter who you are or where you are in the world, we can find things we have in common. It's so amazing. I get so many emails and messages from all corners of the world, saying this has made people smile.
For someone who is just doing this on their kitchen table, to be able to reach the world through my iPhone and my dolls—to me it's kind of mind-blowing.
Tonya Ruiz is the founder of @grandmagetsreal and lives in South California. As a grandmother of ten - she has recreated her family and life in Barbie-size, and now creates parody lockdown Barbies for @grandmagetsreal.
All views expressed in this piece are the writer's own
As told to Jenny Haward.