Grandmother Shaves Head for Cancer Research, Hair Rejected by Wig Makers
An 82-year-old grandmother who decided to shave her head and donate her hair for cancer patients in need of a wig was heartbroken that no charity would accept her donation because her hair is gray.
According to a report from Cornwall Live, Sheila Martin, a grandmother of 15 and great-grandmother of three, was turned away from several charities in southwest England because her hair was reportedly not fit for wig creation.
Martin gained attention on Facebook in April 2021, when she initially decided to donate her hair along with as much money as she could fundraise in honor of her late son Richard. Diagnosed with pancreatic cancer at 57, he passed away three years ago after surgery revealed the cancer to be inoperable.
"You don't expect for that to happen to your child but it did," Martin told Cornwall Live at the time. "He was wrongly diagnosed to start with and they said it wasn't terminal but when he went in for surgery and they found it was."
Martin began her campaign on behalf of Pancreatic Cancer UK and counted down until July 9, when she planned to get her hair chopped. Despite getting advice on her hair donation on Facebook, upon making the cut she learned that her hair was slightly too short and too gray to be used to make a wig for a cancer patient.
Gemma Walder, Senior Supporter Engagement Manager at Pancreatic Cancer UK, expressed in her statement to Newsweek that she and the rest of the team are incredibly proud of Martin's work, despite the disappointing news about her hair donation rejection.
"We're delighted that Sheila is supporting Pancreatic Cancer UK, in memory of her son, by bravely shaving her head. Her new hair cut looks fantastic," Walder said. "Pancreatic cancer does not stop during a global pandemic—thousands of people up and down the UK are facing this cruel disease and will be especially vulnerable at this time."
Although it was not immediately clear which donation venues Martin had contacted, charities like the Little Princess Trust in Herefordshire, England, outline the requirements for hair being made into wigs online.
"The minimum length of hair that we can accept is 7 inches/17cm," the charity writes on its website. "However, we do currently have sufficient stock of hair measuring between 7 and 11 inches, and that is why we encourage all our supporters to donate hair that measures 12 inches and above.
"Frequent donations of the shorter lengths could bring storage costs to the charity and we, understandably, would prefer to use our resources to provide wigs to children and fund vital research into childhood cancers," the website adds.
A representative with the Little Princess Trust told Newsweek that, as a charity dedicated to young children living with cancer, there is little to no need for gray or silver hair.
"We provide wigs to children and young people who have lost their hair due to cancer treatment and other conditions," the representative said. "In most cases, the young people we help want a wig which closely resembles the hair they had before treatment.
"This means that there is no demand for grey hair and accepting grey hair would bring unnecessary storage costs to the charity."
As outlined on their website, the Little Princess Trust "cannot accept large amounts of gray hair or gray hair that has been dyed a semi-permanent natural color (as the dye will eventually wash out to reveal the gray)."
Martin is not the only person eager to donate her hair. According to a report by Today, hair donations are up by more than 135 percent, with experts attributing the boom to regional lockdowns that prevented people from getting regularly scheduled haircuts.
"As our recipients are needing to be back in society, the application requests are also increasing," Locks of Love President Madonna Coffman told the outlet. "We're excited to continue our mission to provide the highest quality of hair replacements to as many children as possible who are living with medical hair loss."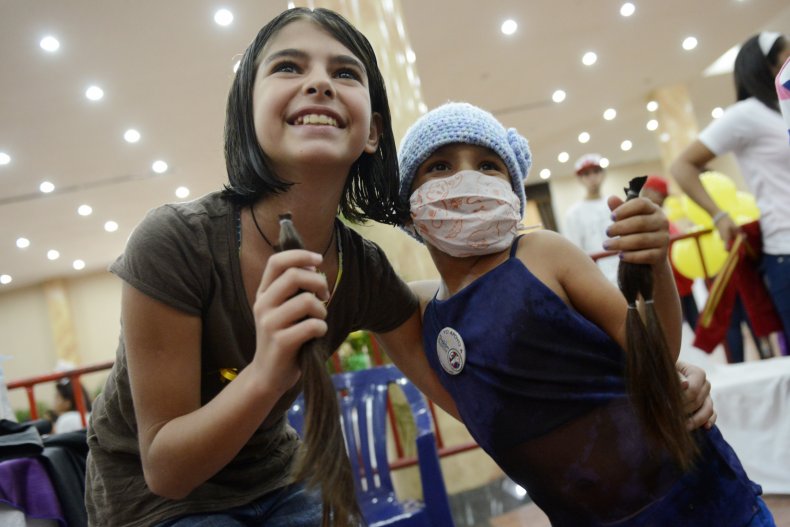 Despite the disappointing news after her haircut, Martin's spirits are still high. She spoke proudly with Cornwall Live about how she was able to raise approximately $3,402 USD for Pancreatic Cancer UK.
"I raised far more than I ever thought," she told Cornwall Live. "I thought maybe we would get between £200 to £300 and we've got so much more than that. Everyone has been so kind and even the church I go to told churchgoers what I was doing and I got donations from that. On the day we made £332 more from just a raffle."
"We want to thank Sheila and her Facebook community for raising over £2,400, which is absolutely incredible," Walder added in her statement to Newsweek. "The money raised from Sheila's head shave will help us be here for people who need support from our specialist nurses today, and will help us continue the cutting-edge research needed to transform survival for the deadliest common cancer now and in the future."
Martin also joked with Cornwall Live that she is already getting used to her new haircut and has received "seven hats and a red wig" to wear.
"I don't want other people to suffer the loss we have gone through so if I can get as much money as I can for research it will make me very happy and make me lead a happy life," Martin reflected.
The Little Princess Trust also told Newsweek that while they "sadly cannot accept grey hair ... our fundraising pack has many other ideas of how people can support our charity and our wig provision service."
Newsweek reached out to Martin for comment, but did not hear back in time for publication.
Meanwhile on TikTok, another girl gained attention online for her hair collection process. Liz Lele began saving her loose strands nearly 18 months ago, and has been painstakingly collecting them to make a wig entirely out of her own hair.
Updated 7/16/2021 at 2:30 p.m. ET:This story was updated to include statements Pancreatic Cancer UK made to Newsweek.
Updated 7/19/2021 at 9:35 a.m. ET: This story was further updated to include statements the Little Princess Trust made to Newsweek.