A foreshadowing description of a selfie—made some 61 years before the word was officially defined—has been shared on Reddit.
Selfies might be natural instinct to some of us now, with people like Kim Kardashian selling a literal book of her own selfies, but people were in on the trend even back in the 1950s, when it was more of a novelty then than today.
"My grandpa describing a selfie," Bryjeter2 titled the post, alongside a picture said to be their grandfather in Korea in 1952 and a description of his technique to capture the image.
The image shared shows a front facing sepia-toned image of a man, while a following image of the back shows a description written down. "There was no one around to take the last shot in the camera so I held it up in front of me, outstretched arms and snapped the shudder," reads the note. In a time before auto-correct, "shutter," was seemingly accidentally replaced with "shudder," here.
The post gained over 30,000 votes, along with 300 comments, in ten hours after being shared to the subreddit "Old School Cool" on June 7.
Despite being 61 years old, it certainly wasn't the first selfie ever taken. That honor is thought to belong to Robert Cornelius, who took a self-portrait photo of himself in 1839.
Using the daguerreotype technique, a process using an iodine-sensitized plate and mercury vapour, Cornelius would have sat for between three and 15 minutes to allow for the needed exposure time, in the back of his family's chandelier store in Philadelphia.
Like the Reddit user's grandfather, the image also had a note on the back: "The first light picture ever taken. 1839."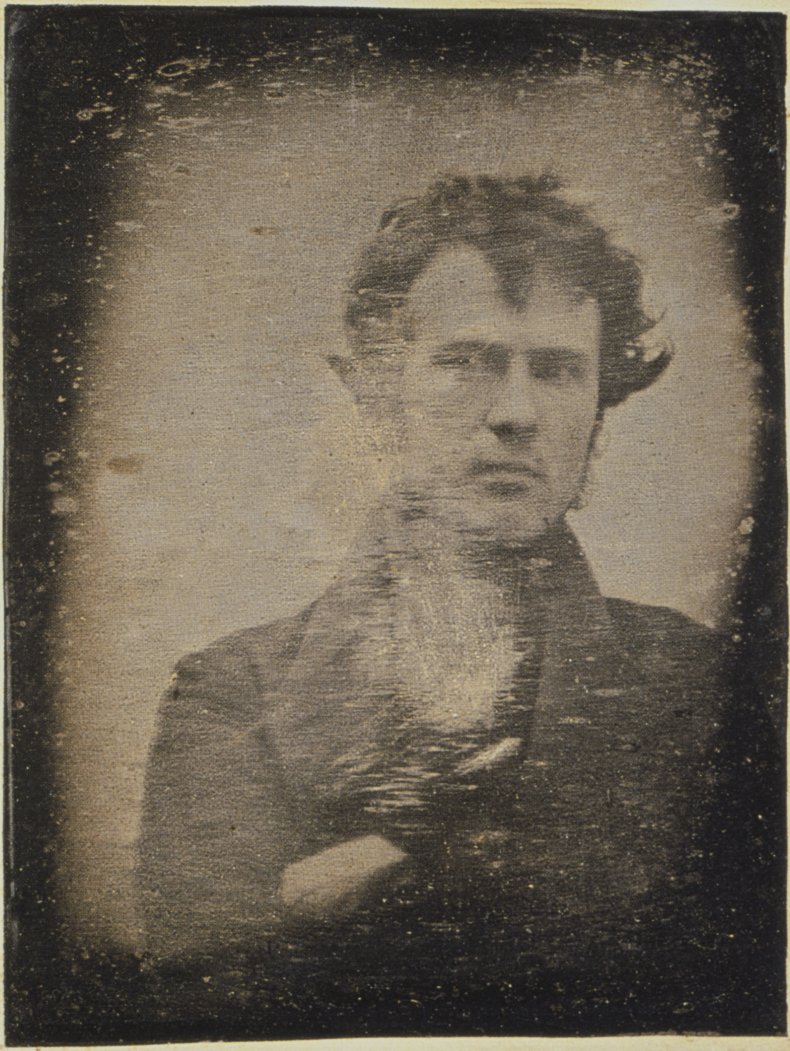 It wasn't until 2013 when "selfie," was officially recognized as a word, with the Oxford Dictionaries announcing it as their word of the year. It defines the term as "a photograph that one has taken of oneself, typically one taken with a smartphone or webcam and uploaded to a social media website."
Bryjeter2's post has sparked anecdotes from other users with fond memories of selfies before they were mainstream.
One user wrote: "My dad would take selfies. I have a very distinct memory of being at some school event like a choir performance for my brother in the mid 90s and both my parents were there. My mom had a new camera and my dad was like 'oooh can I see?' He makes a show of turning it around and inspecting it, then holds it in front of him, makes a dumb face, and takes a selfie as my mom is already telling him off for wasting the film. I think if I were to go through her pictures, i'd find multiple selfies like that."
Newsweek has contacted the Reddit-user, Bryjeter2, for comment.