Grandparents Give Affection to Pets

Rozlynn Hood, 55, spent a lot of time in the past week looking for the perfect Halloween costumes for Birdy, 6, and Missy, 3. "Grammy"—as she calls herself—estimates that she and her husband, "Pops," have spent thousands of dollars on medication, fancy treats, Christmas gifts, and other luxuries for Birdy and Missy, who came to live with them after their daughter Lauren's divorce. The Hoods sound like typical grandparents. But Birdy and Missy aren't kids. They're dogs.
The dogs sleep with Rozlynn and her husband, William, an attorney who comes home during lunch every day to let them outside. And when the Hoods travel to the beach each month, Birdy and Missy—along with their beds, toys, snacks, and blankets—come right along with them. Rozlynn, a Realtor who often takes them on calls, doesn't feel her grandparent-to-the-dogs status is all that strange. "I know I sound like a wacko, but there's a lot of us out there," she says with a laugh. "It's an epidemic; everyone I talk to over 45 is going through this. We want grandchildren, but we got granddogs instead. I know I'm not alone."
Indeed she isn't.
Folks like Hood—who bestow grandmotherly love on their kids' canines—are becoming as ubiquitous as Milk Bones. High divorce rates, baby boomers' low birthrates, and people choosing to remain single without procreating or adopting are creating what some experts call a "grandchildren gap." And if people do choose to have kids, gone are the days of large, boisterous families. The kids of boomers are continuing the trend of having small families. In 2009 the birthrate fell to 13.5 births for every 1,000 people—down from 14.3 in 2007—which set a record for the lowest rate in a century.
"The grandchild gap is a real social trend," says Daniel Myers, professor of sociology at the University of Notre Dame, and that trend leaves folks of a certain age, who had planned on doting on grandkids, out in the cold. To fill the gap, some people just keep working; others donate more time to charity. Some become detached from their own kids and become depressed and isolated. Others, who want some grandparent action, "may dote on pets," says Myers. That may be the easiest thing to do. Pet ownership is at an all-time high, with 71.4 million U.S. households, or about 62 percent of the U.S. population, having at least one pet.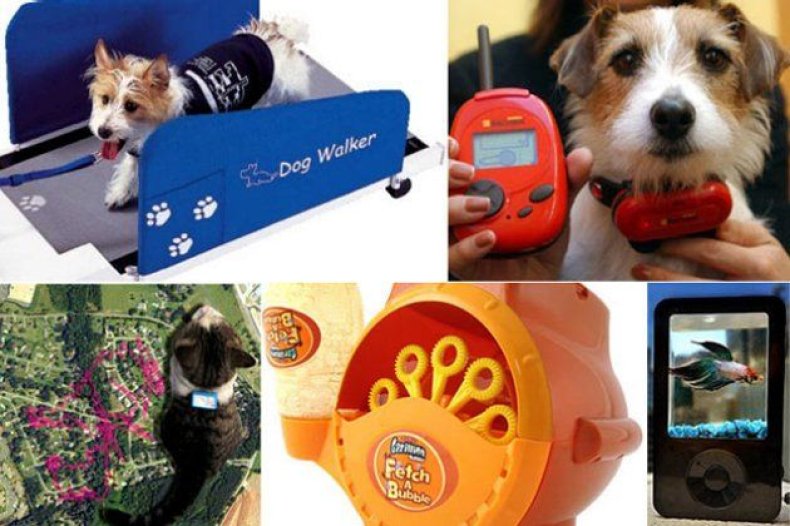 Though cats beat canines in terms of pet ownership, the hearts of these pseudo-grandparents clearly have gone to the dogs. "Dogs give unabashed, nonjudgmental love, and in this crazy world, people need that," says Ted Rheingold, CEO of the online community Dogster, which also provides health, nutrition, behavioral, and other dog-related content for dog lovers. When kids leave the home, their parents are left not only with an empty nest but also with a lack of grandchildren they can spoil. But when you put a dog into the mix, the grandchildren-less grandparents are double winners: they have something they can nurture and also show off, says Rheingold, whose own parents let his dog, Moxie, a Chihuahua-terrier-dachsund mix, lick the dinner plates.
Granddogs are also big business. At the online marketplace CafePress.com, granddog merchandise is a hot seller. "We first started to notice a trend toward this stuff about two years ago," says Amy Maniatis, vice president of marketing. "And for some reason it's really starting to take off now." Currently CafePress.com offers more than 55,000 granddog-related items for sale, including T shirts, sweatshirts, magnets, decals, mugs, doggie clothes, and bumper stickers with messages spanning from sweet sentiments like "I love my granddog" all the way to more in-your-face comments like "My grandchild has a furry butt."
Barbara Holbrook knows all about the furry-butt grandkid. The dental hygienist from suburban Atlanta dotes on a 10-year-old longhaired dachshund named Murphy, her daughter Courtney's dog. Murphy also lives with Holbrook and her husband, Duane. "He didn't like the condo that Courtney and [her husband] Brandon bought. He prefers our house," she says with a laugh.
And why not? Murphy has it made. He goes to breakfast every morning with Duane, sharing a bacon biscuit at a local McDonald's. Barbara Holbrook even designed and made a quilt for Murphy, transferring his doggie pictures onto the quilt material. Duane often sleeps on the couch so Murphy doesn't get scared when he prances around the house at night. "I suppose it's all a little pathetic, but we love animals," says Barbara, who hit the grandchild jackpot with one granddaughter named Sydney, the child of her daughter Ashley. "Sure, you can spoil a grandchild, but you can spoil a granddog more," she says.
Even America's favorite mom, Florence Henderson, a.k.a. Mrs. Brady of The Brady Bunch, knows a few things about granddogs. Henderson is the proud mother of four kids, grandmother of five, and granddog-grandma to her daughter Barbara Chase's two dogs—Dexter, a 2-year-old Pomeranian-poodle mix, and Teddy, a 5-year-old schnoodle. "My mom was on a show talking about the granddogs, and one of the grandkids got upset thinking that my mom preferred the dogs," says Chase, who does not have children. Henderson spoils the dogs rotten, sending them birthday cards, buying presents, and letting them stay at her house when Chase travels. Henderson even sent Barbara a Mother's Day card, with love from Dexter and Teddy. "My mom and the dogs have really bonded," Chase says.
None of this surprises pet-trend expert Charlotte Reed. "Everyone is a lot lonelier today, and people have made animals their best friends and part of the family," says Reed, author of The Miss Fido Manners Complete Book of Dog Etiquette. When Reed completed law school she had two cocker spaniels, Katie and Kidder. Her mother used to help her with expenses, such as grooming and vet visits, and would often care for the dogs, taking them on walks and having them over to her home for grandmotherly visits. Today Reed's mother is in a nursing home with dementia. She doesn't remember her daughter. But she does remember the dogs. "She loved them," says Reed, who does not have children. "It was all so very sweet."
There's probably nothing sweeter than a grandparent-granddog reunion. Jean Browman and her husband, Andrew, make their home in New Mexico. Their only child, Kaitlyn, and her husband, Torben, live out of state, with their golden retriever, Sammy. Jean Browman has no regrets about having only one child, and no regrets about her child choosing not to have children. "What I want most is my daughter's happiness," says Browman, who sees Sammy only a few times a year. "He goes crazy when he sees us," she says. "We're the good guys, the guys with great big smelly dog bones."
Browman also knows a little granddog heartache. Sammy's companion, a golden retriever named Banshee, died in the spring. Before the dog's death, Kaitlyn and her husband brought Banshee to see the Browmans and to take another run through the mountains of New Mexico. But Jean's fond memories of the dog make her smile. One of her favorite pictures shows Banshee wearing a beret and holding a paintbrush in her mouth—a picture Photoshopped by Browman. "She brought out my inner artist," says Bowman with a laugh. "What a great and good dog." In the eyes of a grandparent, there's no such thing as a bad one.