Couple Spoiling Only Their Biological Grandkids Praised: 'Outright Refuse'
Two grandparents who treat their stepgranddaughter differently from their biological granddaughters have been praised, despite the mom's rant about how unjust she finds it.
The 37-year-old mom posted on the Reddit AITA [Am I The A******?] subforum to explain that she has a 10-year-old daughter, Scarlett, and her partner, Martin, has two daughters, aged 13 and 12. User u/bfdaughterdrama wrote that she wished Martin's parents would "treat my daughter the same as his daughters."
She explained that, as the relationship has become serious, she thinks "it's only really fair" if Martin's parents treat Scarlett the same way they treat their biological granddaughters. However, so far she feels that they treat Scarlett "virtually like a stranger," and Martin's daughters "outright refuse" to let her join in with them.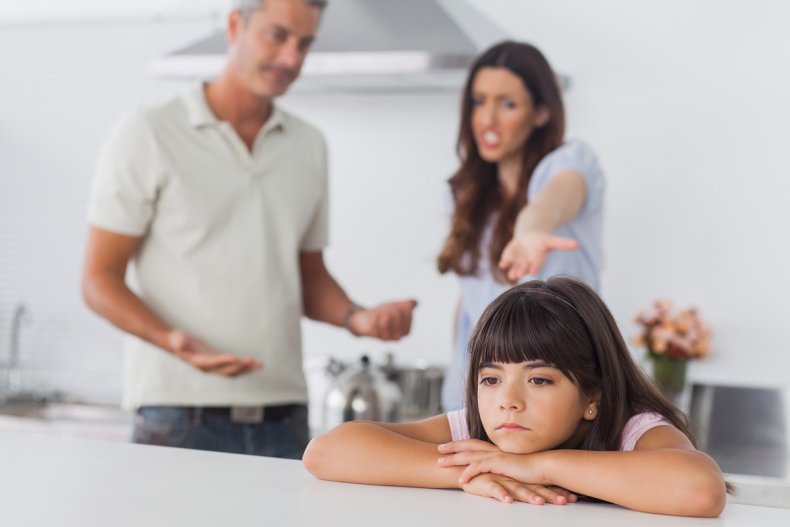 The majority of children grow up in a household with both of their parents, The 2022 Census showed that this is true of 70 percent of children, but this isn't the case for all families.
More than 21 percent of children live with just their mother, and there are 4 percent who live with only their father.
The Reddit post reads: "At Christmas, Miley and Joanna were spoilt rotten. They got money, gifts, toys, gift vouchers and makeup. All they got Scarlett was an embroidered blanket thing Martin's mother spent weeks knitting apparently, with her name on it, two gift vouchers and a doll."
While Miley and Joanna go on overnight stays, Scarlett is "excluded" from the group because the grandparents don't feel comfortable looking after her just yet. The mom is adamant, as she wrote: "It's not fair for Scarlett."
"The last straw was when his parents asked if we would all like to go to Disneyland Paris in Easter with them. They offered to pay for Martin, the girls and said that they could pay for part of mine, and Scarlett's travel expenses, but that I'd have to pay the rest," the poster continued.
Feeling that this offer was less than generous, the poster wrote that she "lost it." She felt that she shouldn't have to pay for herself or Scarlett if Martin's parents are paying for everyone else.
This didn't float with Martin, who accused his partner of being "incredibly selfish." He even accused his girlfriend of being "bitter and jealous" about the situation.
Laura Wasser, family law expert and chief of divorce evolution at Divorce.com, told Newsweek that it's a "tough situation" when someone feels like they're being treated differently.
"Here's what I've found works best: open communication and clear expectations," Wasser said. "Before blending families, it's important to have a conversation about how everyone will be treated and what their roles will be.
"It's also important to be flexible and understanding. Blending families can be a slow process, and it's OK if not everyone is fully involved right away. The key is to make sure everyone feels respected and valued," Wasser added.
It's important to take the time to get to know individuals. However, Wasser said that it's a process that "takes time, patience and a lot of love."
After sharing the Reddit post on March 13, u/bfdaughterdrama has received more than 9,800 votes and 4,700 comments. The poster left other Reddit users horrified at her demanding actions, as they pointed out how ungrateful she's being.
One comment with 36,000 votes reads: "It sounds like they're trying, they are giving her thoughtful gifts and offering to help pay for you and Scarlett to go to Disney. That's pretty generous considering you're not married and they only met Scarlett a few months ago. Frankly, you sound ungrateful and grabby."
Another person wrote: "I get she didn't have a family of her own. That doesn't excuse her behavior and sense of entitlement."
Newsweek reached out to u/bfdaughterdrama for comment via Reddit. We could not verify the details of the case.
If you have a family dilemma, let us know via life@newsweek.com. We can ask experts for advice, and your story could be featured on Newsweek.