Granholm Proclaims Tigers' Galarraga Threw a Perfect Game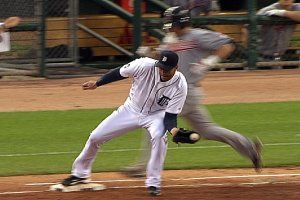 Michigan Gov. Jennifer Granholm—or GovGranholm as she's known on Twitter—just tweeted to her 15,066 followers that she's overruling an apparently blind Major League Baseball umpire, Jim Joyce, and issuing an official state proclamation declaring that Detroit Tigers pitcher Armando Galarraga did, in fact, throw a perfect game last night against the Cleveland Indians.
Unless you've been living under a rock since last night, you know that Galarraga lost his bid for a perfect game on the 27th batter when Joyce called Indian base runner Jason Donald safe at first when he was clearly out.
Granholm, who is certainly politically savvy enough to know that there is no other topic more important in the state of Michigan today, tweeted soon after the game last night that she was going to make amends, writing, "As governor, I'm issuing a proclamation declaring Galarraga pitched a perfect game!"
Today she kept her promise, issuing a gracious-but-firm rebuttal to Mr. Joyce's bad call: "Whereas, an umpire's missed call resulted in Armando Galarraga being charged a hit that clearly should have been an out; and, Whereas, the umpire graciously admitted his mistake after the game ended…I…do hereby declare Armando Galarraga to have pitched a perfect game."
News reports today suggest MLB Commissioner Bud Selig is at least considering reversing the ump's call as well. In the meantime, even Major League Baseball's official site isn't ignoring or sugar-coating the story. Today's lead headline at mlb.com: "Tigers Take Field Following Ump's Historic Mistake."