Graphic LAPD Video Shows Officer Getting Shot During Traffic Stop
The Los Angeles Police Department (LAPD) has released graphic footage showing the moment an officer was shot at close range following a traffic stop.
The clip shows the suspect, later identified as 32-year-old gang member Richard Mendoza, being pulled over for a routine stop by two officers. He then shoots one in the leg and exchanges fire with the other.
The footage was made public by the department for transparency and to show the dangers officers face while on patrol. Josh Rubenstein, public information director of the LAPD, warned of the violent nature of the footage in a statement upon its release.
"When a police officer uses force to arrest a suspect to defend against an attack, it can be graphic and difficult to watch," Rubenstein said.
The incident occurred in the North Hills area of LA on July 27, around 10:14 p.m. The officers pull over Mendoza after a female officer recognized the driver from previous contact.
The female officer, who approached from the driver's side, worked in the force's gang unit and was aware of Mendoza's criminal past, reports the LA Times.
"How you doing? Haven't seen you in a while. Still on probation?" the officer asks the driver as she approached the vehicle. The suspect then tells the officer he has nine months left before he can be discharged.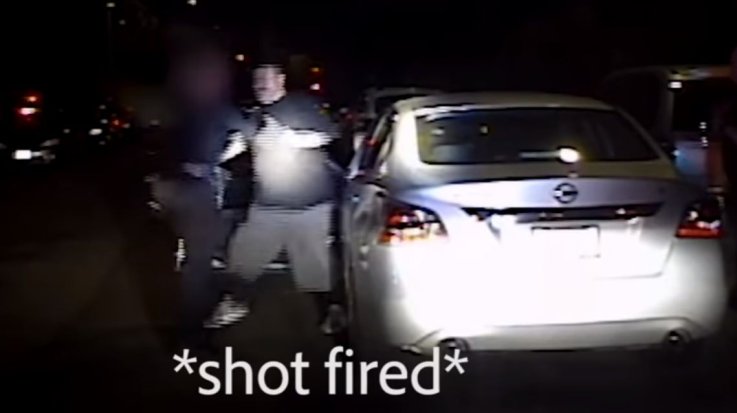 "OK, I am gonna have you step out of the vehicle. You don't have anything on you, right?" the officer adds.
The suspect then gets out of the car and shoots the officer at point blank range before turning to fire at the male officer stood on the passenger's side. The male officer then returns fire on Mendoza before going to check upon his partner.
The injured officer says how she has got hit in her left leg, describing how "it's burning." She also urges her partner to "just get him [Mendoza]," at which point the male officer then cuffs the suspect while he lays seriously injured on the ground after assuring her that "he's down."
Mendoza was transported to a hospital where he was treated for multiple gunshot wounds to the head and torso, the LAPD said in a statement. He was pronounced dead at a later date. The injured officer was also treated for her gunshot wound to her left leg
"By the grace of God she is alive," LAPD Chief Michel Moore told the LA Times. "Officers are fearful in these situations and the public here gets to see why.
"Once a person has you in that position it is very tough," he said. "You cannot stop that first one or two shots."
Police confirmed Mendoza had previous convictions of possession of a firearm and narcotics by sales. He was also a documented member of the Vincent Town street gang.
Graphic LAPD Video Shows Officer Getting Shot During Traffic Stop | U.S.