Graphic Video Allegedly Shows Wounded Civilian Killed by Israeli Sniper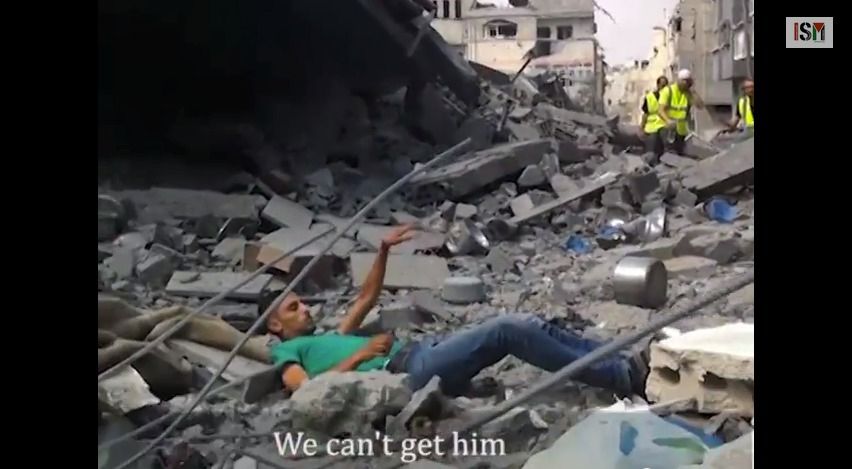 A graphic video has emerged apparently showing a wounded Palestinian civilian being shot by what appears to be sniper fire in the Shuja'iya neighborhood in Gaza, amid reports that the Israeli Defense Forces (IDF) has been using indiscriminate weaponry in populous areas.
The video, which couldn't be independently verified, was released by the International Solidarity Movement (ISM), along with pictures of destroyed ambulances.
"We all just watched a man murdered in front of us," said Joe Catron, an American ISM activist in Gaza who confirmed his account to Newsweek.
"He was trying to reach his family in Shuja'iya. He had not heard from them and was worried about them. They shot him and then continued to fire as he was on the ground," Catron added.
The footage comes after the most violent 24 hours of the Israeli military campaign in the Gaza Strip so far, with 65 Palestinians and 13 Israeli soldiers killed. Witnesses in the Shuja'iya neighbourhood reported streets littered with bodies after intense shelling. The IDF has released a number of graphics on Twitter illustrating Shuja'iya as a "terrorist fortress."
Catron described Shuja'iya as a "smoking wasteland" and described seeing two bombed-out ambulances. A spokesman for the British Red Cross said three ambulances were destroyed and 12 paramedics injured following the bombing of an ambulance and emergency center in Jabalia.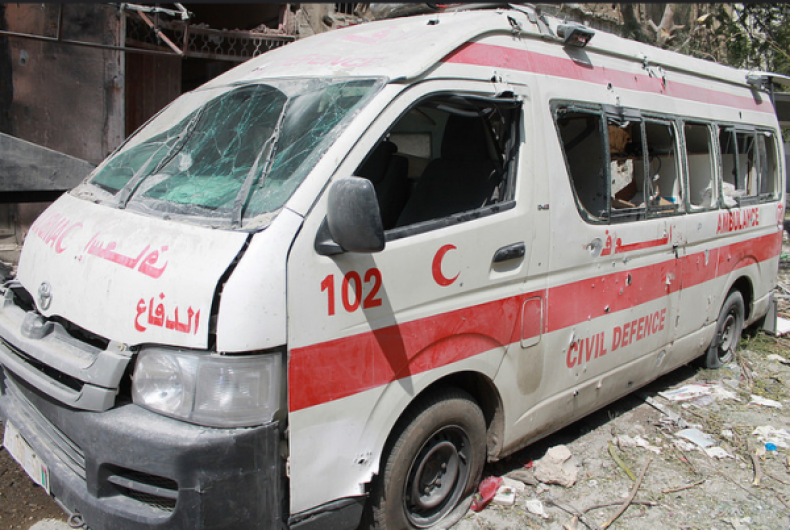 The video comes amid growing concern over the treatment of civilians in the conflict. The Palestinian Campaign for Human Rights claimed that the IDF is using controversial "flechette" shells, which contain thousands of steel darts that spread out over a large area, and released a photograph purporting to show some of the darts.
There is ongoing debate concerning the legality of Israel's use of flechette shells, after the country's high court ruled that they are legal in 2002. A 2011 report by an Israeli nongovernmental organization, B'Tselem, argued that the use of flechette shells in civilian areas was in breach of human rights.
"If the allegations of flechette shells being used are true, then that is very serious," Andrew Smith of the Campaign Against Arms Trade told Newsweek. "They are very deadly and can wound or kill indiscriminately.
"Weapons like this are part of a collective punishment strategy that does not discriminate between soldiers and civilians, and these allegations emphasize exactly why the West has to act in the interest of peace in the region," he added.
The weapon, usually fired by a tank, is described by a U.S. army manual as "designed for close-in assault against massed infantry assaults and for offensive fire against exposed enemy personnel," making it highly unsuitable in areas densely populated by civilians, such as Gaza.
The IDF did not immediately respond to requests for comment on either the video or the use of flechette shells.