Graphist/Black Accused of Sexual Misconduct as Twitch Streamers Speak Out
Brandon Abrams, aka Black or Graphist, is one of the very few people for whom streaming on Twitch is a full-time job. The 21-year-old built his audience by appealing to a demographic that's hungry for controversy and drama. His Twitch content often consists of him sitting in his bedroom playing RuneScape (a popular browser-based fantasy game) and smoking weed in front of a webcam for hours at a time. Sometimes he's an IRL streamer, venturing out into the real world to broadcast escapades like crashing a party at rapper T.I.'s mansion in Los Angeles, or vomiting on himself after drinking too much, or on YouTube, fighting fellow streamers in an amateur boxing match in the middle of the street.
Now Abrams has been accused of sexual misconduct by four women. Their accusations include an incident when Abrams allegedly assaulted an unconscious woman, another where he masturbated onto a woman without her consent, a third incident involving Abrams spying on a female housemate and a fourth where he verbally harassed a streamer at a public event. The incidents allegedly took place between late 2017 and October 2018. Complicating matters further are internal rules that video-streaming site Twitch imposes on streamers which, some say, make it difficult to comment about these issues publicly.
All four women have shared their stories with Newsweek. Abrams did not respond to repeated requests for comment. Abrams's lawyers sent a "cease and desist" letter to former roommate Alfred "Alfie" Loera on October 22, after Loera provided comment to Newsweek.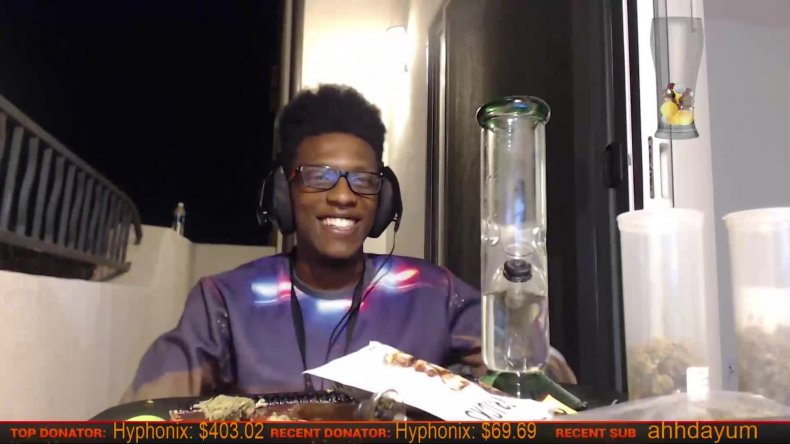 Over the years, Twitch viewers have given Abrams tens of thousands of dollars, pledging small amounts at a time through PayPal and Twitch's donation system. He currently has more than 100,000 followers, 3 million channel views and more than 3,000 monthly subscribers (who each pay a fee between $5 and $25 for tiered access to special icons in his chat room and mid-broadcast shoutouts). He's also sponsored by watch company Tayroc and energy powder manufacturer G-Fuel. (Neither company replied to a request for comment.)
Abrams's extreme behavior on stream appears to extend into his personal interactions. On October 7, YouTuber OakDice dropped a video about Abrams's conduct, including leaked tweets, Discord messages and phone calls from Abrams's alleged victims and former roommates. OakDice (who did not share his legal name with Newsweek because he chooses to remain anonymous) said he now prefers to stay "quiet" on the issue because "it's a very sensitive matter" and is afraid of misrepresenting those involved.
The allegations against Abrams detailed in OakDice's October 7 video stretch back months but appear to have been stifled out of fear. Two of the women involved are Twitch streamers themselves. The other two are closely linked to prominent streamers, and the company has rules that limit what those within the Twitch community can say to and about each other. These rules are one of the reasons why Halie, Lay, Sofia and Ella didn't tell their stories sooner.
Halie, January 2018
In January 2018, Halie Atisuto attended a house party at an Airbnb in Los Angeles co-hosted by Abrams and two of his roommates, Twitch streamers John "Hyphonix" Shevchenko and Alfie Loera. By Atisuto's account, she drank too much and needed to lie down. She has since come to believe Abrams sexually assaulted her while she was unconscious. Atisuto maintains that at no point did she willingly consent to sexual contact with Abrams.
"Other streamers asked if Black talked to me, and I didn't know why," Atisuto told Newsweek. "Because [they claimed] he admitted to having sex with me while I was asleep."
One of Shevchenko's channel moderators, known on Discord as White, was also at the party. (White requested that Newsweek not publish his name.) He told Newsweek he "asked Black to bring her to a room so she could pass out."
"I didn't think anything of it, until Black didn't come out of the room after bringing her in," White said. Later, White and others began to hear rumors about Abrams's behavior. "We had a talk with him and just wanted to make sure Halie wasn't raped." In that conversation, White claims Abrams admitted the two had some sexual contact, but said it was consensual. White later asked Atisuto about it, but by then she had already heard Abrams's account of the evening.
"I've been kind of emotional about all this and was kind of breaking down," Atisuto told White in September, in private messages provided to Newsweek. "I had no idea that's what he'd been saying."
During a September 24 conversation with fellow streamer Jenna, shared with Newsweek in the screenshots below, Abrams claims to have had sex with Atisuto that night. Atisuto then confronted Abrams, who denied the claims.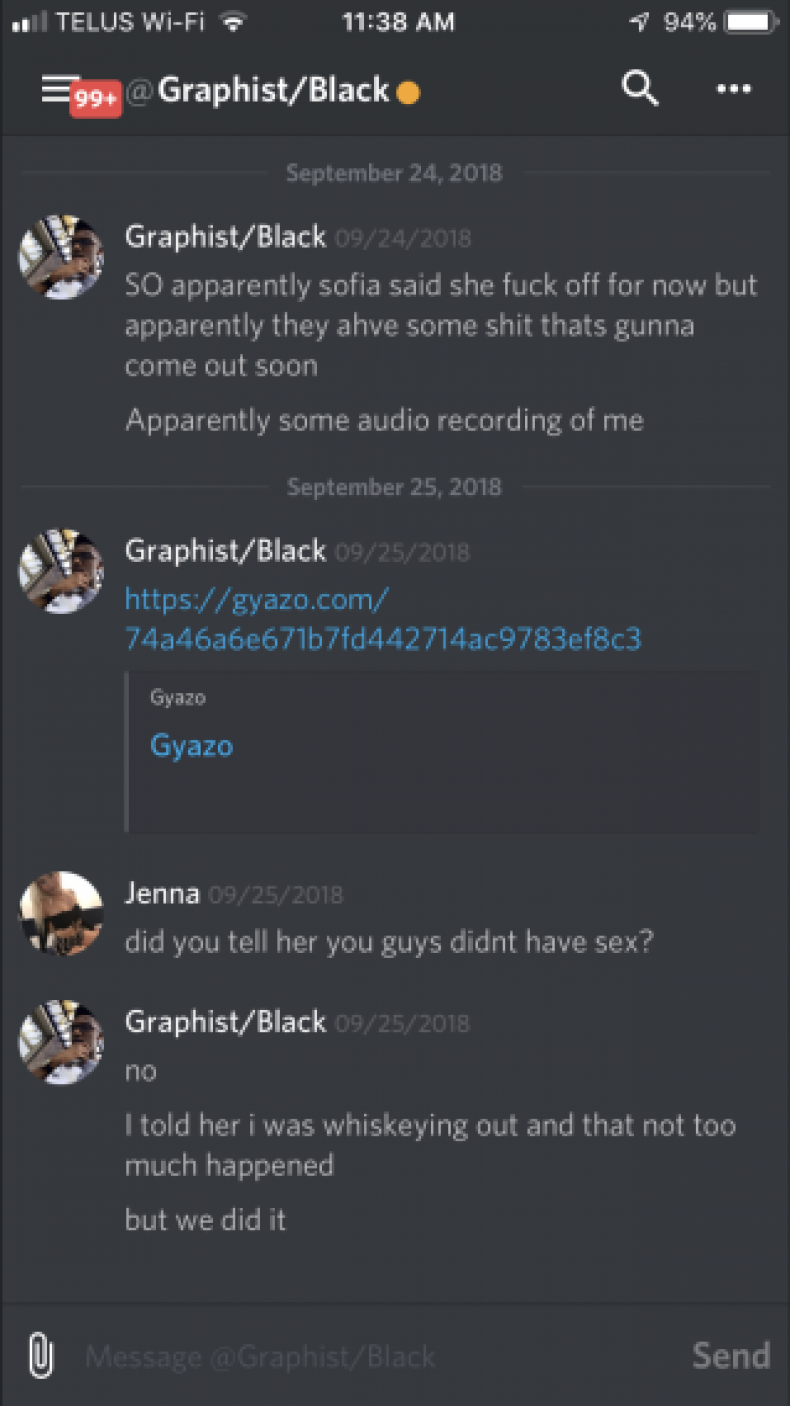 Atisuto says she didn't share her story willingly until now because she was worried about violating Twitch's terms of service. "It was leaked and I really can't get in trouble [with Twitch] over that," Atisuto told Newsweek. "I did what I could, which was tell my side of the story of what happened to me.
"If I say anything happened without 100 percent proof, that could be considered defamation and could lead to a temporary ban," Atisuto elaborated. "If Twitch bans him without proof, they look bad. If anyone on their platform speaks up, they get in trouble. It's unfortunate how the Terms of Service functions, because in cases like this it's doing more harm than good."
Wary of Twitch blowback and hostility from Abrams' fans, Atisuto said she has been afraid to make any public claims about Abrams since OakDice's Oct. 7 video. His supporters have harassed her on Twitch with comments like "Yeah I'd molest that too," and "How does it feel to get B L A C K E D?"
Atisuto told Newsweek she doesn't believe stopping Abrams is Twitch's responsibility, but "it would be nice, since Twitch calls its streamers a community and a family, if there was a way we could contact Twitch directly and voice our opinions without the need for undeniable proof." Twitch does have a report option and contact page, but Atisuto would prefer a more personal and human approach for cases like these.
"How do I pay my rent? How do I feed myself? Twitch is my full-time job. It's not like they have a sexual assault division. Maybe somewhere in the TOS there could be a hotline or email for only these scenarios," she said.
Twitch updated its Terms of Service in March 2018, in an attempt to limit toxicity and harassment on the site. Revealing personal information, recording someone against their will, sharing content with the intent to bully or inciting others to harass are all prohibited, according to the company's Harassment Community Guidelines. The new rules include any activity streamers take part in across all social media platforms, including Twitter, Reddit, Discord, etc. Bans can even be issued for offline activity. "Our community encompasses all of these spaces and we take them into consideration when it comes to our role in keeping the community safe," the Twitch Community Guidelines say. "We may take action against persons for hateful conduct or harassment that occurs off Twitch services that is directed at Twitch users."
While these rules are well-intended, risking a ban—and access to one's livelihood —without undeniable proof of another streamer's malicious activities is not something many streamers are comfortable doing. A spokesperson for Twitch said the company "takes action as appropriate when violations of its community guidelines are reported," but did not elaborate on what specifically constitutes a violation outside of the broad terms used in the Terms of Service.
Lay, September 2017
Among the recordings featured in OakDice's video is a September 2018 conversation between Abrams and a woman named Lay, one of his alleged victims. (Lay declined to provide her last name to Newsweek, because she fears retaliation from Abrams' fans.) In it, Abrams tells Lay, "This wasn't supposed to be a Twitch thing ... This is nobody else's business and nobody needs to be in anyone else's shit. Your privacy deserves to be kept and nobody's dirty laundry belongs on Twitch."
The conversation refers to an alleged incident from roughly a year earlier—Sept. 24, 2017—after the end of RuneFest, an annual convention in London for fans of the RPG RuneScape. (Abrams is one of the game's most popular streamers.) During the event, Abrams shared a hotel room with his then-future roommate Alfred "Alfie" Loera and Loera's girlfriend, Lay. The three shared drinks in the hotel room on the final night of the event, as Loera had an early morning flight. The evening concluded without incident. The next morning, Loera departed for the U.S., leaving Lay and Abrams at the hotel together.
"At 9:30, when Brandon and I wake up, he's asking me for sexual favors," Lay recounted to Newsweek. "I kept saying no, at least seven times. He asks for a pity hand job and if he could [ejaculate] on my face, all which I told him no."
Abrams then told Lay he was going to the bathroom to masturbate. After about five minutes, Lay says, Abrams left the bathroom and continued masturbating while standing next to the bed. Despite Lay's repeated protestations, he persisted, even as she hid beneath the blankets to protect herself.
Lay texted her mother soon after. "Please pick me up, I'm unsafe," she wrote. "I can't call, I'm not in a situation where I'll be harmed or anything like that but please can you get to a train?" Her mother agreed to come pick her up at King's Cross station later in the day.
"I was shaking and crying a lot," Lay said. "But he didn't know that because I acted like I wasn't upset, and I just held conversation normally after it." When Abrams ordered an Uber to the train station, Lay says he asked her to split the £40 cab ride by purchasing a monthly $25 subscription to his channel on Twitch.
Nearly a year later, in August 2018, Abrams texted Lay to apologize. "I don't feel right, I just really gotta let you know that I'm sorry that I regret that and that I've learned from my mistakes and will work on being a better person," Abrams said in text messages shared with Newsweek.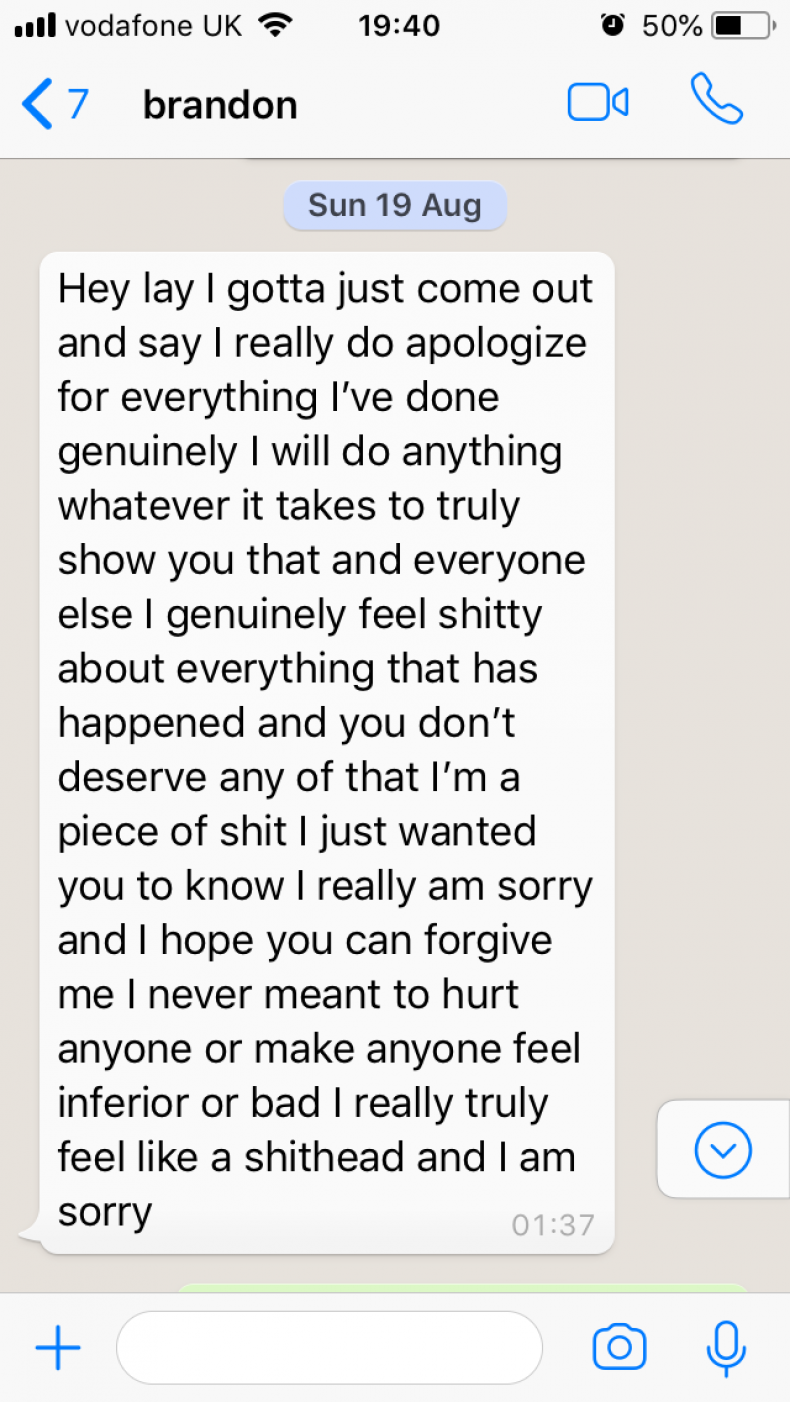 ------
Since OakDice's Oct. 7 video, others have spoken out about their interactions with Abrams. Shevchenko, a RuneScape and variety streamer, was Abrams' roommate for nearly a year and helped organize the party where Abrams allegedly assaulted Atisuto. After OakDice released his video, Shevchenko took to his YouTube stream and said he knew about Abrams' behavior but feared commenting publicly because of the Twitch Terms Of Service. (Shevchenko's Twitch account is currently banned; he plans to appeal and is still trying to abide by the site's TOS. He believes calling out Abrams without concrete proof could lead to that appeal getting denied.)
"Black has been demonically tearing our lives apart," Shevchenko said during the stream. "I'm happy this is over. It's justification for such a long time of not being able to explain why the relationship ended."
Shevchenko and Loera broke their lease on the Montclair, Calif. apartment they shared with Abrams in early August of this year, shortly before Abrams contacted Lay to apologize. But it wasn't just Abrams' treatment of Lay that led to the split. Shevchenko explained that his girlfriend, Sofia, along with numerous other women, had uncomfortable encounters with Abrams at their apartment in the months following the London incident.
Sofia, early 2018
Between May and March 2018, Sofia routinely invited other streamers to the Montclair apartment to join in broadcasts with her and John "Hyphonix" Shevchenko. (Sofia asked Newsweek not to publish her last name, to protect her privacy.) Multiple women told her they would not return because of uncomfortable interactions they had with Abrams.
"Girls came to us saying that he would make inappropriate comments or seem unaware of personal space or social cues when they didn't show interest back. You could just feel the vibe," she told Newsweek.
Sofia claims that throughout her time at the apartment, Abrams repeatedly walked in on her while she was changing clothes or while she and her boyfriend were having sex.
"He would sometimes make comments that you wouldn't expect, making us believe that they weren't accidents," Sofia said.
Midway through August 2018, Loera finally told Shevchenko about what Abrams allegedly did to Lay in London the previous year. "When Alfie told me, I said 'fuck this, I'm moving out,'" Shevchenko recalled on his Oct. 7 stream, adding that police were contacted regarding the September 2017 incident, but he says the police said they couldn't do anything about it.
"Nothing could be done except asking [Abrams and Lay] what happened and trying to look into it," Sofia said. The incident happened in England, outside the jurisdiction of the LAPD. But Abrams would be back in England this October for RuneFest and, just like last year, would harass another woman.
Ella, October 2018
As in previous years, this year's RuneFest was sponsored by Runescape's U.K. developer Jagex. The event included a host of notable streamers and influencers to celebrate the game's continued success. Among the invited guests was Twitch streamer MissBaffy, a.k.a. Ella. (Newsweek agreed not to disclose her last name due to privacy concerns.) She told Newsweek that Abrams followed her around the convention center and to a nearby bar, flirting with her non-stop. Behind her back, "he told my friends that he was going to 'fuck me' and that he was 'going to go deep,'" said Ella. She says while she did not feel threatened at the time, she felt compelled to come forward after the allegations against Abrams surfaced.
It appears some of Abrams sponsors have also heard enough.
Jagex released a statement on Oct. 10 confirming the termination of its working relationship with Abrams. "While the alleged incidents did not take place at the RuneFest venue or within its opening hours, the safety and wellbeing of those in and around our events is of paramount importance to us … Having reviewed the allegations we have found that the content creators concerned did breach our code of conduct. We do not tolerate inappropriate or offensive behaviour in any way and, while we had a limited working relationship with some of the individuals, we will not be working with them, or inviting them to future events, going forward."
TwitchCon, an annual convention centered around streamers and their fans, will take place Oct. 26-28 in San Jose, Calif. Ahead of the event, organizers appear to have cancelled Abrams' planned signing session. Screenshots taken the week of Oct. 15 show him in "Session 9," but he has since been removed from the listing. He is still attending the convention, however, and is featured on the con's partner page. A Twitch representative has confirmed to Newsweek that "the sessions are currently accurate."
Abrams has remained largely silent. His Twitter account is now private and he took a break from streaming for the start of October. The title for his offline stream was "Dont [sic] blindly believe everything you see on the internet." He briefly appeared on his stream on Oct. 16 saying, "all I have to say is basically these allegations against me, they are not true and any further questions can be answered by my legal counsel."