'Grass is Greener' Netflix: Snoop Dogg Shares Story of His First Cannabis Toke in 420 Documentary
Netflix's new cannabis documentary Grass is Greener, out just in time for 420, follows the history of marijuana in America, as the government resorted to increasingly drastic enforcement measures as a weapon for destroying black lives throughout the United States. Directed by artist and former MTV host Fred Brathwaite, more often known as Fab 5 Freddy, Grass is Greener has a myriad of voices speak on the painful legacy of the drug war, even as predominantly white businesses begin profiting off a now quasi-legal marijuana market, built on black suffering.
But it's not all pain—Grass is Greener is also a jubilant celebration of what cannabis has inspired in black artistic movements since the 1930s, empowering music and art that will forever define American culture. Who better to speak to that than Snoop Dogg? In Grass is Greener, he even shares how he first came to cannabis, telling the story of his very first toke.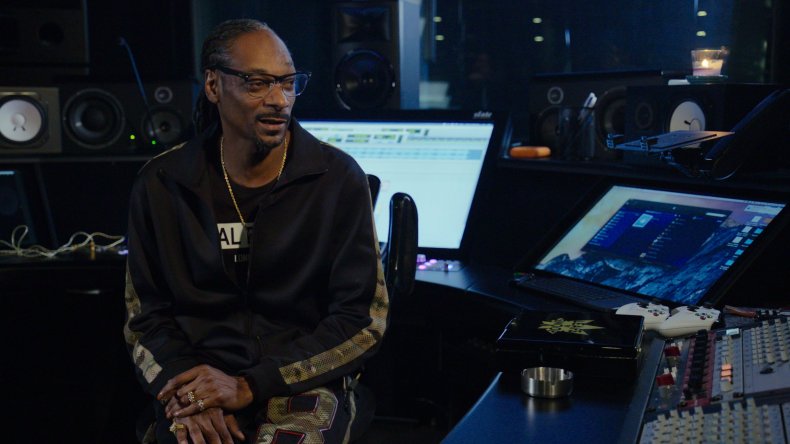 Speaking from his recording studio in the new Netflix documentary, Snoop recounts his history with cannabis while smoking his own Bubble Gum marijuana strain. His story begins in 1977, when Calvin Broadus Jr. was six years-old and visiting an uncle.
"I remember one day, he was like, Snoop, come in here. And I came in the living room. He had a Schlitz Malt Liquor Bull on the table. He was like, 'You want to taste that beer?' I'm like, yeah, so I drunk a little bit," Snoop recalls in Grass is Greener. "He grabbed a roach clip. He said, 'Hit this. No, inhale it, nephew."
"That was my first experience: 1977, smoking some Colombia Red with my uncle on a roach clip," Snoop says in the documentary, after pantomiming coughing on his first hit.
Horrified by the destruction and death he'd witnessed as a cocaine dealer, Snoop also shared how the rap scene promoted marijuana over other, harder drugs. "My mission was to get everybody hooked on chronic. We wanted to do something that was fly. And every time we seen somebody smoking weed in the 70s, they was fly as a motherfucker," Snoop says in Grass is Greener. "On the war on drugs, hip-hop has done a better job than the fucking government. Because how many hip-hop artists do you know that built record labels, gave opportunity, showed people how to make money other ways? Like, that's the war on drugs, not locking motherfuckers up and coming in the hood just harassing people and planting drugs on people and doing all the shit that they do."
Beyond his own personal experience, Snoop speaks in Grass is Greener to the wider effect of marijuana on musical movements, stretching all the way back to the Jazz Age. "Way back in the days of the Jazz era, they were speaking on the plant, because the plant was something that was a way of helping them find their groove, find their mind and find their mental, to create some of the most classic music that was ever written," Snoop Dogg says. "It's timeless. There's something about that cannabis that brings the best out of whoever you are, if you tap into your spirit."
Snoop Dogg is joined by many other voices speaking up in the new Netflix documentary, including policy experts, activists and other musicians like Cypress Hill's B-Real, DMC, Chuck D, Damian Marley and Killer Mike. Grass is Greener is out now, on 420, and streaming on Netflix.