Gravity Energy Project to Generate Electricity by Plunging Heavy Weights Down Disused Mine Shafts
An energy project that will generate electrical power using gravity, by raising and lowering heavy weights down mine shafts, could spark into action next year.
U.K.-based Gravitricity said in a press release that its plan to store and release clean energy by hoisting and plunging weights down shafts close to 5,000 feet deep is now closer to becoming a reality, as construction of a prototype started in August.
In theory, upon completion the system will suspend weight of up to 12,000 tonnes using cables and a winch in a shaft. Raising the weight charges the system, while dropping it discharges electricity to a power grid, effectively acting as a generator.
The heavier the weight the more energy can be stored and, according to Gravitricity, a typical system will be able to power 13,000 homes for two hours. Alternatively, sending the weight down faster could be used to produce short bursts of high energy.
"Our technology has the fast response times of lithium ion batteries but, unlike batteries, it can be charged and discharged again and again, many times a day for over 25 years with no loss of performance," the firm said in a video describing its technology.
At the end of last month, Gravitricity announced the Dutch winch manufacturer Huisman had started work on a 250 kilowatt prototype to prove the system is possible.
The work in a Huisman factory in the Czech Republic is scheduled to be completed by December. From there, the winches and control system will be sent to Leith in the Scottish city of Edinburgh, U.K., and assembled at a grid-connected site.
Gravitricity claimed its technology will be able to go from zero to full power in under one second. It can be configured to produce between one and 20 megawatts at peak power with an output duration of up to eight hours, the company said.
Testing is set to start "early 2021," with Gravitricity saying the system could potentially be rolled out to either existing mines or "purpose-built shafts" worldwide. It aims to make a full-scale prototype in 2022 or 2023 at a disused mine in the U.K.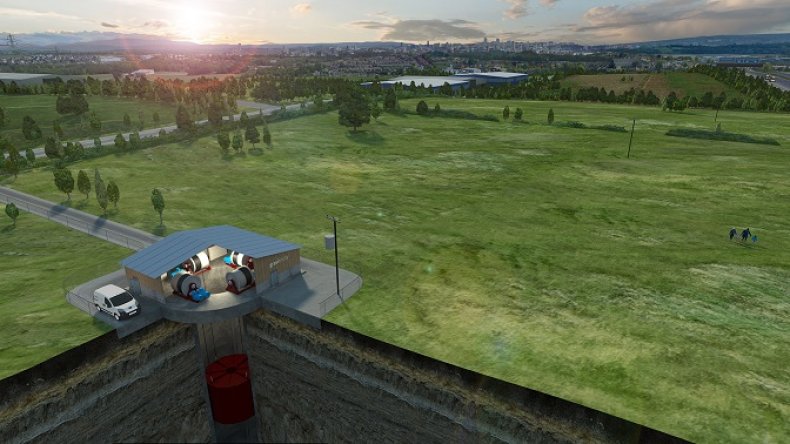 "Our demonstrator [prototype] will use two 25-tonnes weights suspended by steel cables. In one test we'll drop the weights together to generate full power and verify our speed of response," said Gravitricity's lead engineer Miles Franklin.
"We'll then run tests with the two single weights, dropping one after the other to verify smooth energy output over a longer period, alongside a program of other tests to demonstrate and refine the full capabilities of the system," he said.
"This two-month test program will confirm our modeling and give us valuable data for our first full-scale 4 megawatt project which will commence in 2021," said Franklin.
A report detailing the proposed system conducted by Imperial College London last year concluded that it could be more efficient than lithium-ion batteries in the long-term, The Guardian reported, noting Gravitricity was in discussions with mine owners in multiple countries including the U.K., Finland, Poland, the Czech Republic and South Africa.