Climate Change Has Already Devastated the Great Barrier Reef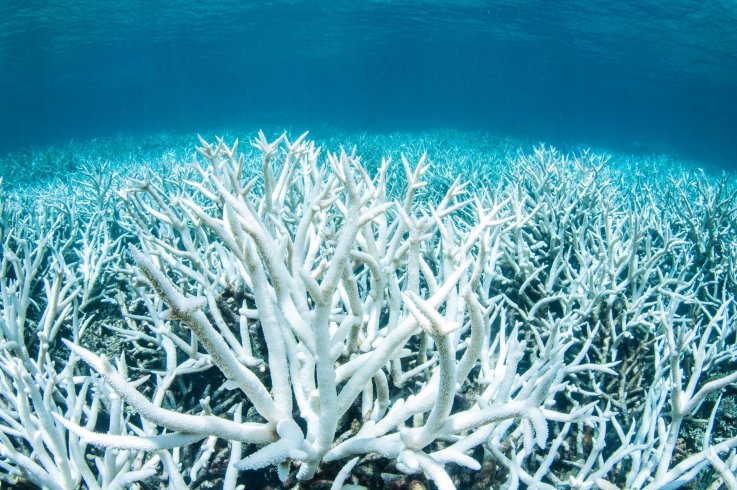 Rising sea temperatures have triggered a massive dying off of the Great Barrier Reef, and researchers warn it may never recover with more damage to come.
Once rich with coral and sea life, 90 percent of the Great Barrier Reef today is composed of large swafts of bleached white or dead coral. Warm seas off the coast of Queensland, Australia, killed some two-thirds of a nearly 500-mile stretch of coral in 2016 after warm water caused the coral to expel living algae, triggering it to calcify or turn white, a process known as bleaching. Researchers have called it the worst die-off of coral ever recorded at the reef.
Even the areas that survived will not recover to full health, scientists from the ARC Centre of Excellence for Integrated Coral Reef Studies said in a report, as unseasonable hot water becomes more frequent, causing more bleaching. The reef has experienced three bleaching events in the last 20 years—in 1998, 2002 and 2016, with another event expected this year. Two consecutive years of bleaching would be unprecedented and may alter the region for generations.
"Given time, coral can recover from bleaching but the problem comes when you get repeated events. With less time between them, capacity for the coral reef community to recover diminishes rapidly," Janice Lough, senior principal research scientist at the Australian Institute of Marine Science, told Reuters.
A March 16 report in the journal Nature attributes the mass die-off to global warming and concludes man-made emissions helped spur permanent damage to the world's largest coral reef.
"Coral bleaching has become the new norm," study leader Terry Hughes, of the ARC Center of Excellence for Coral Reef Studies, told the Los Angeles Times. "Many people might view climate change as a future threat to ecosystems, but we've obviously been seeing it now on the Great Barrier Reef for almost 20 years."
In 2015, UNESCO considering adding the reef to a list of endangered World Heritage sites, but declined with pressure from the Australian government. Tourism brings in billions of dollars per year, and critics say the government was acting out of fear of lost tourism rather than what was in the best interest of the reef. Scientists now say recens events may encourage the UNESCO World Heritage Committee to reconsider placing the reef on it's "in danger" list.