'The Great British Bake Off' Finally Confirms Return Date for 10th Season
It was finally revealed on Wednesday when the tenth series of The Great British Bake Off—also known as The Great British Baking Show in the United States—would be returning to screens everywhere on Tuesday, August 27.
In a tweet saying, "Every adventure requires a first bake," Channel 4 revealed when the 2019 series will premiere. The Alice in Wonderland-esque image shows judges Prue Leith and Paul Hollywood seated around a table that's covered in confections, from Black Forest cakes, slices of Victoria Sponge to pastel-coloured macaroons.
Fans of this show are diehard, and everybody is excited for its imminent return. @BaileysOfficial tweeted on Wednesday, "Distance has definitely made our hearts grow fond(ue). We're ready for you #GBBO." Others tweeted things like, "BEST NEWS IVE HAD ALL WEEK."
A trailer for the anticipated return of the show came out in July:
Channel 4 has secured Love Productions' The Great British Bake Off for at least three more series, meaning there will be "soggy bottoms" and baking disasters to keep fans entertained until at least 2021. Judges Paul Hollywood and Prue Leith are also back for 2019.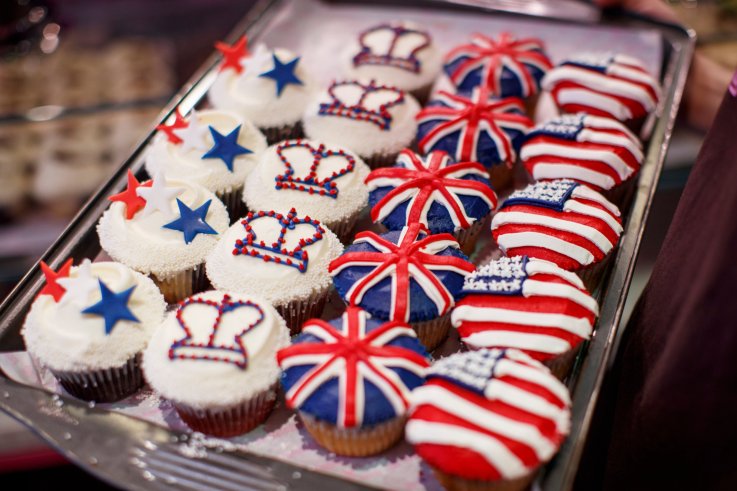 The show's return means the search for Britain's best amateur baker is back as 12 passionate baking fans compete for the title. The presenters and judges devise three challenges for the competitors each week. They incorporate a signature bake — which tests the bakers' personality and creative flair; a technical bake, which tests experience; and a showstopper bake, during which the bakers are able to showcase their depth of skill and artistic talent.
Fan favorite Dr. Rahul Mandal won GBBO last year after baking mango crème pâtissière filled doughnuts and spiced orange ring doughnuts in the signature challenge, and a stand-out showstopper: an edible rock garden.
The show is credited with reinvigorating interest in baking throughout the United Kingdom and Ireland, with stores in the U.K. reporting sharp rises in sales of baking ingredients since early on in the show's history. Many of its participants, not just the winners, having gone on to start a career based on baking.
Channel 4 boss Ian Katz said in a statement in early August: "Over the last two years The Great British Bake Off has become one of the best loved programmes on Channel 4, embodying the warmth, mischief and inclusivity for which the channel is known."
As well as two further series beyond this year, Channel 4 will also be treating fans to Junior Bake Off for the first time, a 15-part series with the same premise. Except, of course, it will put kids to the test.
Ian Katz said earlier this month, "We're delighted to be continuing our fantastically collaborative partnership with Love Productions and especially to be discovering a new generation of British baking talent with Junior Bake Off."
'The Great British Bake Off' Finally Confirms Return Date for 10th Season | Culture