'Great British Baking Show': When Will the Next Season Air on Netflix?
The Great British Baking Show has been for many around the world a balm in troubling times, but the 2020 season has now come to an end, with the grand finale airing now on Netflix.
For those relying on the feel-good show to get them through this COVID-era, however, there is good news: Netflix will be airing more Great British Baking Show in just a few weeks.
On Thursday, December 3, Netflix will release The Great British Baking Show: Holidays Season 3, a series of festive instalments that see iconic past contestants return as well as stars of a beloved Irish Netflix comedy.
Though these seasons are new to American audiences, they were actually released in the United Kingdom in 2019 as two episodes, "The Great Christmas Bake Off 2019," and "The Great New Year's Bake Off 2019/20."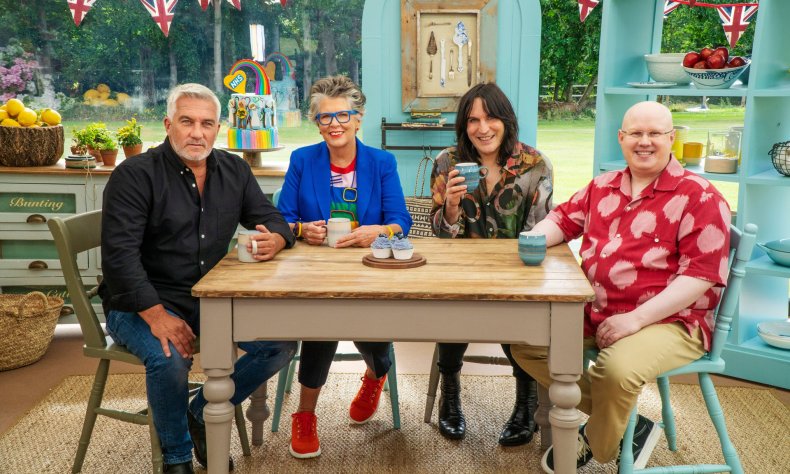 The first of these sees four past Baking Show contestants return: Tom and Yan from 2017, plus Briony and Terry from 2018. Plus British rockers Status Quo, who for some reason known only to GBBS makers Channel 4 end the special performing their song "Rockin' All Over the World."
The second episode, meanwhile, saw five cast members from the cult Netflix and Channel 4 comedy Derry Girls enter the Bake Off tent to be judged by Prue Leith and Paul Hollywood.
As for the next proper season of The Great British Baking Show (known as The Great British Bake Off in the U.K.), that has already been confirmed. In October, as the show was airing with massive COVID-19-boosted ratings, Channel 4 confirmed that the show would return in 2021 for Season 12, and applications are already open to the bakers.
A release date for the new season has not been confirmed, though it is expected that the show will be able to return to its late summer release date, after the coronavirus lead to the 2020 season being delayed as the production company worked out how to film the show in a pandemic.
However, now they have done that once, by quarantining the contestants and crew together in a sequestered hotel, they should be able to make the next show without a delay. As episodes of the Baking Show have been coming to Netflix a few days after they air in the U.K., fans should be able to see the next season in August 2021.
The Great British Baking Show: Holidays airs December 3 on Netflix; Season 12 is coming in 2021.