Great Dane Uses 100lb Frame To Open Doors in Hilarious Clip: 'FBI Open Up'
A video of a Great Dane's failed attempt at "gently" nudging open a door has gone viral on TikTok, where it has received 7.2 million views at the time of writing.
The clip, posted by TikToker @beck.eeee, was captioned: "Ever since she was little, she has made a grand entrance 😆 #greatdane #greatdanesoftiktok #puppy."
The footage initially showed the Great Dane standing inside the owner's home, staring into the distance while hovering over another dog. The clip later showed the canine jumping towards a door from outside the home, bashing it open with her body.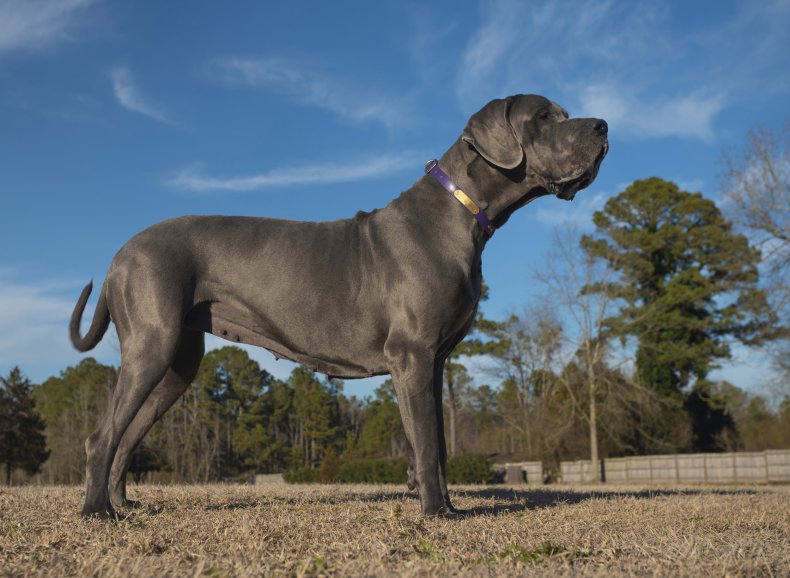 The video was overlaid with a message that read: "Telling my 100lb Great Dane puppy she can gently nudge the door when she's done outside."
Standing as tall as 32 inches at the shoulder, Great Danes tower over most other dogs and are taller than most people when standing on their hind legs, according to the American Kennel Club, the world's largest purebred dog registry.
"These powerful giants are the picture of elegance and balance, with the smooth and easy stride of born noblemen," the AKC states.
An August 2019 study, published in the Journal of Veterinary Behavior, found that large dogs were "more likely to be fully house-trained" than smaller breeds.
However, the study found "further research is warranted to understand why these differences are present."
According to the study, clinicians often categorize small dogs as being "more difficult to house-train," but "there have been no published studies to date to confirm the veracity of this assumption."
Some have suggested that "smaller dogs have both a higher metabolism and a smaller bladder—associated with more frequent urination—which may lead to incomplete house-training," the study said.
Potty training is a crucial element of dog ownership. Below are some tips to successfully house-train your canine friend, as outlined by Mary Burch, a certified applied animal behaviorist and the family dog director at the AKC:
Monitor your dog's diet.
Keep a consistent schedule, from trips outside to feeding and exercise.
Provide regular exercise, which helps with mobility.
Provide positive reinforcement to your puppy for "going" outside.
The latest video has left TikTok users in stitches.
In a comment that got 58,100 likes, user @122c22 said, "FBI [Federal Bureau of Investigation] open up," suggesting the dog's entrance was similar to the door-busting ways of the FBI during an infiltration operation.
SweetestGigi agreed, stating: "That's not a Dane, that's SWAT [special weapons and tactics unit of the U.S. police force] [crying laughing emojis]," while user @melissalyn504 wrote: "We gotta warrant! [shouting and crying laughing emojis]."
In a comment that got 31,200 likes, user Ashley said: "I've never seen a Great Dane do a gentle anything [crying laughing emoji]."
Newsweek has contacted the original poster for comment. This video has not been independently verified.
Do you have funny and adorable videos or pictures of your pet you want to share? Send them to life@newsweek.com with some details about your best friend and they could appear in our Pet of the Week lineup.