President Donald Trump on Wednesday told reporters that he won the first debate against Democratic presidential nominee Joe Biden "by every measure" and in "almost every poll that I saw."
"I thought it was a great evening," the president said at the White House, adding that "the ratings were very high and it was good to be there. I felt very comfortable. I appreciate all the good words."
Trump insisted that Biden "doesn't want to go forward" with the remaining debates. Shortly after the debate ended on Tuesday evening, Biden's deputy campaign manager Kate Bedingfield confirmed that the candidate will be attending the next two debates, scheduled for October 15 and October 22.
"By every measure, we won the debate easily last night," Trump continued. "I think he was very weak, he looked weak, he was whining.
"Yeah, we won the debate by almost every poll that I saw."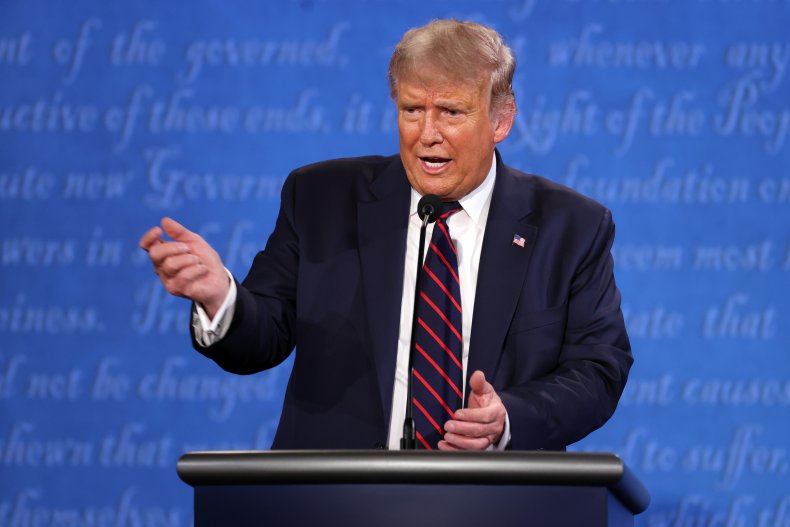 Newsweek reached out to the Biden campaign for comment.
The president didn't name the polls that he viewed, however, most public polling released in the hours following the debate found that Americans believed that Biden beat Trump. In a CBS News poll, 48 percent of viewers said Biden won the debate and 41 percent said Trump did. A CNN poll showed 60 percent of viewers saying Biden had the best performance.
At least two lesser-known polls did declare victory for Trump. In a Telemundo poll conducted on Twitter, 66 percent of Spanish-speaking viewers said Trump won the debate and 34 percent said Biden. Another, from WGN, also showed the president on top.
Trump has faced intense criticism from Democrats and some Republicans after allegedly failing to outright condemn white supremacy during the debate. When asked by debate moderator Chris Wallace to condemn the groups, Trump said, "Sure, I'm willing to do that," before insisting that violence had been coming from the left, "not the right wing."
"Then do it, sir," Wallace pressed, to which Trump responded: "Proud Boys, stand back and stand by."
The far-right group quickly moved to celebrate Trump's remarks on their social media networks. On Telegram, a cloud-based instant messaging service, the Proud Boys shared images with the phrase "stand back and stand by" surrounding its logo.
"It was unacceptable not to condemn white supremacists," Senate Majority Leader Mitch McConnell said on Wednesday. "I do so in the strongest possible way."
Republican Senator Tim Scott, one of just two Black GOP members of Congress, told reporters that he felt Trump "misspoke" and needs to clarify his position against hate groups.