The Great Jenny Simpson and Emma Coburn Steeplechase Rivalry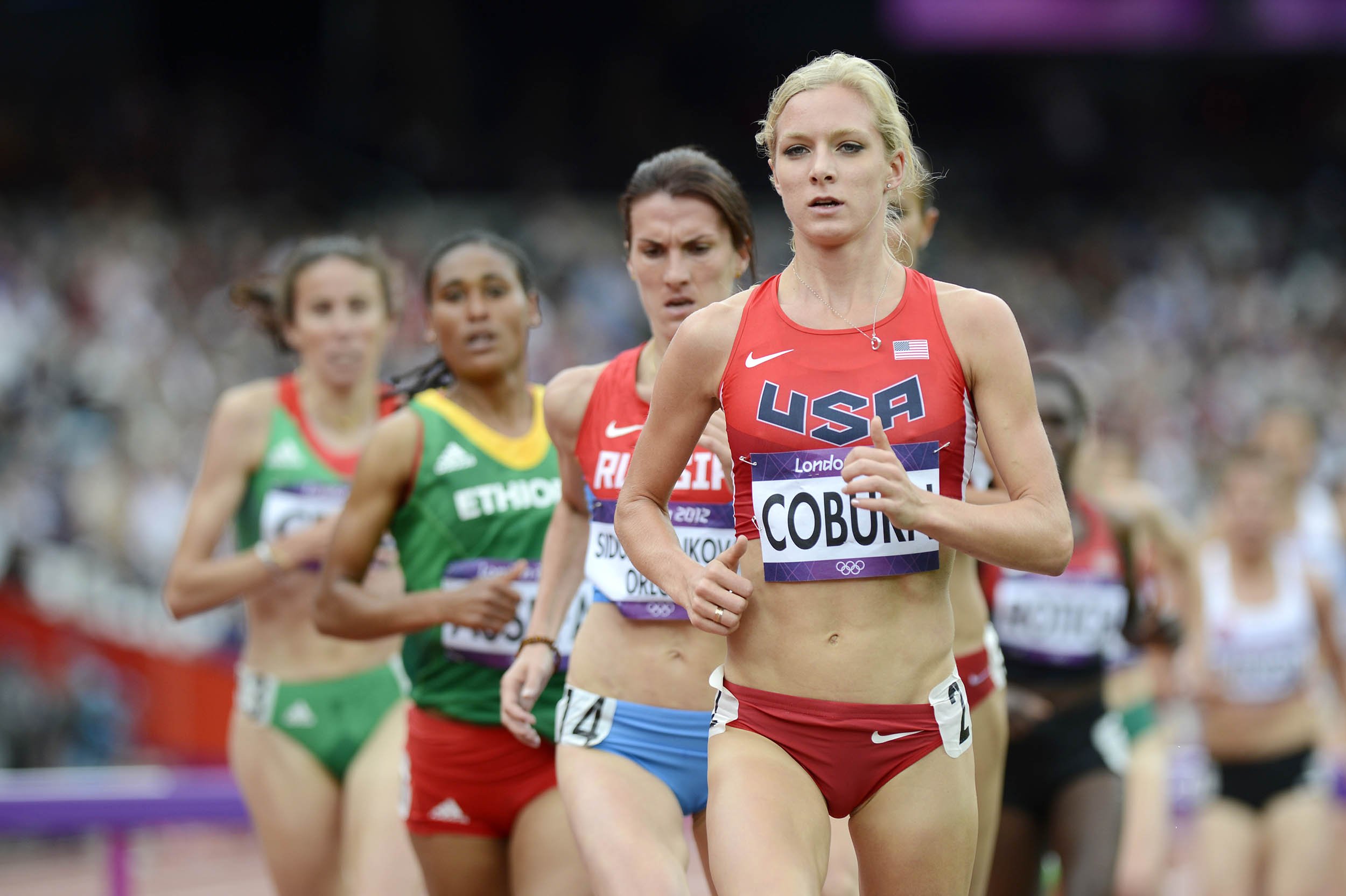 Before they shared the distinctions of being NCAA champions and Olympians and of holding the American record in the same event—the 3,000-meter steeplechase—Jenny Simpson and Emma Coburn shared something more intimate: a room.
It was the autumn of 2008. Coburn, an unassuming, flaxen-haired freshman from the ski-bum sanctuary of Crested Butte, Colorado, high school class numbered 19 students, matriculated at the University of Colorado (CU). That same fall Simpson, then Jenny Barringer, was a senior returning to CU's Boulder campus as a woman on fire. Fresh from a ninth-place finish in the steeplechase at the Olympic Games in Beijing in which she set the American record, Barringer was on the bell lap of a collegiate career in which she had already won a pair of NCAA championships in that event.
Barringer was about to embark on the most historic season in the history of women's collegiate track and field. Coburn aspired to eclipse, for the first time in her life, a 20-mile training week. Colorado head coach Mark Wetmore and associate head coach Heather Burroughs threw the unlikely pair together as roommates on road trips. "It was couched to me," says Simpson, who might have rolled her eyes a bit, "as an opportunity to have a positive impact on a young person joining the team."
Not long after the two first checked into a room together, the awestruck frosh stole away to phone her parents. "Guess who I'm rooming with?" she boasted.
Months passed. Barringer added a third NCAA steeplechase championship to her résumé while also breaking six NCAA indoor and outdoor records. Years passed. Barringer got married and included Coburn as a bridesmaid, while Coburn won a pair of NCAA championships in the steeplechase event and a third time finished second. By 2012, it was Coburn representing the United States in the Olympic steeplechase final (like Simpson, finishing ninth) while Simpson had moved on to the 1,500, a.k.a., the metric mile.
By this time, Simpson's and Coburn's lives and careers had become intertwined—they even run for the same shoe company, New Balance. Friendship and mutual respect had replaced that BMOC-pledge blind date pairing. When told Coburn had phoned her parents to brag about her roomie, Simpson teases, "Oh my gosh, you are such a creep and a dork."
They remain traveling companions, if not roommates. Only now the hotels they check into are not in domestic track meccas such as Palo Alto, California, or Eugene, Oregon, but rather international cities such as Daegu, South Korea or Zurich. On July 12, at a meet in Glasgow, Scotland, Coburn, 23, broke Simpson's five-year-old American record in the steeplechase (9:12.50) with a 9:11.42. Only seven days earlier in the 1,500 meters, a race that garners far more media attention, Simpson, 28, ran within one-tenth of a second of breaking Mary Slaney's American record (3:57:12) that has stood since 1983 (Slaney, by the way, the greatest middle-distance runner in U.S. annals, also attended Colorado. She has never met Wetmore or Burroughs, though, and only had a chance encounter with Simpson at a subway shop in Eugene a few years ago).
"My husband, Joe, usually rooms with me now," says Simpson, "but he has to work, so I invade Emma's room. And I tease her: 'Oh my gosh, look who I'm rooming with!'"
Between them Simpson and Coburn have appeared in three Olympics (Simpson ran the 1,500 in London). Yet they remain relatively unknown, stateside, beyond track-and-field websites and message boards. Their faces and forms, suitable for the front of a Wheaties box or ESPN the Magazine's annual "Body Issue," may as well be posted on the side of a milk carton for as much attention as cable sports networks pay them.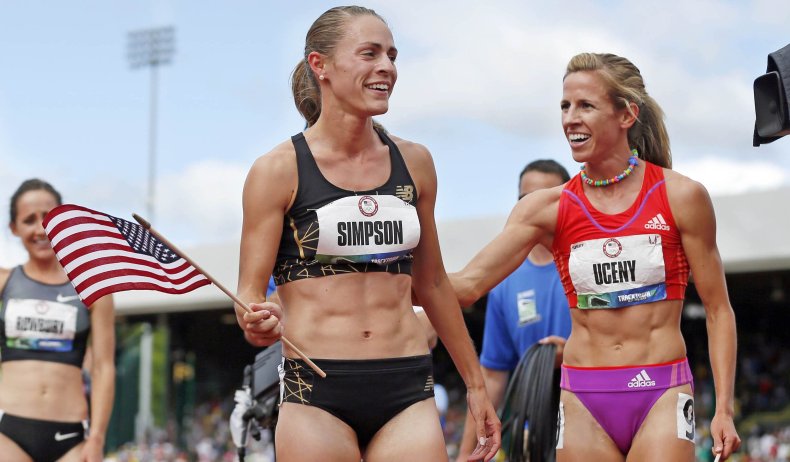 "We want to see them reach a wider audience, too," says Jeff McAdams, New Balance's Head of Running Marketing. "The formula here is to bring to life who Jenny and Emma are and what their accomplishments are. These are great people doing great things."
When Mary Slaney was setting U.S. records in the early 1980s as Mary Decker, she was making the cover of Sports Illustrated and even being named the magazine's "Sportsperson of the Year." When Emma set the new U.S. record in the steeplechase earlier this summer, you could only find that news on Twitter or running web sites.
"I had a locksmith here at my house four times in the past week," says Simpson, who like Coburn is now a volunteer coach at CU and resides in Boulder, "and the last visit was the first time he asked, 'Do you run?'"
Clearly, the steeplechase was designed by a sadist. Eight times around the track during which runners must clear 28 hurdles and seven water jumps. What other sports event guarantees that you will get your shoes and socks drenched every time?
In terms of women's participation, the steeplechase is still in its infancy. The race originated in Ireland in the mid–19th century as a sort of forebear to the modern obstacle race and has been, at least for the men, part of every modern Olympics dating back to 1896. As a women's event, however, it made its Olympic debut only in 2008, and the NCAA adopted it only in 2001. "If you ask any sprinter or middle-distance runner," says Simpson, "they will tell you it's totally insane. Why in the heck would you ever do that?"
Simpson says she had no choice. An eight-time state champion in track and field and cross-country at Oviedo (Florida) High School, she arrived in Boulder intent on becoming the fastest 5,000-meter runner in school history. "I wanted to be the greatest of all time," she says. "I put up Sara Slattery's 15:22 on my wall and set my sights on it."
Simpson never got the chance. Before a meet at Stanford during her freshman year, Wetmore informed her that she'd be running the steeplechase. The Buffaloes had, at the time, more skilled runners at the 5,000 and the team needed the points. "Mark said, 'You gotta try it,'" Simpson recalls.
Though Simpson ran a blistering 10:19, she vowed after crossing the finish line that she would never run the steeplechase again. "Too bad," said Wetmore. "You're good at it."
Later that spring Simpson won the first of her three NCAA championships in the event.
"There was a stigma in the past about the steeplechase," says Burroughs, the CU associate head coach whose All-American career in Boulder predates the steeple's debut, "that the steeplechase was a refuge. 'That's the event you do when you can't make the other distances.'
"But look at Jenny," Burroughs says. "She's moved on to the 1,500, and she won the world championship at that distance in 2011. She's on the cusp of doing some historic things on the track."
She's not alone.
Crested Butte is nestled deep in the Rockies, some 8,909 feet above sea level. It is a skier's paradise, with 16 chairlifts but not a single traffic light or restaurant franchise. It is here that Emma Coburn was raised, chasing after an older brother, Willie, and an older sister, Gracie, who were nowhere near as solicitous of her progress as Simpson would one day be.
"They used to play a game called 'Let's Exclude Emma,'" says Coburn.
"Or 'Make Emma Cry'," says Coburn's father, Bill. "Her older siblings take all the credit for her being as tough as she is."
By the age of 7, Coburn had already scaled Mount Sneffels, one of Colorado's 58 famed "14ers," peaks over 14,000 feet in elevation. She is named for Emma Burr Mountain, a nearby peak of 13,000-plus feet. She skied double black diamonds—exceedingly difficult ski trails—and averaged 18 rebounds per game as a high school basketball player. "I think I'm in the top 10 in state history," says the 5-foot-8 Coburn, "but it's mostly because I was the tallest on the court and everyone missed so many shots."
Coburn did everything well but nothing exclusively. Then, in the summer between her junior and senior years of high school, she entered a two-day meet in Albuquerque, New Mexico, the Great Southwest Classic. "I was running the 800," recalls Coburn, "but then my dad looked at the meet schedule and suggested that as long as we were driving that far, why not enter another event on the second day?"
Enter the 2,000-meter steeplechase, an event that is run only at the state level in high school in New York. Upon arriving at the meet in Albuquerque, Emma asked a man how many laps were in the steeplechase. Texas A&M assistant coach (and now University of Alabama head coach) Dan Waters smiled and told her. After Emma broke the tape, and by a large margin, Waters approached Bill Coburn and asked, "So, what school would you like her to go to?"
Coburn was always headed to Boulder. Her grandfather, 88-year-old Bill Coburn, the oldest living continuous donor to the school's athletic department, is an alum. As are her parents. Those cruel older siblings (she also has a 13-year-old brother, Joe) were at the time CU undergrads. The surname itself is an anagram for "CU-born."
Wetmore, who took over in 1994 and has built the premier distance-running program in the nation (nine of his men and women have competed in the Olympics), welcomed Coburn with minimal expectations. Coburn herself was not sure whether she belonged—until she met Simpson. When Coburn saw that the most accomplished runner on the Buffs' roster was also just a college coed, her trepidation vanished. "The first time I met Jenny, she was wearing a skirt and a cute top," recalls Coburn. "I thought, Oh, she must like to go shopping. She's not a running zombie."
Six years later Coburn and Simpson are still as close as, well, roommates. They train together—whereas Simpson used to finish a 400, or one lap around the track, six seconds ahead of Coburn, she now finishes about one-half second ahead—and they travel together. They competed in the same meet in Stockholm last Thursday and will race again on August 28 in Zurich, with new American records in the steeplechase (for Coburn) and the 1,500 (for Simpson) within their grasp.
They just don't—nor have they ever—compete against one another, even though they both are steeped in the steeplechase.
"Emma's like a younger sister to me," says Simpson. "I'm very protective of her."
"I've always looked up to Jenny," says Coburn.
They're the fastest of friends.