'The Great' Season 2 Release Date, Cast, Trailer, Plot—All You Need to Know
The Great is the hilarious and gripping historical drama from The Favourite's Tony McNamara starring Elle Fanning ad Nicholas Hoult. Season 2 was given the green light back in July 2020 and first-look photos of the upcoming season are starting to drop, with one showing Catherine wearing a spectacular crown. Newsweek has everything you need to know about The Great Season 2 including release date, cast, trailer, plot, and more.
When Is 'The Great' Season 2 Out?
After over one year of waiting, The Great Season 2 finally has a release date.
The second installment in the tale of Catherine the Great and Peter III marriage will premiere on Friday, November 19 exclusively on Hulu.
Just like Season 1, there will be 10 episodes in the new season, each an hour long.
To watch The Great, you can subscribe to Hulu now for $5.99 per month. As you await Season 2, you can re-watch Season 1 now.
The show's renewal did not come as a huge surprise, considering The Great was "one of the top-performing original comedies," Hulu reported.
Who Will Star in 'The Great' Season 2?
The entire main cast is back for the second season of The Great.
This means Maleficent's Elle Fanning will be back as Catherine the Great and Mad Max's Nicholas Hoult as her husband Peter III.
Also returning are Phoebe Fox, Adam Godley, Gwilym Lee, Charity Wakefield, Douglas Hodge, Sacha Dhawan, Sebastian de Souza, Bayo Gbadamosi, and Belinda Bromilow.
Sex Education's Gillian Anderson has joined the cast as Joanna, Catherine's mother, who is described as a "glamorous socialite" from Germany who arrives in Russia after hearing of her daughter's failed coup.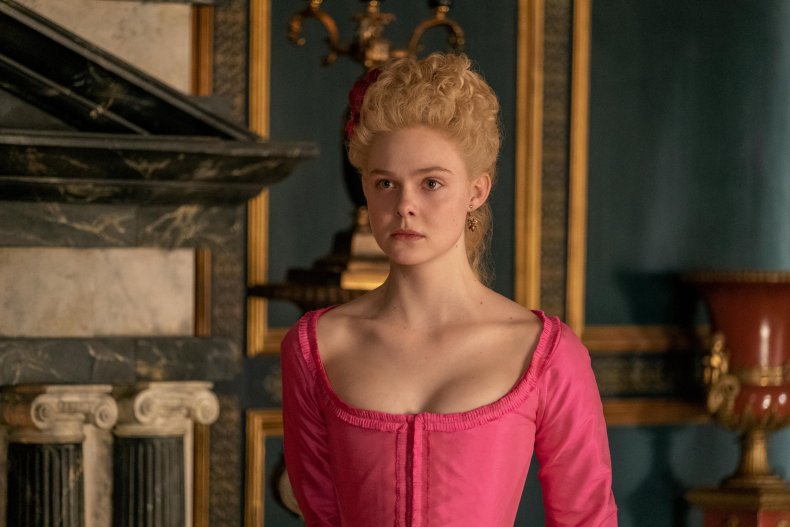 What Will Happen in 'The Great' Season 2?
The Great is a historical comedy and it is important to note, it is loosely based on historical fact. It's not supposed to be accurate. The series dramatizes the rise of Catherine the Great (played by Elle Fanning) and how she would go on to become the longest-reigning ruler in Russia's history.
Season 1 of The Great followed Catherine in her first years in Russia and her turbulent marriage to Peter III (Nicholas Hoult).
At the end of Season 1, Catherine launched a coup against her husband, which went disastrously wrong. Worse, the failed uprising saw Catherine's lover Leo's (Sebastian de Souza) life on the line—not her intended target Peter.
The last audiences saw of Leo was him being sacrificed to Peter's guards so Catherine could rule alongside Peter as the empress of Russia.
We did not see his death on screen but it can be presumed he is dead.
However, he did promise to haunt Catherine, so there is the possibility Leo could return as a ghost.
Season 2 is sure to pick up from the fallout of Catherine's coup and how this will affect her relationship with Peter.
In the new series, Catherine is also pregnant, fulfilling Aunt Elizabeth's (Belinda Bromilow) wishes but is the baby Peter's or Leo's?
Speaking to The Wrap, Fanning teased Catherine will be more "parental" in Season 2.
She said: "This season is very parental and learning to be a mother and mother to a country in that sense. There are some themes there. But we have some wild things planned. It's going to be cool."
Hulu has also released some first-look images of the new season, teasing what is in store. In one of the images, Catherine is wearing a bejeweled crown and in another, Peter can be seen kissing her baby bump.
The synopsis for the new season reads: "Catherine finally takes the Russian throne for her own—but if she thought coup-ing her husband was difficult, it's nothing compared to the realities of liberating a country that doesn't want to be.
"She'll battle her court, her team, even her own mother (played by guest star Gillian Anderson) in a bid to bring the Enlightenment to Russia. Meanwhile, she'll also battle her heart as Peter slowly transitions from a much-hated husband to a prisoner? Ally? Lover?
"Ultimately, Catherine will learn that to change a country, you must let it change you, that there is a fine line between idealism and delusion, and that becoming 'Great' will ask more of her than she could have imagined."
Is There a Trailer for 'The Great' Season 2?
No, there is no official lengthy trailer for The Great Season 2. However, Hulu has released a short teaser to announce the show's release date.
In the 45-second clip, a pregnant Catherine is seen arguing with Peter, once again. The teaser opens with Peter asking how Catherine is. She responds: "At war with you, that's how I've been."
Catherine seems to want peace in Russia but Peter is adamant he "doesn't mind bloodshed" over the fight for the throne.
Elsewhere, we catch the first glimpse of Gillian Anderson as Joanna, Catherine's mother.
The short trailer teases: "The Emmy-nominated series returns with a vengeance."
The Great premieres Friday, November 19 on Hulu.