'The Great' Season 3: Elle Fanning and Nicholas Hoult on The Show's Future
Season 2 of The Great is streaming on Hulu now and for those who have binged their way through the series, the shocking, cliffhanger ending which saw Catherine (played by Elle Fanning) attempt to kill Peter (Nicholas Hoult) once and for all will have you eager for more.
At the moment, there has been no official announcement regarding the show's future, but stars Nicholas Hoult and Elle Fanning shared with Newsweek they would more than happy to return.
Elle Fanning, who plays Catherine the Great said: "I definitely would, for sure. It is the most fun project in the world."
The Great Season 2 saw Catherine take the throne from her husband Peter III (or he gave her it, whichever way you want to look at it) and set out her visions for a new Russia.
Along the way, Peter and Catherine did not always see eye to eye. There was the aftermath of Catherine's coup where Peter almost starved to death, all-out war between the serfs and the nobles, a crocodile roaming the palace, war in the East, and Peter even stooped so slow as to eventually have sex with Catherine's mother Joanna (Gillian Anderson).
To begin with, it would be fair to say their relationship was strained, with Peter locked in his apartments as a form of exile, but eventually the pair developed a bond over their unborn child.
Catherine was also pregnant and in Episode 8, titled "Walnut," gave birth to Paul, the heir of Russia, which both Hoult and Fanning believe could be a key plot line of Season 3.
Fanning shared: "They have a kid and I don't know how old that kid would be. I want the kid to be around. I think that would be interesting."
Hoult joked: "I'd like to see them go on holiday in the Bahamas."
As seen in The Great Season 2, the real Catherine the Great and Peter III did have one son together, Paul.
Paul would go on to become Catherine's successor following her death in November 1796. He would go on to become known as Paul I of Russia.
Paul married Princess Wilhelmina Louisa of Hesse-Darmstadt in 1773. His second marriage was to Princess Sophie Dorothea of Württemberg and together they had two sons, the future Alexander I of Russia and Nicholas I of Russia.
Catherine and Peter also had a daughter, Anna Petrovna Grand Duchess of Russia in December 1957 but sadly, she died aged 15 months.
Catherine also had an illegitimate son, Alexis Bobrinsky, with Grigori Orlov.
In The Great, Orlov is one of Catherine's greatest allies and advisors, and they have remained strictly friends throughout Seasons 1 and 2. In Season 1, she had a lover named Leo (Sebastian de Douza), and there is a huge possibility the baby could be his.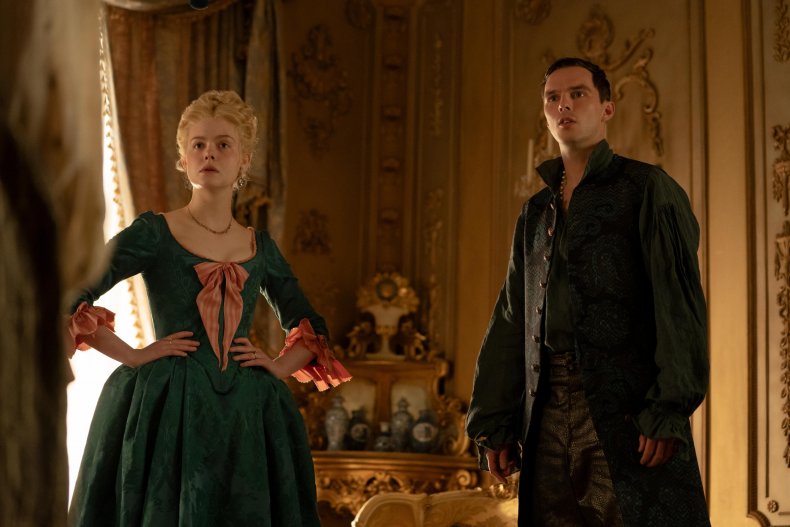 Unfortunately, for now, fans of The Great will have to sit tight and await news of the future of the show, but judging by the cliffhanger ending and the fact the show's two biggest stars, Hoult and Fanning, are keen to continue the story of Catherine and Peter, things are looking good.
Huzzah!
The Great Season 2 is streaming on Hulu now.