College Credit: 'Great Society' Broadway Actor Grantham Coleman Says Julliard Taught Him There's No One Way to Act
Before he was Grantham Coleman the Broadway actor, he was Grantham Coleman the Juilliard School student. While a four-year conservatory isn't the right path for everyone, Coleman credited Juilliard with teaching him to find his own way of acting.
More than seven years after he graduated from Juilliard in New York City, Coleman returned to Lincoln Center, albeit this time, as one of the stars of a Broadway play. The Great Society opened on October 1 with Coleman playing the part of Martin Luther King Jr. opposite acting powerhouse Brian Cox as President Lyndon Johnson.
"A lot of times I didn't think this was gonna happen, and I'm just very fortunate and appreciative of the opportunity to play MLK," Coleman told Newsweek. "It's such an important part of theater for politics in today's world."
Unlike some professions, such as doctors and lawyers, becoming an actor with a leading role in a Broadway show doesn't require a college degree. In 2019, college can come with a hefty price tag, making it, at times, a tough decision for those who dream of being an actor.
Although not a prerequisite for acting success by any means, Coleman told Newsweek that Juilliard gave him space to learn how to approach his craft.
This interview was condensed and edited for length.
Why did you choose Juilliard?
I went to a performing arts high school in Houston, Texas. And I was good at the theater, but I did it mostly because my friends did and it was fun. I thought I would be a lawyer. My dad is a lawyer, so I was gonna be a lawyer; and I was gonna go to the University of Texas because I love football and my parents went there.
When we got closer to our senior year, we auditioned for a young arts program run by the National Endowment for the Arts, and my two best friends and I won. While we were at the master classes and panels, we named all the top theater schools we wanted to go to and we didn't say Juilliard. I thought it was just a dance school.
The deadlines for applying were a week away and a woman said she'd help me apply, so I set up my audition. Every step of the way I thought, I really like this school.
Everyone was serious about it, and I liked the appreciation of the work we were doing.
Juilliard had the best financial aid package for me. Not to mention they were then my No. 1 school, so it all worked out. It was a Godsend.
Did you consider going to other colleges with arts programs?
I wanted to go to a conservatory. I think the best thing about Juilliard is that everyone isn't just freshman college students. When I was 17, there was someone in my class who was 36. I think it was helpful to learn from people who weren't just professors but had been acting for as long as I'd been alive.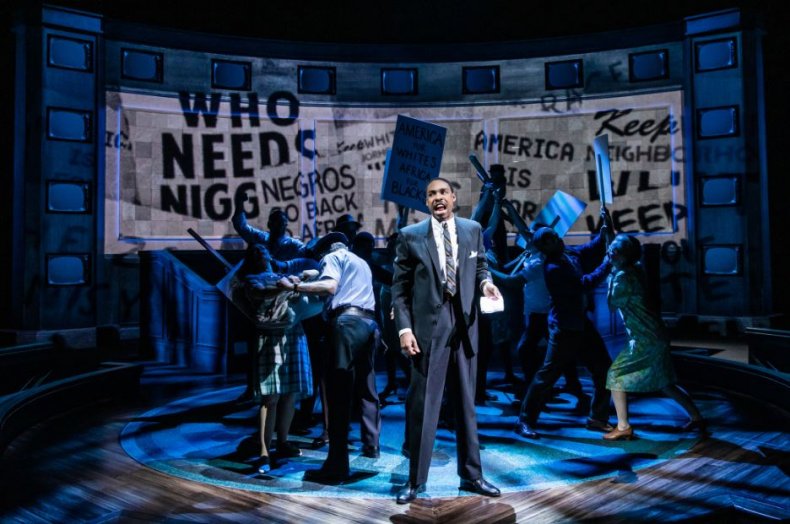 Were there any classes or professors that were really influential in shaping your career?
The program's designed to teach us how to portray human beings, and they are very clear there's no one way to act. Everyone's going to have their own way and find their own process, but your commitment is to find the truth as a human being.
I think that might be the lesson, not just from one person or one teacher but each class wants to give you that tool.
What if you moved to New York and just took acting classes, do you think you would be where you are today?
Possibly, but I think it would have taken a lot more hard life lessons and a lot more time. Not everyone has to go to a class that meets once a week or a four-year conservatory, but I got the space to take a stance and make a choice and learn that this is how you approach working and your craft.
What was your reaction when you found out you were cast in your first Broadway play?
Me? Really? Just to be in it, let alone play Martin Luther King Jr., that's a little crazy.
Research for the part was research I was doing my whole life, but I was worried I wouldn't portray him accurately. The director and writer approached me about it, and they understood my fears. They were more interested in conveying the spirit of Dr. King and the person [he was] and his struggles, instead of casting someone who looks like him. A lot of his personal beliefs are mine as well, so it wasn't a huge struggle to get to where his mind was.
Was it intimidating working with Cox?
Yes and no. I've been living in New York and Los Angeles for years, so I've adjusted to seeing stars, but he's the bad guy in some of my favorite movies so I had no idea what his personality was. Lo and behold, he's the loveliest, nicest person that I've ever worked with that I didn't know already.
He's so incredibly compassionate and hardworking, gentle, but also fierce in his acting.
What advice do you have for young people considering going to college for acting?
When does the sacrifice sacrifice your dream? That's not saying always pay the money [to go to school] because that can rob you of having a nest egg to put you in the right place to be.
I got lucky I think. I got blessed, but I still have student loan debt and I have the opportunity to pay that off in the career path that I went to school for which isn't the case for most people.