Great White Shark Filmed Circling Boat in Bloody Water: 'He's a Monster'
A great white shark was filmed circling a fishing boat in bloody water after preying on a sea lion as onlookers watched in astonishment.
The video posted to Instagram by Mike McGill showed a great white shark approaching the boat 14 miles off Mission Bay, in San Diego, California.
Great white sharks can be found in all of California's coastal waters, particularly in the summer months. In recent years, the waters off San Diego have become a hotspot for juvenile white sharks. Young white sharks keep to safe, shallow areas while they are vulnerable.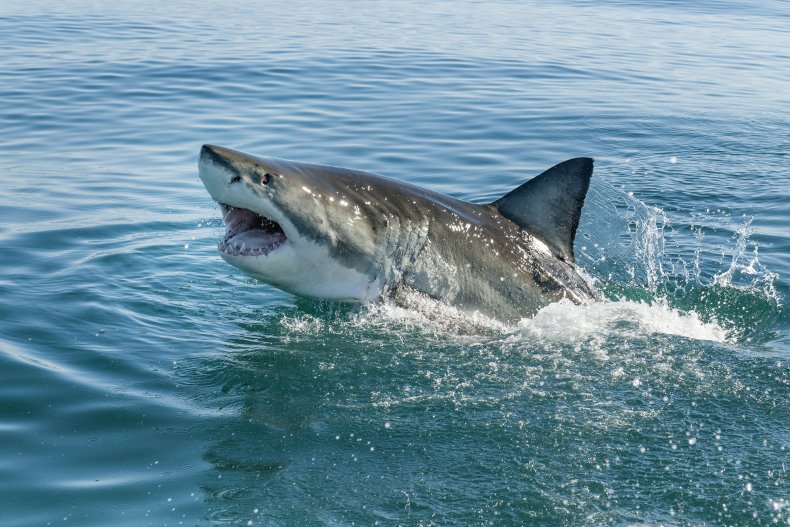 In the footage, the great white shark can be seen approaching the boat while people yell, "oh my god!"
A man can be seen looking over the edge of the boat, directly down on the shark.
"He's kissing the boat," someone in the video can be heard saying.
Blood can be seen seeping out into the water where the shark was swimming—the carcass of a sea lion was floating a few feet away.
"No way!" someone in the video said.
"He's a monster dude," another person can be heard saying "Holy s**t."
The shark then swims back toward the carcass and disappears into the depths.
According to CBS Los Angeles, the great white shark swam under the boat and then circled it, before returning to feast on the dead sea lion.
"So this happened yesterday," McGill said in a caption to the video.
In the comments, McGill said that they were not trying to bait the shark by putting the carcass in the water.
"Well at least you all could rest easy knowing he wasn't starving and on the hunt for boat morsels!" one Instagram user said in the comments.
It is not clear how big the great white shark was, but another Instagram user guessed between 15 to 18 feet.
In rare cases, great white sharks can reach lengths of 19 feet. On average, they are between 11- to 15-feet-long.
"Damn that's crazy, he's huge!" an Instagram user said in the comments.
"When people ask me why I live way up in mountains in Colorado, I'll just show them this video," another commenter said.
Great white sharks are an elusive species and usually aim to avoid people.
The species' population has grown off the coast of San Diego recently due to a higher abundance of prey in the area, according to marine biologists. The sharks prey on sea lions, seals and other fish.
Due to the higher proportion of young sharks in the area, scientists also believe it is being used by the species as a nursery area. This in turn could be attracting the species to the area during mating season.
Newsweek reached out to Mike McGill for comment.