Watch Fishermen Reel in Great White Shark Off Georgia Coast: 'Like Wrestling a Volkswagen'
The moment a fisherman caught a great white shark off the coast of Georgia has been captured on film, with dramatic footage showing Captain Jimmy Lee Armel wrestling with the apex predator for 20 minutes before setting it free.
Armel, of American Fishing Charters, was out on a fishing trip on December 30 when he hooked the great white. Twenty minutes later, Armel finally managed to get the shark right next to the boat.
He estimated it to be a juvenile great white, measuring about 8 feet in length and weighing around 500lbs. "It was like wrestling a Volkswagen," Armel told Newsweek. "That's the best way I know to describe it. I was definitely feeling it in my back the next day."
Armel said he had hooked great whites twice before, but both got away before they could be reeled in. The December fishing trip was the first time that Armel, a military veteran, managed to get close to a shark. "This is the first one that we actually got to touch and see up close and personal. It is very emotional. It's an absolutely beautiful creature.
"It was the most incredible experience of my life."
There are a huge number of great white sharks congregated off the coasts of Virginia, Georgia and North and South Carolina at the moment. This population, off the U.S. east coast, heads to these states over winter. It is thought they will mate there in spring, before heading to their feeding grounds.
Armel said he realized he had hooked a great white shark when it came up from under the boat. Until that point, he had suspected it but couldn't be certain.
Once Armel got the shark next to the boat, he could not see the hook so cut the line. "I didn't want to hurt the fish," he said.
In the footage, the captain walks to the end of the boat after releasing the shark, with his laughs turning to tears. "It's just such an emotional experience," he said. You can watch the full-length video on Armel's Facebook and YouTube pages.
Armel has been a fisherman for five years. He came to it at a low point in his life. After getting injured in the military—he served in Iraq and Afghanistan—he was forced to retire. "It took my purpose away," he said. He contemplated suicide but was stopped by his dog, who came over and put his paw on his knee. After that, he started fishing.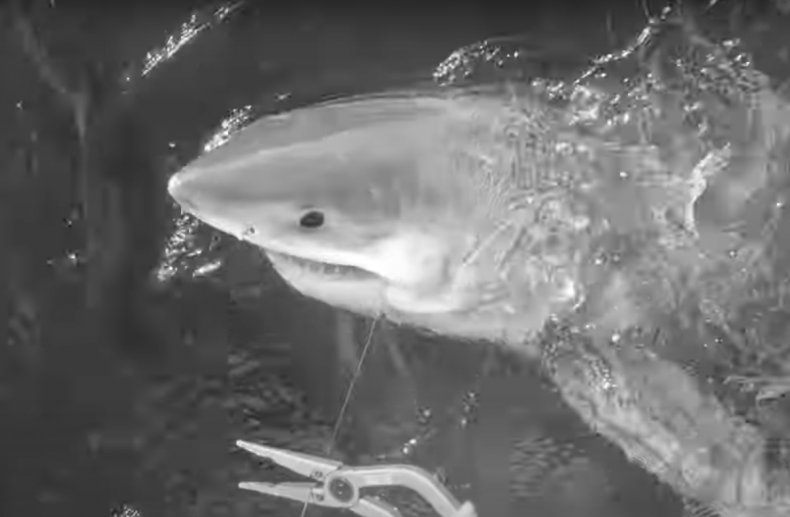 Soon after, he set up a non-profit to help other veterans facing similar problems. Through the non-profit, Knot Lucky Fishing, Armel now offers fishing trips to help these men.
"We have gunfighters, guys that are on the quote-unquote front lines," he said. "We have different kinds of issues than other people have. I cannot relate to other people's issues as they cannot [relate to mine]. What I do is I concentrate on the people I understand and relate to.
"I just take guys out fishing, you know. If things come up and we talk about things, great. If they want to get out on the water, that's cool too. So, that's basically what we did."
Armel says one day he would like to get involved in a shark tagging program and combine his work with veterans and conserving great whites. "It's a magical experience being there and being able to have that meeting and that interaction. And I think it would be a beautiful thing to take these guys out, tag these great whites and name them after fallen soldiers.
"I found happiness. I might be able to help one guy. Two guys, five, guys maybe 10, you know, and if I can do that, I need to do it."