Shark Attacks 2017: Massive Great White Filmed From Feet Away in Shallow Waters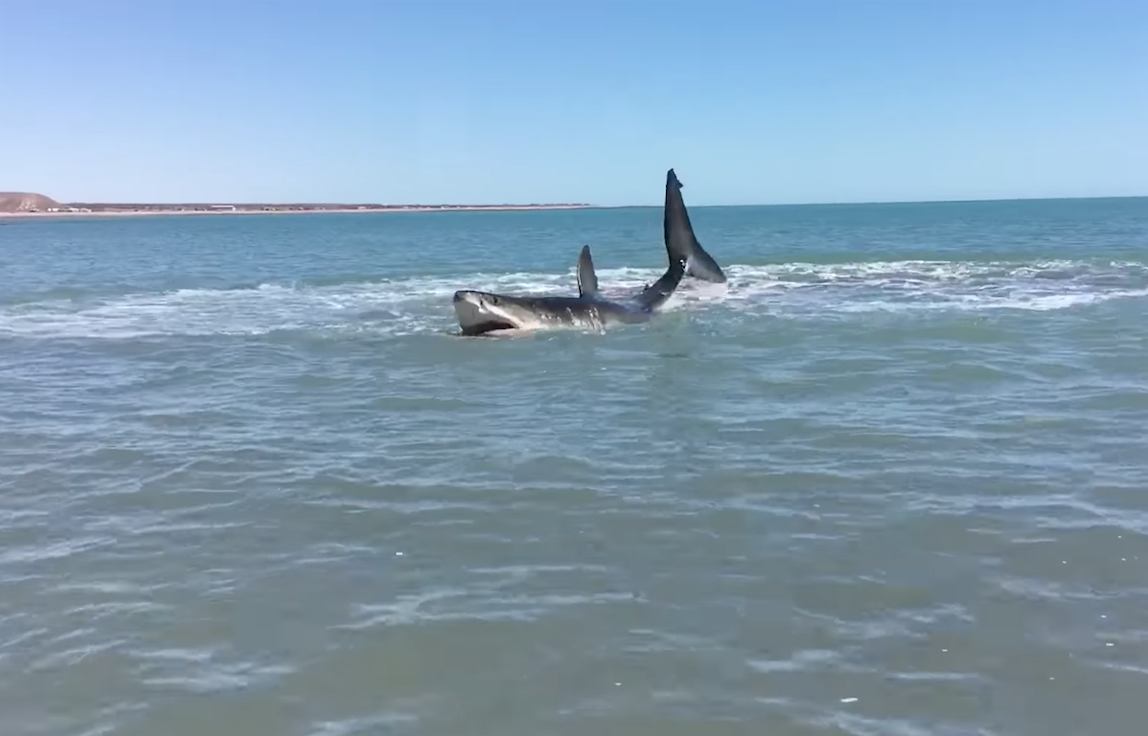 When it's summer, shark sightings and attacks start swimming into our news feeds. Attacks have already been reported on both coasts of the United States, and some Southern California beaches were evacuated in May after at least 25 great white sharks were spotted by a helicopter. That same month, a little farther south on the Pacific Coast, a man captured incredible footage of a wounded great white thrashing in shallow waters off the coast of Puertecitos, Mexico, in Baja California.
Related: Great white sharks force swimmers off Southern California beaches
The video has recently gone viral, both for the shocking, up-close footage of the 14-foot-long beast and for the commentary of Dale Pearson, who manned the camera, and his friend. Here are some highlights:
"That's a fuckin' white shark, dude."
"Huge freakin' shark."
"Huge fuckin' white shark."
"This is a white shark...big fuckin' white shark."​
"Oh shit...That's fuckin' gnarly."
"Oh my God."
"Oh my gosh."
"Holy shit" (x14)
"Holy fuck."
"Holy fuck me running."
"Fuck, I'm shaking."
Pearson and his friend were able to get close to the shark because it was in shallow waters, having ventured there because it was injured. Two wounds are evident in the video, the largest a huge gash across its spine, which Pearson assumes came from a boat's propeller. As HuffPost points out, Pearson wrote on Facebook that he believed the shark journeyed into shallow waters to hunt for stingrays, a theory that was corroborated by marine biologist Michael Dormier.
"If you're wondering if there's great white sharks here in the Sea of Cortez, the answer is absolutely," says Pearson, who posted the video to the Facebook page of his company, Pearson Brothers Wine.
Pearson and his friend treaded within feet of the shark and survived unscathed, but several shark attacks have already been reported in 2017. Earlier this month, a woman from North Carolina lost her arm when she was attacked by a tiger shark in the Bahamas. In April, a San Diego woman was in critical condition after a shark ravaged her lower body. She is still in the hospital recovering. Last week in Florida, a man filmed a reef shark attacking his leg.
Shark attacks have been on the rise in recent years. A record 98 incidents were reported in 2015, up dramatically from 72 in 2014 and 58 a decade earlier in 2005. The number of attacks dropped to 81 in 2016, which is in line with the five-year average of 82 incidents worldwide.