A great white shark has washed up on a beach in southern Australia with red markings around its mouth.
The shark was found on a remote beach at a small rural community called Fowlers Bay on the Eyre Peninsula in the state of South Australia, as first reported by Australian regional outlet ABC Eyre Peninsula and West Coast on Monday.
A spokesperson for South Australia's Department for Environment and Water (DEW) told Newsweek that the great white was a juvenile male—approximately one year old—that measures around eight feet in length.
A member of the public came across the shark, which was already dead, in August. The individual alerted the local National Parks and Wildlife Service district office of their discovery. The specimen was later collected by the DEW
"Our standard protocol is to remove the deceased animal for testing to determine the cause of death and scientific study," the spokesperson said.
It is not clear exactly how the shark died, but it may have perished due to natural causes.
"The shark might have become stuck on the beach during a low tide," Dirk Holman, a marine coordinator with the National Parks and Wildlife Service, said in comments provided to Newsweek. "Potentially, he was patrolling the beach looking for salmon and might have got himself a bit high and dry."
Holman said it is "really rare" for a young great white shark that looks healthy to wash up on a beach intact.
"It's really unusual; normally if an animal, like a marine mammal, washes up it's because it's either sick or injured," he said.
An image of the shark shows significant red discoloration around its mouth. This may have been caused by a number of factors, according to Holman.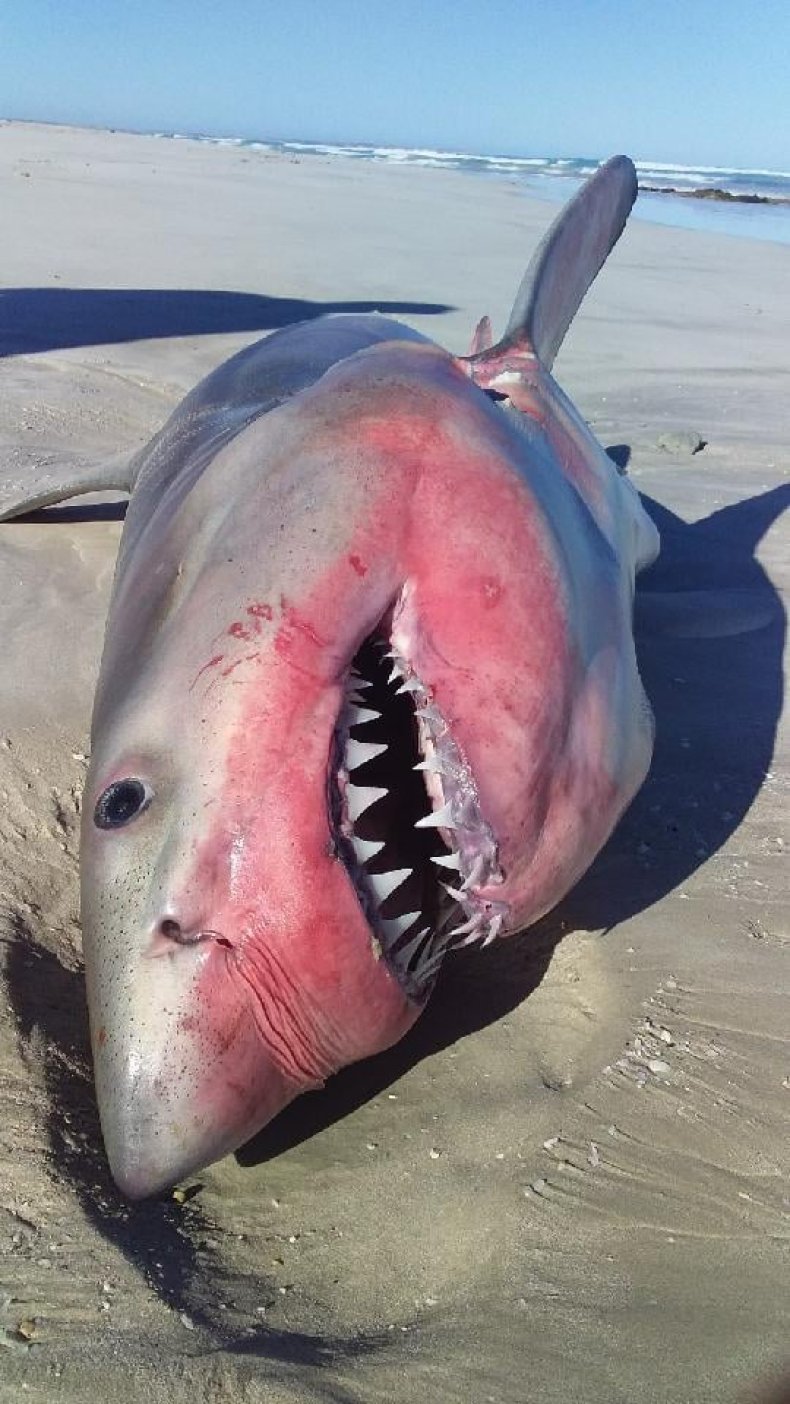 "It could have been a little bit of trauma from the sand if it was thrashing around on the sand as it died. It could have been a little bit of exposure to the sun," he said.
"Or it could be just part of the natural process of death, of the animal passing away and blood flow remaining near the skin surface and not circulating."
Holman said sharks of this age are essentially young kids so they are not sophisticated in their hunting strategies.
"In 12 years of working on the Eyre Peninsula, I've never seen a young shark come ashore," he said.
The discovery and quick retrieval of the shark meant it could be placed in a freezer to preserve it for scientists at CSIRO—Australia's national science organization.
CSIRO researchers will examine the stomach contents of the shark, as well as its heart and DNA, which will provide valuable information for the organization's population analysis, according to the DEW spokesperson.