A great white shark has been filmed leaping from the water in front of a fishing boat after getting hooked on a line.
The footage, captured by Jason Bragg while on a fishing trip off New Zealand's North Island, begins showing him and his family fishing quietly on calm waters.
Suddenly, a great white shark leaps out of the water in front of the boat. Bragg's nephew, to the left, yanks his fishing rod slightly as the shark emerges from the water.
"Did you see that?" Bragg can be heard saying.
Large ripples in the water can still be seen where the shark jumped from the water and disappeared into the depths.
"That must have been a great white, guys," Bragg says in the video.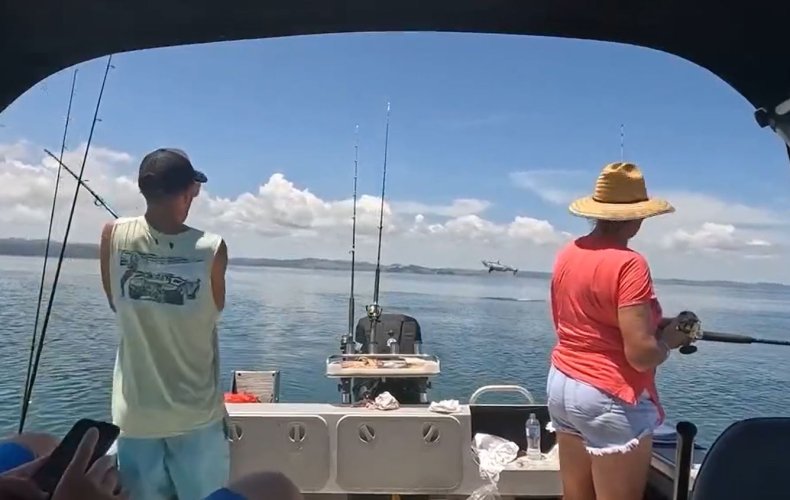 The footage was captured in December 2021. Great white sharks can be found all year round in New Zealand, however most encounters happen from December and May. This is when they typically return to the country's waters.
The New Zealand Heraldreported that Bragg's nephew, Andre, has accidentally lured the shark over with his line.
Bragg told the newspaper that they anticipated a large fish was coming as their fish finder was a "sea of red." He set up his GoPro camera in hopes to catch footage of the bite, however, he had not expected it to be a great white.
Biology professor at the University of Mississippi, Glenn R Parsons, who specializes in aquatic biology, told Newsweek that it was clear from the footage, that the shark was not very large, considering they can grow up to 20 feet long.
He said it was most likely a juvenile shark, as this one was estimated to be 10 feet. The species typically mature at around 15 feet, he said.
The elusive spices have been known to breach the surface of the water before, when they are catching larger prey such as seals.
"That behavior is common among white sharks. They often attack from below propelling themselves completely out of the water. The shark saw the bait that the fishers were trolling and it rocketed up and took it," Parson said.
The sharks, which weigh on average between 1,500 and 4,000 pounds, can swim up to 40 miles an hour, and fly as high as ten feet in the air. It is not often the moment is captured on film.
The coastal waters around New Zealand's north island has become a hotspot for juvenile great white sharks recently, however it is not certain why. In November 2021, 9 News reported the numbers of sharks had been increasing in the area over the past three years.
Bragg told The New Zealand Herald the great white shark was unharmed following the encounter.