Great White Sharks Including 15-foot, 2,000 Pound Behemoth Are Patrolling U.S. East Coast Hunting Prey
A number of great white sharks tracked by OCEARCH are making their way from the frigid waters of Nova Scotia to the more temperate climes of the Gulf of Mexico in time for the winter months.
The migrating sharks include Unama'ki (meaning "land of the fog," in reference to the indigenous Mi'kmaq term for Cape Breton)—a female shark weighing more than 2,000 pounds and measuring more than 15 feet.
Unama'ki entered the Gulf of Mexico last week, Newsweek reported at the time, where she is joined by Helena, a 12-foot, 5-inch female, and Hudson, a 5-foot, 1-inch young male.
Other sharks making their way to the Gulf include Cabot, a 9-foot, 8-inch sub-adult male last located around the Delmarva Peninsula near Virginia on Friday, and Sydney, a 12-foot, 2-inch male, who was tracked close to Daytona Beach, Florida, on November 6.
This data comes from OCEARCH, an organization that tracks more than 416 tagged animals including a number of great whites.
Its research has shown that the Atlantic continental shelf waters off the coasts of North Carolina, South Carolina, Georgia and Florida are a winter "hot spot" for white sharks—so much so that the area is now being referred to as the Northwest Atlantic Shared Foraging Area, or NASFA for short.
"The body of colder water trapped between the Gulf Stream and the coast is a key feature of this region," Bryan Franks, Assistant Professor of Marine Science at Jacksonville University and OCEARCH collaborating scientist, said in a statement.
"This 'wedge' of cold water extends from the Outer Banks in North Carolina down to Cape Canaveral in Florida. This feature results in a range of water temperatures in a relatively short horizontal distance from the coast out to the Gulf Stream. In addition, there is the potential for abundant prey in the migrating populations along the coastlines and in the dynamic mixing zone on the Stream edge."
OCEARCH's research has shown that almost all Northwest Atlantic sharks appear to visit the region during their migrations, primarily in the winter. It has drawn comparisons to the Farallon Islands and Guadalupe Island to a Shared Foraging Area (SOFA)—or "White Shark Café"—a regular haunt of sharks on the Pacific coast.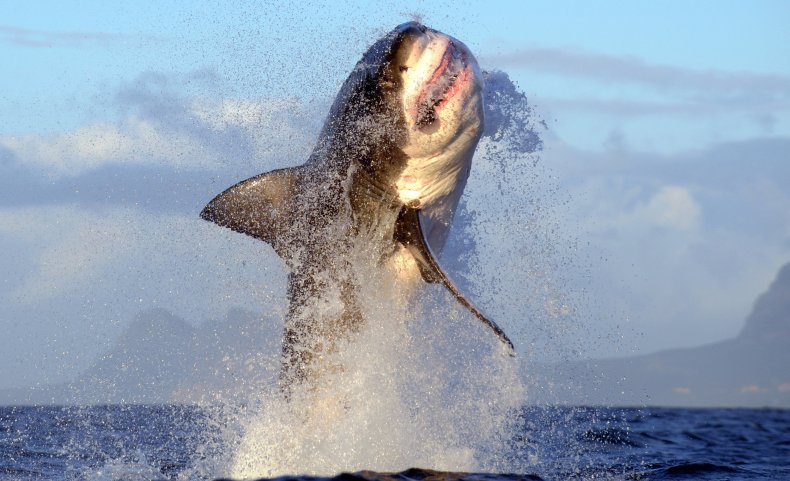 East-coasters might be pleased to know that great white attacks like that on Australian fisher Joe Petrovich (who escaped in one piece) are rare.
According to the International Shark Attack File at the Florida Museum, there were just 66 reported incidents of unprovoked shark attacks on humans in 2018—a number that is below the 2013-2017 yearly average of 84. A further 34 attacks were provoked. This includes incidents that were a diver may have tried to touch or harass the shark or a fisher was attacked by the shark.
Of these attacks, 32 took place in the U.S. and 24 percent took place in Florida. The graphic below, provided by Statista, shows the number of confirmed shark attacks per country since 1580.