Great White Sharks Spotted in 'Big Grouping' Off Coast of North and South Carolina
Experts are trying to figure out why a group of great whites have congregated around the coast of the Carolinas.
A screenshot of OCEARCH's shark tracker was posted on Facebook, Saturday, showing the group huddled around the coast near the North and South Carolina border.
"What do you think could be causing this big gap in where white sharks are pinging right now," the research organization posted on Facebook.
"There are pings in the Gulf of Mexico and then a big grouping in North Carolina/South Carolina but none in the middle."
Several people have commented, suggesting a combination of healthy food supplies and temperate water could be behind the site's popularity.
Sharks have been tracked as far north as Nova Scotia in Canada and as far south as Florida in the U.S. but most spend at least some of their time in the Northwest Atlantic Shared Foraging Area (NASFA). The region extends from Cape Hatteras in North Carolina to Cape Canaveral in Florida and is favored for its unique climate and abundant food stock.
"The body of colder water trapped between the Gulf Stream and the coast is a key feature of this region," OCEARCH collaborating scientist Bryan Franks, Assistant Professor of Marine Science at Jacksonville University, said in a statement. "This feature results in a range of water temperatures in a relatively short horizontal distance from the coast out to the Gulf Stream."
"In addition, there is the potential for abundant prey in the migrating populations along the coastlines and in the dynamic mixing zone on the Stream edge."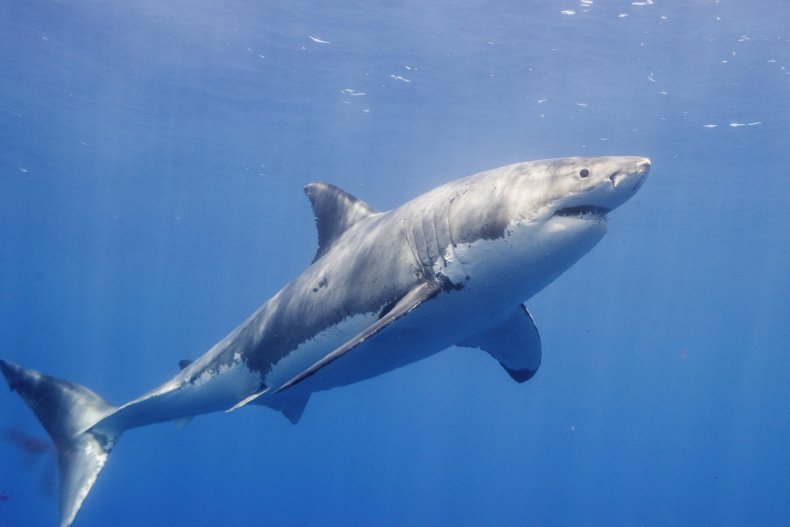 Since OCEARCH started tagging sharks in 2008 for research purposes, their scientists have noticed that nearly all large white sharks being monitored spend some of their migrations in NASFA, most often in the winter. Earlier this year, the tracker showed that sharks were starting to congregate around the U.S. southeast coast.
The most recent visitor to the area is Miss May, a 10-foot-2-inch female sub-adult. Her tracker pinged on February 9, 2020 near Surfside Beach in South Carolina. She joins Jefferson—a 12-foot-7-inch male, weighing 1,336 pounds—and Cabot, a 533-pound male detected in the area on February 6, 2020, as well as several others, including Vimy.
Vimy is a 1,164-pound adult male who measures 12 feet and 9 inches tip-to-tip and was tracked near Holden Beach in South Carolina on January 15, 2020. While he is a little smaller than the species average (15 to 20 feet), Chris Fischer, OCEARCH Founding Chairman and Expedition Leader, previously told Newsweek he is one of the larger males the team has encountered in the Atlantic northwest. Last year, he was found injured after an attack with a rival shark left him with a bite in the head.
As migratory creatures, these great whites are unlikely to stay in the Carolinas for too long. You can keep track of where they go next with OCEARCH's shark tracker.
The graph below, created by Statista, shows the number of reported shark attacks per country from 1580 to June 2019.