Great White Sharks Gather at Site of Fatal Attack
A dozen great white sharks have gathered at the site of a fatal attack that occurred on September 25.
An aerial survey of the Plettenberg Bay coastline, in South Africa's Western Cape Province, conducted by the Plett Shark Action Group (PSAG), showed 12 great white sharks in the area.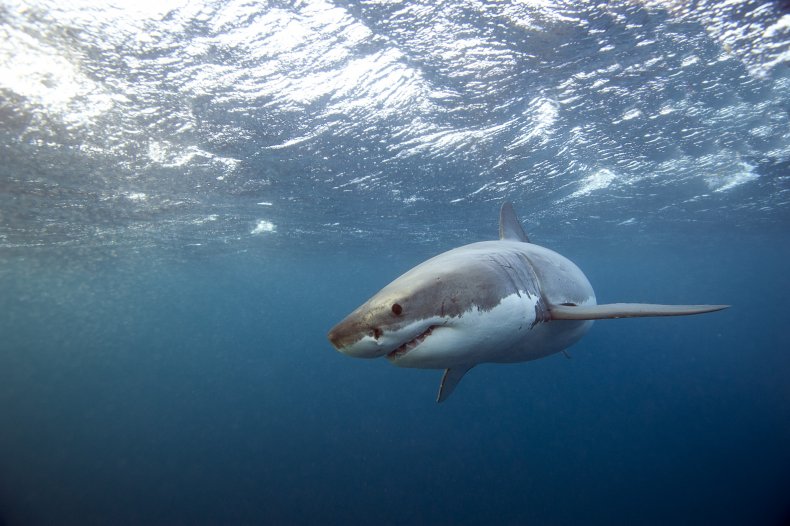 The survey analyzed the coast on a stretch of the Garden Route, from the Robberg peninsula to Grootbank.
In the middle lies Plettenberg Bay beach, where a 39-year-old woman died after being attacked by a shark on September 25.
At the time of the incident, experts said it was extremely rare, since, according to International Shark Attack File, South Africa has had only 37 such fatalities since 1997.
Great white sharks are particularly abundant in the Western Cape of South Africa during winter, but, with spring, it is particularly unusual that quite so many examples of the predator are still in the area.
According to the PSAG, the 12 great white sharks spotted were "more than generally expected during Plett's spring season."
The action group said that this could also be down to killer-whale predation in the area, and therefore "increased orca interactions."
Great white sharks have all but disappeared from their usual spots off the South Africa coast. Mossel Bay, for example, used to be a hotspot, before two orcas entered the area and began feasting on them.
The orca do not just hunt the sharks, but maim them in gruesome ways. Washed-up great white carcasses have shown scientists that the orca are tearing them apart to get to their liver.
Dr. Alison Kock, a marine biologist at the Scientific Services: Cape Research Centre, told Newsweek that what drives a shark movements is "an ongoing line of scientific enquiry," and there are many factors at play.
"From local and international studies of white shark populations worldwide, we know that movements and the reasons to move are complex. Think about all the reasons humans move from one place to another, daily, weekly, annually," Kock said.
"In the case of white sharks, so far we know that their movements are influenced by biotic factors like the maturity status and sex of the sharks, prey availability (and as a generalist predator, there are many potential prey sources) and predator avoidance (e.g. by killer whales).
Kock said: "There are also abiotic factors like habitat type, seasonality, water temperature, and lunar phase. There are likely more factors that we don't fully understand yet."
Great white sharks are an elusive species, meaning they are difficult to study, and as many sharks in the area are not tagged, this makes it hard to track, Kock said.
"Most of their behaviour remains hidden from us. As a result, there is a great deal of uncertainty around specific, localised events such as what is happening in Plettenberg Bay at the moment," Kock said. "We know that white sharks use the coastline of South Africa extensively.
"Thus, while local displacement due to predator avoidance is a possibility, we cannot discount other factors and should not expect there to be one easy answer."
Update 10/7/22, 2:53 a.m. ET: This article has been updated to state Alison Kock's affiliation at the Scientific Services: Cape Research Centre