Great White Sharks to Be Lured Closer to Coast After Orca Killing Spree
Great white sharks in South Africa may be lured closer to the coast following an orca killing spree.
Minister of Environment, Forestry and Fisheries Barbara Creecy says that shark cage-diving operations should be brought closer to the Strandfontein beach, Cape Town, near False Bay—a body of water in the southwest.
According to a government document, Creecy hopes the plans will aid a struggling shark tourism industry in the area, triggered by the disappearance of great white sharks there.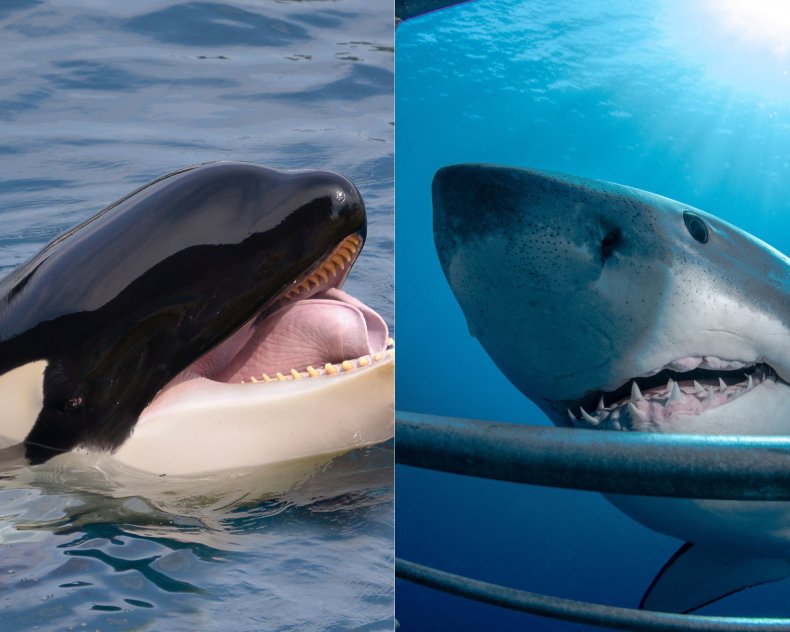 Shark cave-diving, which involves a diver watching the animals from inside a protective cage, is a popular tourism activity in South Africa. Operators use food and bait to lure the fish to the area, meaning these proposals would bring more sharks inshore.
The plans have been put forward following an absence of great white sharks in False Bay, which used to be a hotspot for the endangered species. But since 2017, they have all but disappeared from the area, and the shark tourism industry is suffering.
For a while, it was unclear what had caused the great white sharks to flee, but a study published in July this year said that two killer whales have been terrorizing the species.
The pair of orcas arrived off the coast of South Africa in 2017 and have been responsible for killing several great white sharks.
The two whales made headlines due to their gruesome hunting techniques. Washed-up great white shark carcasses showed that the orcas were not just attacking them, but tearing them apart to feast on their livers. Scientists believe the great white sharks migrated from the area to avoid being hunted.
Shark-diving companies are in favor of the plans, and the founder of African Shark Eco-Charters, Rob Lawrence, told the news outlet Daily Maverick that False Bay is the only area with three shark-diving cages that does not allow inshore operations.
"Because, even when the white sharks were here, our business was always curtailed to white-shark patterns and could not interact with the bronze whalers (copper sharks)," Lawrence said.
Others believe that it is time to reorganize the operations. "We needed to restructure our business and start working with other species of sharks," co-founder of Apex Shark Expeditions, Chris Fallows, told Daily Maverick.
The proposal will be available for public consultation until Sunday. If it is approved, the operations moving inshore would be only temporary, and the shark-diving companies would be allowed to work 1,421 to 2,734 yards from the shore.