Great White Sharks vs Hurricanes: What Happens During Huge Storms?
More than one devastating storm has hit North America in the past few days. As Hurricane Ian batters Florida, Atlantic Canada is dealing with the aftermath of Storm Fiona.
Although Fiona had been downgraded from a hurricane to a post-tropical cyclone by the time it reached Nova Scotia, it was one of the worst storms ever to hit the region. On Saturday, it brought 99mph winds and torrential rain to Canada's coastline. Many homes were damaged, with some even swept out to sea.
A group of great white sharks is currently off the coast of Atlantic Canada, on their annual migration route along the east coast. They spend summers in the north and winters in the south. So, what happens to sharks during such severe weather?
Researcher OCEARCH, which tags and tracks sharks, wrote on Facebook last week that it would "be interesting to see how they react" to Fiona and whether they "stay deep or head offshore." Tagged sharks "ping" when they come close to the surface of the water.
In the wake of the storm, an OCEARCH spokesperson told Newsweek that researchers were still monitoring the data to try to understand of the sharks' behavior. But a few sharks were tracked to Canada's coastline just after Fiona hit, with one even "pinging" during the storm.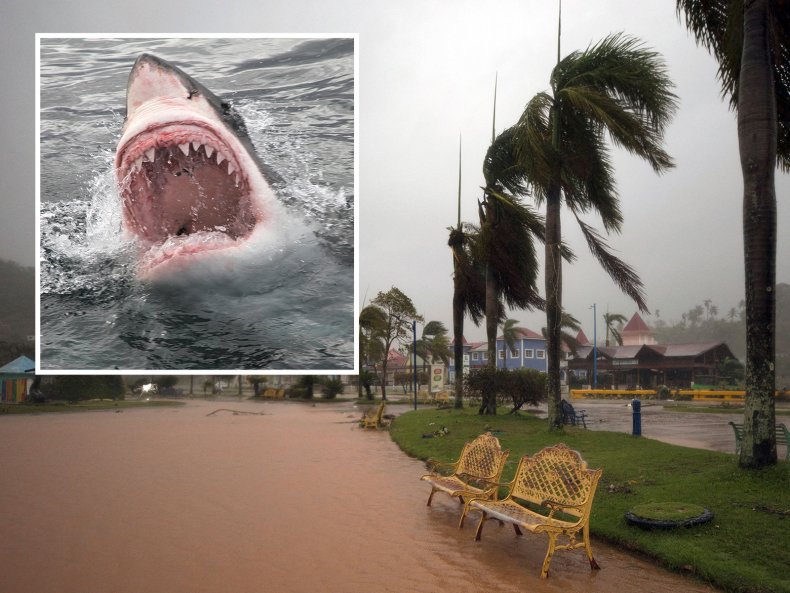 A Question of Size
James Sulikowski, from the Sulikowski Shark and Fish Conservation Lab at Arizona State University, told Newsweek that sharks' behavior during hurricanes depends on their species and size.
"There have been a few studies that suggest some smaller or younger species leave an area when a hurricane is coming, particularly if the water is shallow or coastal. Larger species may be less likely to move or may not move at all," Sulikowski said.
"This research suggests changes in atmospheric pressure may be a driver for the movement of some sharks. It's unlikely the sharks would be displaced for long. Movers may vacate the area, then return once conditions stabilized. Interestingly, we have a tagged white shark—a 12-foot male—that stayed in the Gulf of St Lawrence during Hurricane Fiona. He didn't seem to care."
OCEARCH's online shark tracker also reported a 12-foot great white off the coast of Canada during Fiona, although it is not clear whether this is the same animal.
The tagged shark, known as Scot, weighs 1,644 pounds. Scot was tracked off the coast of Nova Scotia on September 25, when Fiona was still wreaking havoc. Since then, he has continued to swim along the province and does not appear to have been displaced.
Florida—where Hurricane Ian hit as a Category 4 storm on Wednesday and more than 2 million people were without power early on Thursday—is home to many types of shark, as well as alligators and other wildlife.
Before Ian made landfall, the Florida Fish and Wildlife Conservation Commission warned residents to be wary of displaced wildlife.
"You may be more likely to see alligators, snakes and bears, so remember to stay alert and give them space," the commission said.
Flooding, and disorientation due to the conditions, can cause wildlife to turn up in strange places.