13-Foot Great White Shark Tagged at Nova Scotia 'Hotspot' As Hundreds Gather off Canadian Coast
Researchers have tagged a 13-foot-long great white shark in the waters off the Canadian coast as hundreds of the apex predators gather around the province of Nova Scotia—a "hotspot" for the species in the Northwest Atlantic.
The scientists from marine research organization OCEARCH fitted the shark, dubbed "Breton," with a monitoring device that will enable them to track the animal's movements and learn more about the behavior of these creatures.
The successful tagging came as OCEARCH kicked off its Expedition Nova Scotia 2020, which the non-profit hopes will build on two previous voyages to the area that resulted in the tagging and sampling of 17 great white sharks.
"Just a few hours into our first day of fishing, we successfully tagged our first white shark! Breton is a 13-foot, 3-inch long mature male named for the people of Cape Breton. What a start!" A post on the OCEARCH Facebook page read.
The team managed to catch Breton—who weighs around 1,400 pounds—near Scatarie Island, off Cape Breton.
"We started out there off Scatarie Island where we had some success last year. Sure enough within a couple of hours of setting up were able to capture a male white shark, Breton, a beautiful-looking animal," OCEARCH's Founding Chairman and Expedition Leader Chris Fischer said in a Facebook video. "That was exciting to get a start like that on the first day. Any time you're seeing one shark a day you're thrilled."
"And then the second day we were forced to move to the north side of Scatarie because the wind was howling out of the south. We had to hide behind the north end of the island. Another white shark came in and picked up the bait but it dropped it."
The OCEARCH team uses a modified drumline to catch sharks before guiding them back to the research vessel, where a special lift is used to bring them onto the deck. Once there, researchers take a variety of samples and fit the animal with a tracking device that "pings" every time its fin breaks the surface of the water. This sends a signal to a satellite, enabling the scientists to pinpoint its location.
OCEARCH has been tagging sharks all around the world since 2007. And the data they have collected in that time has revealed that Nova Scotia is an important hotspot for great whites in the Northwest Atlantic, alongside Cape Cod, Massachusetts.
White sharks congregate at these two sites every year in the late summer and fall to feed on the abundance of seals—and other prey—that are not available on the Southeast Coast where they spend the rest of the year.
"One of the most exciting recent discoveries that we are still learning more about is just how important Canada is to Northwest Atlantic white sharks," Fischer previously told Newsweek. "For years it has been known that places like Cape Cod are fall hotspots for white sharks, but Canada was never really on anyone's radar."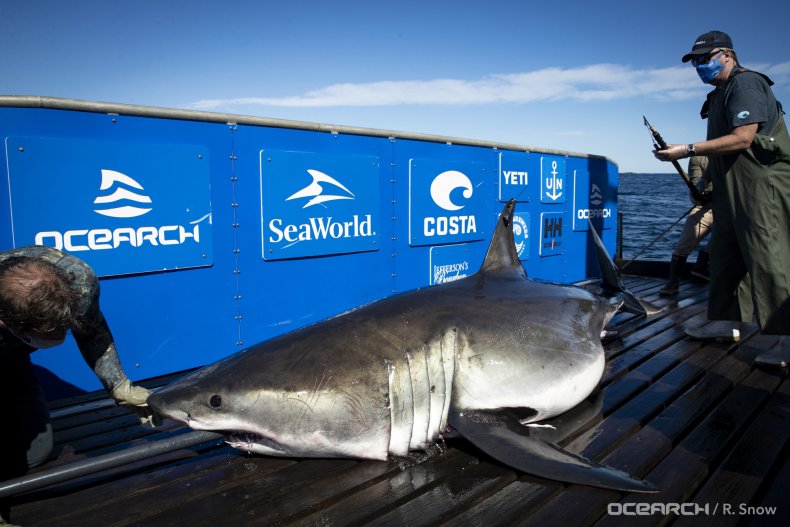 "But the two expeditions to Nova Scotia showed us that something very special is happening up there. There are way more white sharks than anyone previously suspected."
OCEARCH researchers believe that there may be two sub-populations of white sharks in the Northwest Atlantic, both of which use either the Cape Cod or Nova Scotia feeding sites.
Several of the white sharks that OCEARCH has tagged in the past—including Ironbound, Vimy and Teazer—have pinged recently off the shores of Nova Scotia, and many others have been spotted by people in the area in recent weeks.
"We are asked all the time why white sharks seem to suddenly be appearing here off the Nova Scotia coast," Fischer said in a statement. "The reality is that we suspect they've been here for quite some time, we just know about them now. Our expeditions in 2018 and 2019 really helped expose Nova Scotia as a white shark hotspot in the Northwest Atlantic."
"Now that we know they are here in big numbers, it's time to drill down and understand exactly how these animals are utilizing the area and how healthy the population is. We plan to gather the data needed to answer those questions on this expedition."