'Greatest Shot Ever Recorded': Clip of 1978 Spaceship Launch Goes Viral
Some images and video footage remain indelible and stand the test of time.
Such is the case of one particular video clip immortalized in the 1978 television docu-series Connections. The 10-episode BBC series, based on a book of the same name, was created, written and presented by scientific historian James Burke.
One particular clip alleged to be from the show's eighth episode called, "Eat, Drink and Be Merry..." has taken the internet by storm. A Reddit post in the "Damn That's Interesting" forum titled "The greatest shot ever recorded on TV!" has been upvoted nearly 43,000 times and features a clip of Burke discussing various gases.
Burke, who is now 85 years old, walks by a stationary spaceship, with an American flag visible in the background, and eventually stops in his tracks to explain that if hydrogen and oxygen are both released in a confined space, mixed and set light to them, "you get that."
When he says those words, he immediately turns around and points to a spaceship launching right on cue in the distance. It was what many would consider a once-in-a-lifetime filming opportunity, notably in 1978.
"Destination: the moon, or Moscow," the historian says as the video fades out.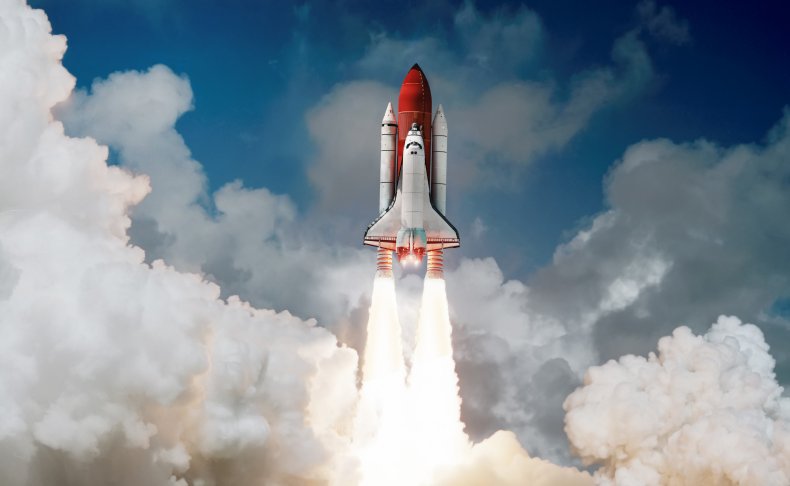 Due to success in syndication, Connections returned with sequels in 1994 and 1997.
Many recalled watching the program when it originally aired, in addition to telecasts on PBS. Some compared the series to Cosmos—originally hosted by famed astrophysicist Carl Sagan and more recently by Neil deGrasse Tyson, who is one of the most famous astrophysicists of our time.
"Connections was an absolutely fantastic show," one Redditor said. "It really underscored that scientific progress was based on surges of interconnected ideas, that the 'great man' theory was of limited use, even though that was the preferred historic narrative of the time. Science is like a wave, the crest of which is held up by all that has come before."
Another user recalled their 21st birthday and feeling "poor" the morning after, only to discover a Connections marathon on TV—"the only thing really remembered" during that two-day period.
Users also mentioned the Moscow reference given the current state of geopolitical tensions between Russia and Ukraine, though as one Redditor said, "That was the entire point of the series—ten episodes of how we got to fantastic technological breakthroughs that changed the world."
"The Cold War was terrible and magnificent," another user said.
Earlier on Friday, SpaceX launched Transporter-4 at Cape Canaveral Space Force Station in Florida. It was the seventh launch and landing of the Falcon 9 stage booster.
NASA's next spaceflight, designated as Axiom Mission 1 (Ax-1), is scheduled to launch at 12:05 p.m. on April 6 from NASA's Kennedy Space Center in Florida, and will travel to the International Space Station (ISS).