#GreatPresidentsNever Trends as Americans Weigh In on What A U.S. President Should Never Do
The hashtag #GreatPresidentsNever began trending Wednesday evening as thousands of Americans weighed in on what a U.S. president should never do, largely focused on the actions of President Donald Trump.
Large numbers of Americans took to Twitter to offer opinions on proper presidential behavior. The vast majority of the tweets were critical of Trump, although some mentioned past occupants of the White House while others praised Trump. As of Wednesday night, the hashtag #GreatPresidentsNever was one of the top trending topics on the platform.
"#GreatPresidentsNever have to lie about their acquaintances," tweeted user @outtatimetags.
"#GreatPresidentsNever back down! They fight for the people!" vocalist and member of the Trump campaign advisory board Kaya Jones wrote.
"#GreatPresidentsNever deny Abuse of Power and Obstruction of Congress, then continue to defend themselves by abusing power and obstructing Congress," @SethFromThe716 tweeted.
"#GreatPresidentsNever claim they are above the law," @WonderKat365 wrote alongside a GIF of former President Richard Nixon telling journalist David Frost, "Well, when the president does it, that means it's not illegal."
"#GreatPresidentsNever mock the disabled," tweeted @JenTusch.
"#GreatPresidentsNever Have extramarital affair's," wrote @Rachels_Ratchet, alongside a gif of former President John F. Kennedy.
"#GreatPresidentsNever Tweet photos of themselves as Rocky Balboa,"@GanjaGraves tweeted.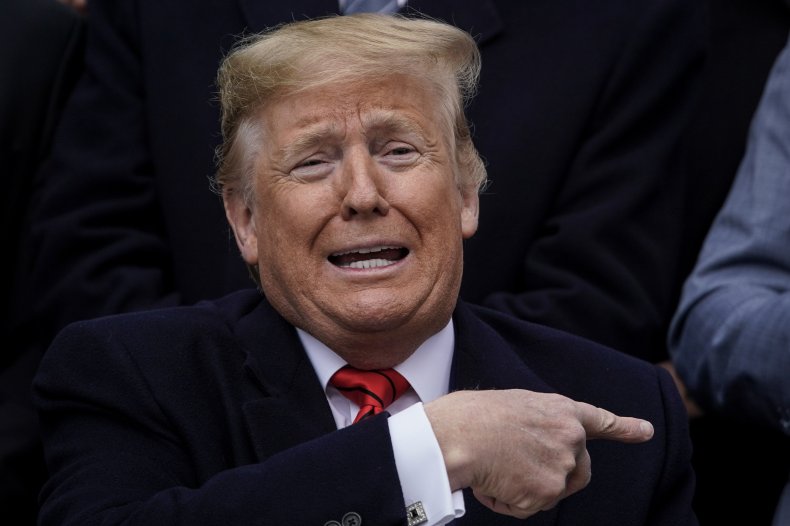 Trump was impeached on December 18 and the ongoing trial in the Senate has ruffled feathers for many online. The president has consistently denied allegations and characterized the impeachment as an unfair "witch hunt."
The House hearings that resulted in his impeachment were heavily criticized by Trump, who routinely complained that Democrats were not operating under rules resembling a court trial, despite the fact that the U.S. Constitution mandates that impeachments can only be tried by the Senate. The Senate trial has been criticized for operating under rules that have so far prohibited elements normally seen at trial, such as the calling of witnesses.
The president has supported Republican efforts to block witnesses, and some have accused him of trying to avoid a fair trial by specifically preventing the testimony of his former National Security Advisor John Bolton. Trump was less than pleased with news that Bolton's upcoming book The Room Where It Happened: A White House Memoir is said to back up an allegation central to the impeachment, that he tried to pressure Ukraine into announcing an investigation of his political rival, former Vice President Joe Biden.
Other incidents that have recently provoked social media backlash include the president's insistence that he does not know Lev Parnas, a former associate of his personal attorney Rudy Giuliani who says he worked on Trump's behalf in Ukraine. Parnas and his attorney have released multiple photos of the two men together, along with recordings that apparently capture conversations between the pair.
Trump's behavior on social media has also been the subject of a great deal of attention for many years. A prolific user of Twitter, he has long been prone to making controversial statements on the social media platform, sometimes written in all caps. Some of the tweets that have raised eyeballs recently have been arguably bizarre, including a doctored image depicting him as Sylvester Stallone's Rocky Balboa character.