In Pictures: Deadly Fires Rage Through Villages Near Athens, Greece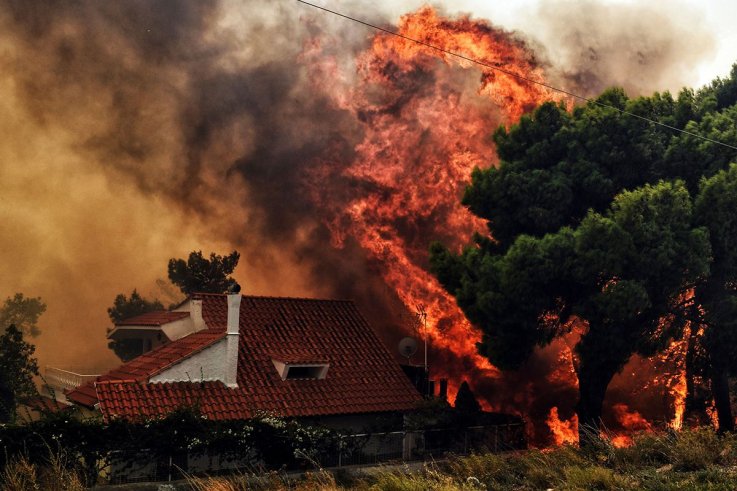 At least 74 people have been killed as wildfires raged through villages near Athens, including families with children found clasped in a last embrace as they tried to flee the flames.
People scrambled to the sea as the blaze closed in on Mati, 18 miles east of the capital. Hundreds were rescued by passing boats, but others found their way blocked by smoke and flames.
Emergency crews found one group of 26 victims, some of them youngsters, lying close together near the top of a cliff overlooking a beach.
"They had tried to find an escape route but unfortunately these people and their kids didn't make it in time. Instinctively, seeing the end nearing, they embraced," Nikos Economopoulos, the head ofGreece's Red Cross, told Skai TV.
Read more: Athens Greece wildfire: Dozens dead as blaze threatens holiday resorts around capital
Mati is in the eastern Rafina region, a popular spot for Greek vacationers, particularly pensioners and children.
The 26 deaths came on top of more than 20 casualties reported earlier. One of the youngest victims was thought to be a six-month-old baby who died of smoke inhalation. A Reuters witness saw at least four dead on a narrow road clogged with cars heading to a nearby beach.
The coastguard later said the bodies of four more people were retrieved from the sea. In total, coastguard and other vessels rescued 696 people who had fled to beaches. Boats plucked another 19 people from the sea.
In total, at least 60 people died, Evangelos Bournous, the mayor of nearby Rafina-Pikermi, said.
It was unclear how many people remained unaccounted for as coastguard vessels combed beaches to find any remaining survivors, with military hospitals on full alert, a government spokesman said.
"Greece is going through an unspeakable tragedy," Prime Minister Alexis Tsipras said as he appeared on television to declare three days of national mourning.
Greece issued an urgent appeal for help to tackle fires raging out of control in several places across the country, destroying homes and disrupting major transport links. Cyprus and Spain offered assistance after Greece said it needed air and land assets from European Union partners.
Authorities said they would be making use of an unmanned drone from the United States to monitor and track any suspicious activity.
Wildfires are not uncommon in Greece, and a relatively dry winter helped create current tinder-box conditions. But this was by far the country's worst since flames devastated the southern Peloponnese peninsula in August 2007, killing dozens.
Reuters contributed to this report.