Greece Fire: Families Sue Government Authorities, Alleging Criminal Responsibility
Two families in Greece filed a lawsuit against authorities as public criticism continues over the government's response to the July 23 wildfire, which killed more than 90 people.
This is the first legal claim holding the government accountable for the blaze in the coastal village of Mati, located 18 miles east of Athens.
"All those responsible for the prevention of fires, the extinguishing of fires and people's' safety should be convicted and are named in the claim," Antonis Foussas, the lawyer representing the plaintiffs, said. "They include the head of the civil protection agency, the governor of Attica, the mayor of Marathon and the police and fire service."
The lawsuit stipulates that the government officials are accused of negligent manslaughter and "felony counts of exposing people to danger," according to The Associated Press.
One of the relatives' victims was a teacher in his 70s. Vassilis Katsargyris was trapped in his garage after power cuts prevented him from opening the door, while his tenant, Maria Pagomenou, was also unable to escape. Their bodies were recovered between 300 and 400 yards from the residence.
Propelled by strong winds of up to 77 miles per hour, the fire spread quickly and almost completely destroyed the village. Almost 200 people were injured by the fire and more than 40 people are still hospitalized, according to the fire service.
The public has lashed out at government officials for their response to the blaze, which has been described as the worst to burn in Greece since World War II. During the fire, traffic police redirected drivers into the flames. Many people who managed to escape into the sea drowned because naval rescue ships took too long to arrive.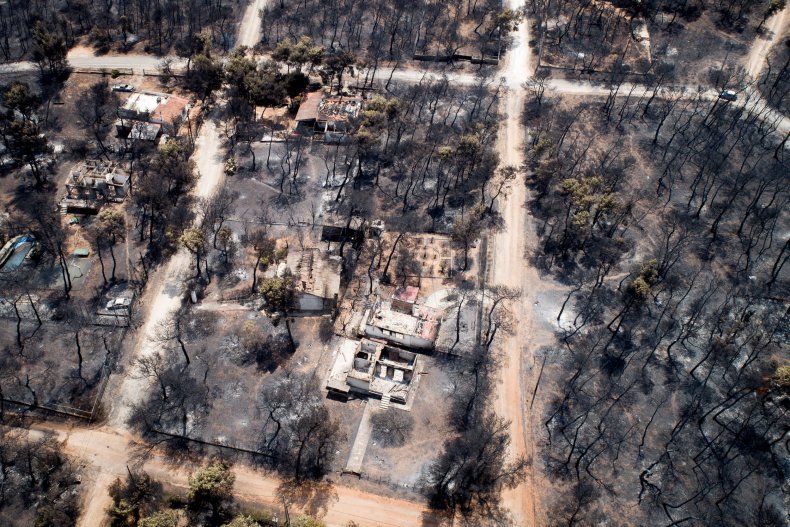 In 2007, Greece experienced destructive forest fires that burnt over 1,000 square miles.
Foussas used the 2007 lawsuits as a precedent for bringing legal claims against government authorities.
"In the disastrous fires of 2007 the competent authorities were found guilty of similar charges," Foussas said. "They received jail sentences of 70 years in total, which, under Greek law, they were able to pay off. Our hope is the same will happen again."
On Wednesday, Environment and Energy Minister Giorgos Stathakis said that 2,500 illegal buildings existed in woodland areas. The government expects to demolish illegally constructed properties, which authorities said contributed to the fatalities.
Greece Fire: Families Sue Government Authorities, Alleging Criminal Responsibility | World