Photos: Greece's Banks Close as Default Deadline Imminent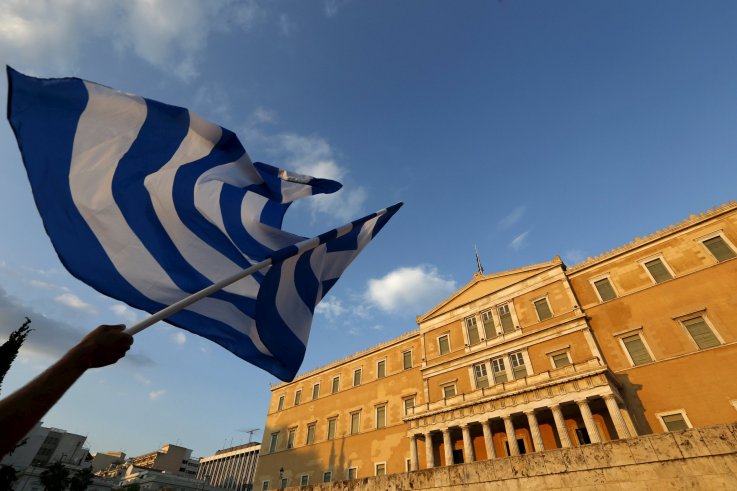 Greece endured its first day of severe banking restrictions Monday ahead of a July 5 referendum that will likely decide whether the country returns to using the drachma or remains a part of the euro. Banks and the Greek stock exchange were shut on Monday and will remain closed for the rest of the week to prevent a flood of money from leaving the country.
Bank ATMs were closed for part of the day and the government has imposed a daily withdrawal limit of 60 euros ($67). Pensioners were particularly affected, as many Greek seniors do not have ATM cards and have to make their cash withdrawals in person, the AP reports.
Greece is expected to default on a 1.6 billion-euro (almost $1.8 billion) loan payment it owes the International Monetary Fund (IMF), due Tuesday. Greek Prime Minister Alexis Tsipras on Saturday announced a surprise referendum that will ask Greeks whether the country should meet the demands of creditors. A "no" vote would most likely result in the country being ejected from the euro zone, and even a "yes" vote might not be enough to extend the terms of a five-year bailout plan, The Wall Street Journal reports.
European officials have urged Greeks to vote "yes" in the referendum, but protesters support a "no" vote took to the streets of Athens.In London, a solidarity march protest was held on Monday. "I'd like to ask the Greek people to vote 'yes' [in Sunday's referendum]," European Commission President Jean-Claude Juncker said in a speech on Monday. "I very much like the Greeks, and I'd say to them, 'You should not commit suicide because you are afraid of death.'"
Markets around the world felt the effects of Greece's economic woes. Stocks fell on Wall Street, with the Dow Jones industrial average down 1.3 percent and the Nasdaq average down 1.5 percent, The New York Times reports. The FTSE 100 in London fell two percent. S&P downgraded Greece on Monday and said there's a 50 percent chance of a "Grexit," the term being used for Greece exiting the euro zone.
On Monday, the U.K. Foreign Office updated its travel information about Greece, advising people visiting Greece to take enough euros to cover the duration of their stay and "emergencies, unforeseen circumstances and unexpected delays."