Greece Raises Taxes in Exchange for Debt Relief, Loans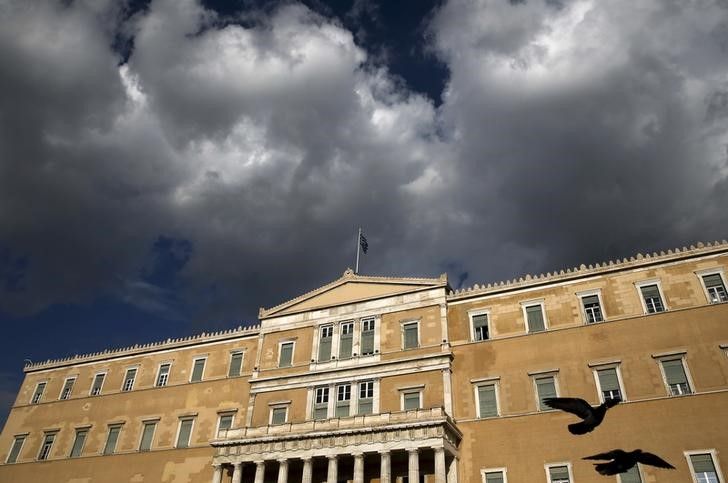 Greek lawmakers approved tax increases and a new privatization fund on Sunday and freed up the sale of non-performing loans in exchange for much-needed bailout loans and debt relief.
Athens hopes the measures, two days before a key euro zone finance ministers meeting, will help it unlock the funds it needs to pay IMF loans, ECB bonds maturing in July and increasing state arrears.
"Greeks have already paid a lot, but this is probably the first time that the possibility of these sacrifices being the last is so evident," Prime Minister Alexis Tsipras told lawmakers before a vote in parliament.
His left-led coalition, re-elected in September on pledges to implement the terms of a 86-billion euro bailout it signed up for in July, has a narrow majority of 153 lawmakers in the 300-seat parliament.
The coalition voted in favor of the reforms with only one MP against some articles on the new privatization fund and a contingency mechanism of spending cuts that will be activated only if Athens looks set to miss its fiscal targets.
The taxes will hit Greeks where it hurts, with increases in value-added tax by one point to 24 percent, more tax on fuel, tobacco, internet usage and an extension of a property tax.
Hundreds of demonstrators rallied outside parliament in the evening to protest against the reforms.
"It's a disaster!," said 60-year old businessman Panayiotis Kehris. "We will cut down on everything, from food to driving."
To appease the angry public, Tsipras told lawmakers that each time Athens exceeds its annual primary surplus targets, the extra state revenues would go to a social solidarity fund. About 700 million euros would go the fund this year, he said.
Debt relief
Talks between Athens and its foreign creditors over the reforms have dragged on for months, mainly due to a rift between the EU and the IMF over Greece's fiscal progress and resistance in Athens to unpopular measures.
The IMF says Greece cannot achieve a 3.5 percent primary surplus target in 2018 or later unless it gets substantial debt relief and takes upfront measures. It has set both as conditions for its participation in the bailout.
EU lenders, eager to wrap up the negotiations quickly and avoid a new crisis in the bloc, insist the targets are feasible but euro zone paymaster Germany needs the IMF to be involved.
To help break the deadlock, Athens has included a contingency mechanism of spending cuts, which will be activated if it is set to miss its bailout targets. The IMF has yet to approve it, a source close to the lenders said.
The May 24 Eurogroup meeting will discuss the mechanism and flesh out details on how to ease the country's debt burden. The government wants a concrete deal on short-term and medium debt relief.
Tsipras hopes that a debt restructuring will help attract investors and convince Greeks that their sacrifices are starting to pay off after seven years of austerity.
"European leaders will receive a message tonight, that Greece fulfils its obligations. Tomorrow, the other side must also take responsibility," he said.