Greece Rolls Out Baby Bonus to Slow Population Shrinkage, As It Declares Sea Wall to Curb Immigration
The Greek government has started rolling out what has been dubbed a "baby bonus" program in a bid to boost the country's population numbers, offering families with newborns a €2,000 ($2,200) reward.
The bonus program, which came into force this year, seeks to help offset the projected shrinkage of Greece's 10.7 million population, with the country's numbers expected to significantly diminish in the decades to come if birthrates continue to decline, according to the European statistics office, Eurostat.
Greece's new center-right government is so determined to boost population numbers that it is prepared to invest as much as €180m a year in the scheme, according to The Guardian.
"People might think this is an issue of national pride but it's actually one of national preservation," Domna Michailidou, a former Cambridge University academic and the deputy minister of labor and social affairs, told The Guardian. "Given that high productivity rates are associated with young populations and not actively aging ones, it's also an economic growth priority. The picture becomes even more gloomy when compared with the difficult state of our pensions system."
Yet, as the Greek government seeks to boost population numbers, it has also announced new measures to deter immigration to the country, despite its concerns over a shrinking populace.
On Thursday, the country's Athens-based Defense Ministry announced plans to install a floating wall in the Aegean Sea in an effort to deter sea crossings from Turkey.
The Defense Ministry put out a call for vendors for offers to build a "Floating Protection System," which would be erected in the waters off the island of Lesbos, which has long been the gateway to Europe for many migrants, asylum seekers and refugees.
Expected to be about 1.68 miles long and have a net-like makeup, the structure would be expected to over a foot-and-a-half above sea level and would have lights, making it visible at night, according to Reuters.
In its request, the Greek government said it would be willing to spend roughly €500,000 on construction for the project.
"The invitation for floating barriers is in the right direction," Defense Minister Nikos Panagiotopoulos told Skai Radio (via Reuters). "We will see what the result, what its effect as a deterrent will be in practice."
The defense minister compared the project to a cement and barbed-wire fence Greece put up in 2012 along its northern border with Turkey to prevent migrants and asylum seekers from crossing over there.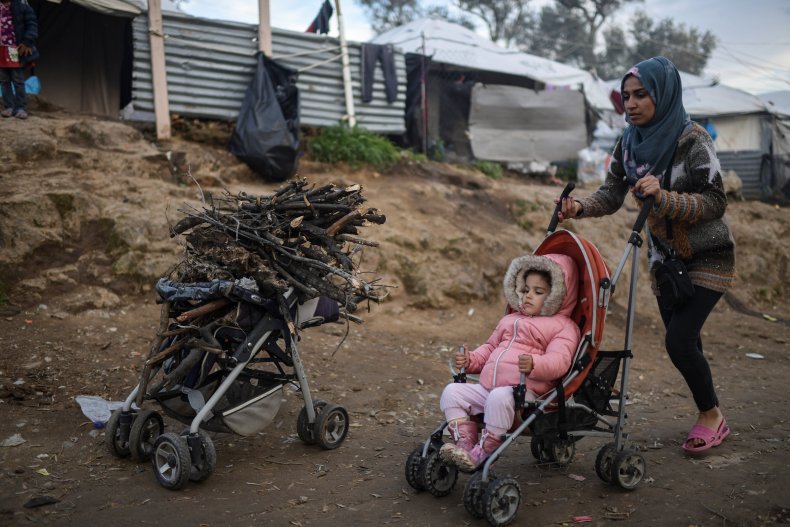 "It will be a natural barrier. If it works like the one in Evros...it can be effective," Panagiotopoulos said.
Plans for the sea barrier come as Greece continues to see high numbers of migrants, asylum seekers and refugees arriving on its islands.
Last year, 59,726 migrants, asylum seekers and refugees arrived on Greece's shores, according to the United Nations refugee agency (UNHCR). Nearly 80 percent of those, the UNHCR has said, arrived on Lesbos, Samos or Chios.
Severe overcrowding and poor conditions at camps housing migrants and asylum seekers on the islands have led to significant protests on Lesbos this week, with migrant protesters clashing with Greek police outside the Moria and Kara Tepe refugee camps.
Police officers were accused of using teargas in the clashes, with children reportedly being hit with the chemical agent, causing further outrage across the island.
In an interview with Newsweek on Monday, Boris Cheshirkov, the United Nations Refugee Agency's (UNHCR) spokesperson for Greece, said the situation on Lesbos "has become critical."
Responding to Greece's plans to build a sea barrier, Cheshirkov said that while "states have a legitimate right to manage their borders...this should be done in what UNHCR calls a 'protection-sensitive' way."
The majority of those who risk the journey to Greece's shores, he said, "likely need international protection."
Demonstrative of that, he continued, is the fact that in 2019, more than 85 percent of the people who came to Greece by sea were "coming from countries such as Afghanistan, Syria, but also Iraq, Palestine, the Democratic Republic of the Congo and others who likely need protection."
"And, in fact, if we look at the decisions that authorities took in 2019...on asylum applications, in more than half of the cases, for more than 17,000 people, they were granted international protection," he said.