Greece Will Impose Monthly 'Health Fee' to Unvaccinated Adults Over 60 as Cases Surge
On Tuesday, Greek Prime Minister Kyriakos Mitsotakis announced the country would make COVID-19 vaccinations for all citizens of Greece who are over 60 years of age mandatory. In addition, he said those who refuse to get vaccinated will have to pay a monthly fine of 100 euros (approximately $114).
"It is not a punishment," Mitsotakis said of the fine. "I would say it is a health fee."
"The new Omicron variant is a concern for us and means we must be vigilant," he added.
Mitsotakis made the announcement during a televised cabinet meeting in Athens on Tuesday. The effort comes as Europe is scrambling to address the threat of the new Omicron variant ahead of the busy holiday season.
Greece's healthcare system has already been taxed by the COVID-19 pandemic with ICU occupancy near capacity nationwide, and the country lags behind other countries on the continent in vaccination rates.
"Unfortunately, of the 580,000 unvaccinated of our fellow citizens over the age of 60, only 60,000 set up appointments to get vaccinated in November," Mitsotakis said. "But it is mainly people over 60 who require hospital treatment and sadly lose their life. These deaths are unnecessary."
Only about 63 percent of Greece's 11 million population is fully vaccinated. Meanwhile, the country's death toll from COVID-19 was more than 18,000 this week, and confirmed infections are at record levels, according to the Associated Press.
Mitsotakis noted that Greece's vaccination ratio in the over-60 age group is around 83 percent, which is fair below Portugal's 98 percent.
"Experts estimate that the importance of the vaccine in a 70-year-old person is equivalent to 34 vaccinations of younger ones in terms of public health," Mitsotakis said.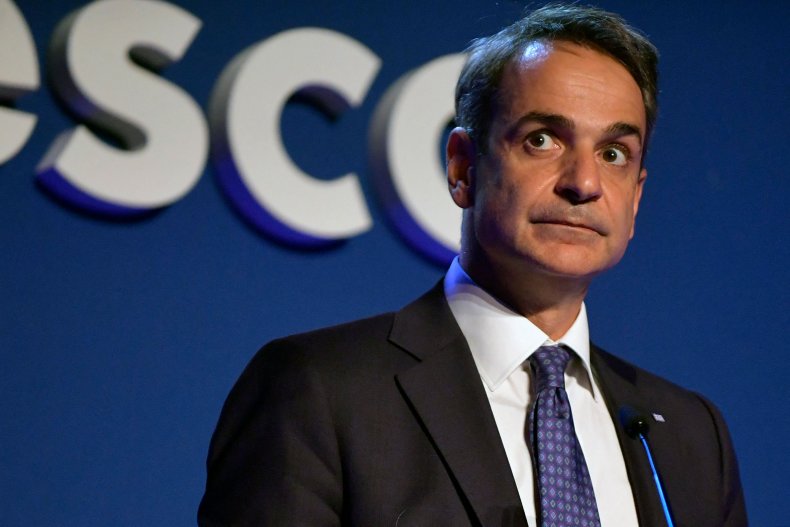 Development Minister Adonis Georgiadis called the move to impose a vaccine mandate on those over the age of 60 a "politically difficult decision," but called it necessary.
"If we chose the easy path we would say: 'It's their problem,'" he said. "(Unvaccinated people over 60) wouldn't get inoculated, they would die in their thousands and we would wash our hands of them so as not to lose votes. That is an immoral course of action."
The 100 euro penalty will be imposed by Greece's tax authorities, and the fines collected will be distributed to Greek hospitals fighting COVID-19. The measure will go into effect on January 16, Mitsotakis said.
Reuters reported that Greece's new rule will be the first such action in the European Union aimed at a specific age group. Thus far, Greece has resisted imposing new lockdowns.
Greece previously imposed vaccination mandates over the summer for healthcare workers and fire service rescuers. Those workers who did not comply with the mandates were suspended from their jobs without pay.
Mitsotakis also said Greece will provide free self-testing kits to every adult during the periods of December 6-12 and January 3-7.