Greece's Syriza Could Face Schism After Election Triumph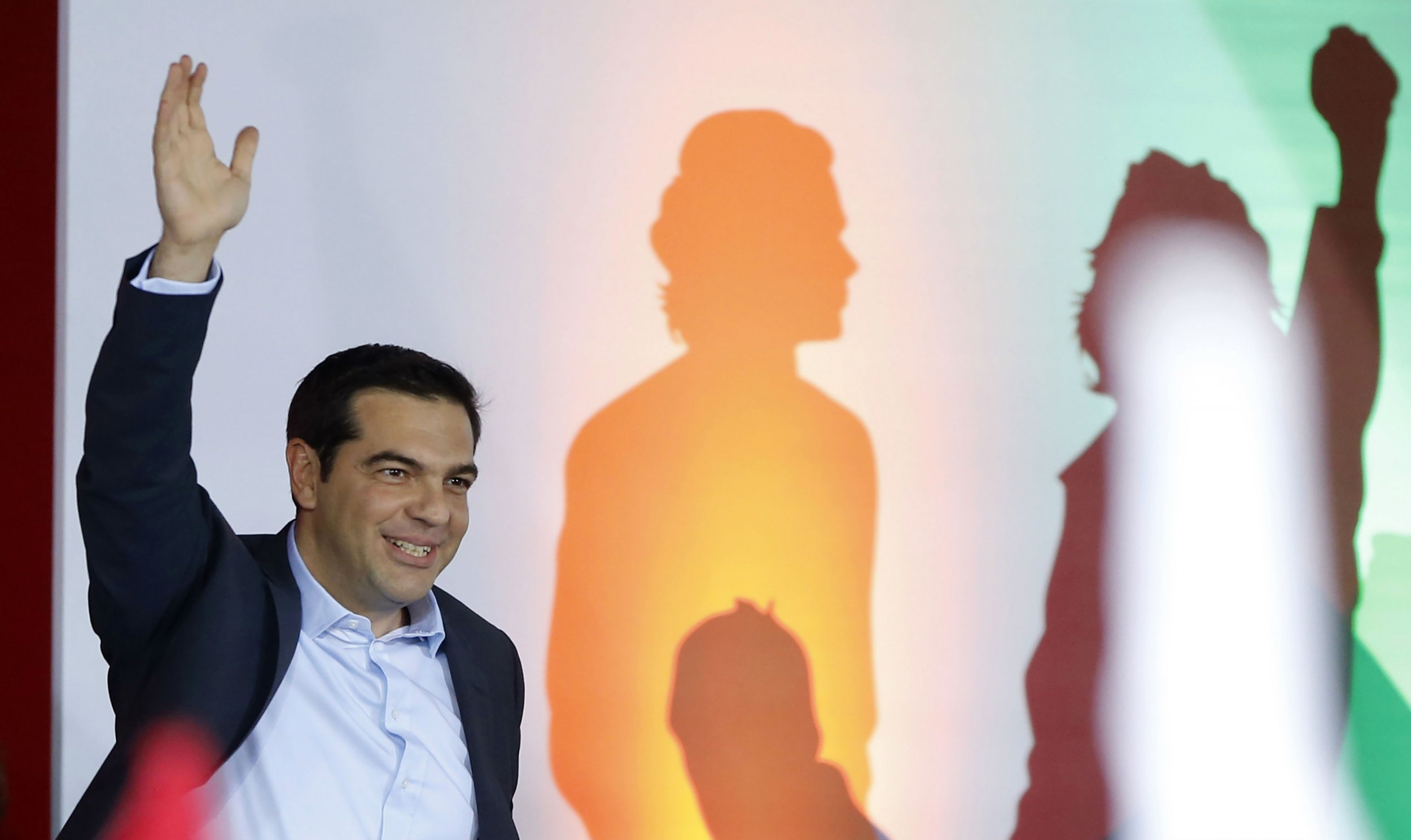 Syriza, the left-wing coalition of parties leading in six different opinion polls ahead of Sunday's parliamentary election in Greece, is in danger of a schism due to alleged infighting within the alliance itself over Eurozone membership according to political analysis from the University of Athens.
"After the elections everyone is waiting to see the results of the negotiations of the new Greek government with the troika [consisting of the International Monetary Fund, European Commission and European Central Bank]," says Aristides Hatzis, associate professor of law, economics and legal theory at the University of Athens. "However there is going to be a second, less discussed negotiation between the more moderate leadership of Syriza with the radical faction of the party."
Syriza have become the most popular party in Greece, promising to freeze state layoffs and reverse wage cuts as public outrage against EU-imposed austerity has run high.
According to Hatzis, however, as polls continue to indicate Syriza is nearing winning a majority in the Greek parliament, the alliance has grown increasingly pragmatic and moderate, setting up a battle with the party's left that could see leader Alexis Tsipras struggling to keep the alliance together.
"The leadership has slowly but steadily move to more centrist positions for the past weeks," Hatzis says, predicting that, in the case of a Syriza landslide victory, the party's leadership "will try to persuade the radical leftist faction that a compromise is necessary in order for Greece to stay in the Eurozone."
While this would appear to be be a U-turn from much of Syriza's anti-Eurozone rhetoric since the last election in 2010, there has been a noticeable move towards more moderate policies.
Notably one of the party's leading members, Dimitris Papadimoulis, said last year that the times when Syriza wanted to do away with the euro and return to the drachma "are gone", while leader Alexis Tsipras himself issued a statement to "the German taxpayer" earlier this month, in a bid to alay fears his party wanted to lay the groundwork for "an agreement with the Eurozone that would allow Greeks to breathe".
According to Hatzis this move from the far left to a more pragmatic centre is a conscious one and has been a long time in the making.
"During the pre-election period the party seemed united," he says. "Any wrong moves could jeopardize the victory."
"However a lot of extremists inside the party made some unreasonable, politically costly, sometimes even purely stupid and ignorant, statements," Hatzis says alluding to Syriza candidate Rachil Makri's statement on live television that Greece can remain liquid by unilaterally printing up to €100 billion, earlier this month.
Syriza, which is a an acronym for 'Coalition of the Radical Left', have long had a broad spectrum of political persuasions in their midst, only uniting as a single political party, as opposed to an alliance of more than eight different parties, in 2012.
"During the pre-election period the party seemed united, however in the case of a landslide victory the leadership will try to persuade the radical leftist faction that a compromise is necessary in order for Greece to stay in the Eurozone," Hatzis adds.
"This made sense for them because 74% of the Greek people wish for Greece to stay in the Eurozone."
According to Hatzis the 'plan B' for the party, should the moderates fail to convince the far-left members, is to break up Syriza.
"The plan B is a schism, especially if the leftist faction is small and the leadership of Syriza realizes that the party should move to the centre if it wants to consolidate its leading role in Greek politics."
Some are less convinced that Syriza's probable election triumph will see them crumble under their own diversity of opinions. Yianiss Baboulias, who profiled Alexis Tsipras ahead of this week's election believes Syriza may face a difficult task overturning the austerity measures as rapidly as they hope to, but unity is not an issue for them.
"A break-up between a more moderate Syriza and it's far-left wing is a popular theory but as far as I have seen in my conversations with Syriza officials and activists, a schism in Syriza is not very likely," he says
"The party operates with an unparalleled democratic structure, decisions are reached by consensus of 70% to 80%, and even those who disagree accept them."
According to economists, Syriza face a bigger challenge than maintaining their unity once in power. Business Insider have already reported the EU's recent decision to lock the Greek government out of discussions of its quantitative easing package for at least the next six months could mean whatever government comes to power on Sunday, Greece will not have much legal scope to reverse its austerity measures.
Originally, quantitative easing would have allowed Greece to renegotiate its bailout terms as soon as next month, however now this will not be possible for at least another six, regardless of whether Syriza succeed in storming to power in Sunday's election or not.
Wolfango Piccoli analyst for Teneo Intelligence told Business Insider, it is unlikely the troika of Greece's lenders will not make a change in their demands from Greece.
"Syriza's belief that the troika will grant the new government significant leeway is likely to backfire," he said.