After videos depicting a donkey struggling to walk under the weight of heavy bags and another being beaten by its owner sparked outrage among animal activists, officials in Santorini announced they would enact protections for the famed equines that transport tourists around the Greek island.
The municipality of Santorini said Saturday it would limit the weight of each load the donkeys and mules can carry and the number of hours they can work based on their weight and size. Officials also agreed to improve shade for the animals for relief from the heat, which averages about 85 degrees Fahrenheit during summer months, and provide a more steady supply of water in their stables.
In a meeting with local officials, four animal welfare groups agreed to secure funding for a veterinary ultrasound for the island's donkeys. A protest staged earlier in July was met with opposition from local donkey owners, who also joined the meeting to discuss improved welfare measures.
U.K. charity the Donkey Sanctuary said the donkeys worked in "disappointing" conditions, hauling tourists and their luggage or loads of trash up and down Santorini's 600 steep steps of the Karavolades Stairs in Fira, the state's capital.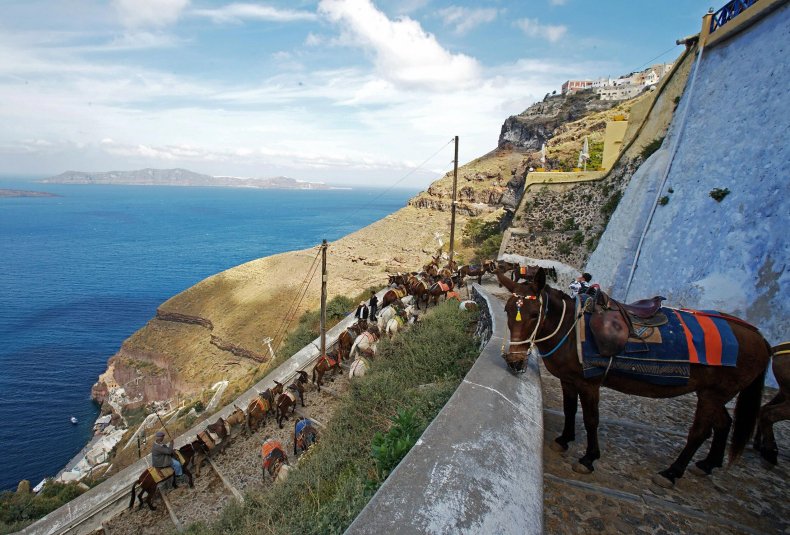 Donkeys have transported Greek locals and tourists since long before cars were invented, but populations of the country's donkeys declined 97 percent between 1955 and 2008 among mounting concerns for their welfare and long-term health, researchers found in a 2010 study. Another paper found more than 75 percent of donkeys and mules used for similar packwork in the Middle East suffered limb deformities and had difficulty walking under the weight of their loads.
The same study reported that donkeys were more likely to display aggression than other equines. In 2008, a woman was trampled to death by a donkey that escaped its owner in Fira, according to the Greek Reporter.
Animal activism has prompted governments to re-evaluate their current protection policies. In 2017, the European Union's European Parliament adopted a new initiative to improve the health of horses, mules and donkeys popular in tourist destinations by encouraging basic health practices and rewarding small farms for positive animal treatment.
Donkeys are a common mode of transportation through the deserts of Petra, Jordan, but animal welfare officials feared the 900-step journey to the Petra Archaeological Park, a UNESCO World Heritage Site, places too harsh a toll on the animals, who make the trip several times a day without reprieve. In July, Petra authorities and a Saudi Arabian prince agreed to introduce electric vehicles to carry tourists in addition to the donkeys, water stations and updated animal clinics for regular care to better preserve the park from animal and human footfall.