Greek Paradise Island Cat Sanctuary Offers Job Living Rent-Free With 55 Felines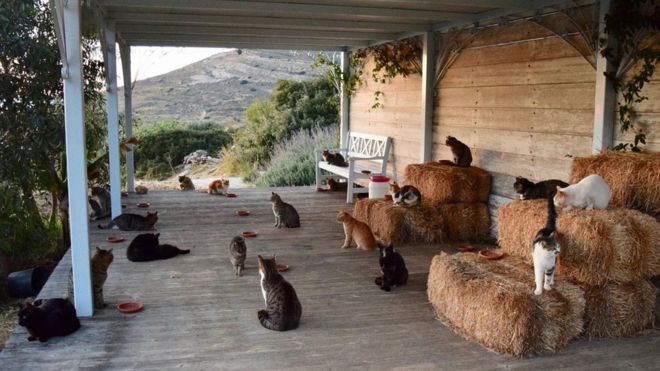 The ultimate dream job for cat lovers has surfaced in Greece.
God's Little People Cat Rescue on the Greek paradise island of Syros is offering a job for someone to look after their 55 felines. The position comes complete with free accommodation boasting views of the Aegean Sea.
In the job description, Bowell details that she is looking for someone over the age of 45 who is "responsible, reliable, honest, practically inclined - and really, with a heart of gold!"
"I am looking for someone who can take over the daily running of my Greek cat sanctuary in my absence. You will have 55 cats in your care and need to be able to overview them all + feed and medicate," she wrote.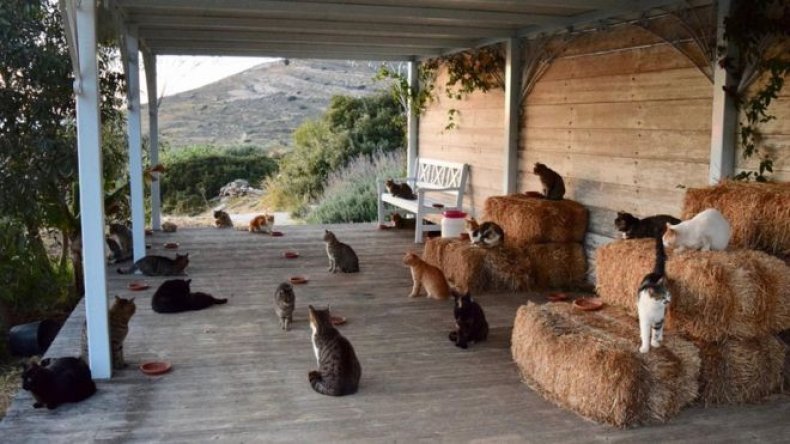 "As part of the job you'll have a fully paid (incl. water & electricity) semidetached modern tiny house with it's own garden (direct view to the Aegean Sea!) plus a salary."
Bowell isn't just looking for a domestic cat lover but also someone who can "trap or handle a feral or non-sociable cat". In order to be capable of such a task, the ideal candidate will need to be knowledgeable in "cats' psychology", as well as possess "cat-whispering skills."
Since it was posted earlier this month, the Facebook job offer has attracted a lot of attention, with over 16,000 likes, 19,000 comments and 21,000 shares. More than 200 people have also contacted Joan Bowell, the sanctuary owner, with their applications, the BBC reported.
"Please consider me. I am a widow and absolutly ador [sic] cats and have 5 of my own," Diane Jones said in the comments section, while Shawn McInturff wrote: "Oh I can do this my dream job... Can I bring my own 4 cats."
"It really is dream work. Beautifful place and beatiful cats, but I have too many animals of mine. I worked a long time in shelters for dogs and I am homeopath, and studied homeopahty for animals. Have 5 cats, 3 dogs and 2 birds," Nada Aleksić added.
"Would like very much to visit you and help or be replacement for some time up to month if needed, but can not be longer absent from my animals. I am 62 and retired architect."
For all those thinking about applying, beware that your expectations match reality. In 2009, Ben Southall was selected among thousands to the "best job on the planet": the caretaker of Hamilton Island in Australia, a popular tourist attraction and largest inhabited island of the Whitsunday Islands.
Last year, he told the Independent that it was "the best job in the world but also the busiest job in the world." "I remember there was a winner's party on Hamilton Island, but I didn't manage to get to it because I was doing back-to-back interviews," Southall said.
Greek Paradise Island Cat Sanctuary Offers Job Living Rent-Free With 55 Felines | World