Greek PM Tsipras Rules Out Turning to Russia for Aid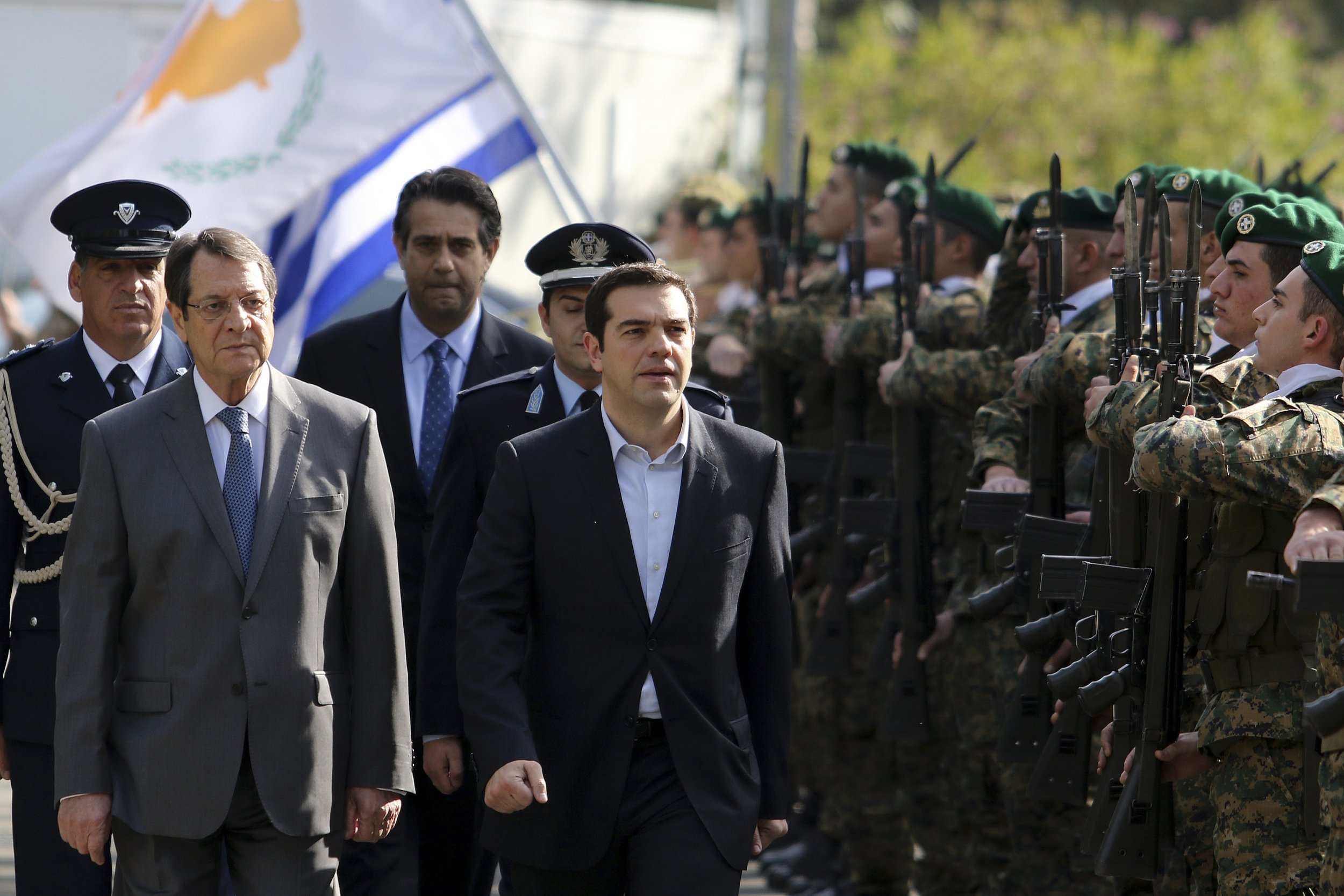 Greek Prime Minister Alexis Tsipras on Monday said his left-wing government would make full use of a mandate for negotiations with European partners and ruled out seeking aid from Russia.
"We are in substantial negotiations with our partners in Europe and those have lent us. We have obligations towards them," Tsipras said at a news conference, when asked about whether Greece was open to aid from Russia.
"Right now, there are no other thoughts on the table."
Speaking in Nicosia during his first foreign trip as prime minister, Tsipras said he discussed with Cypriot President Nicos Anastasiades the need for a coordinated stance for a "bridge of peace and cooperation between Europe and Russia."
Tsipras also ruled out his country leaving the euro, saying anyone who believed small euro zone states like Greece and Cyprus were not essential in the bloc would be disproven.
"The EU and eurozone would be both dismembered along their Southeastern flank without Greece and Cyprus," Tsipras said.
Tsipras also called for the "troika" mechanism of European Commission, European Central Bank and IMF inspectors overseeing the finances of struggling countries to be replaced.
"I believe that this would be a mature and necessary development for Europe," Tsipras said.
Tsipras also said his government would strongly support the Cypriot government's efforts to seek a reunification of the island, which was split in a Turkish invasion in 1974 triggered by a brief Greek-inspired coup.
Meanwhile, Greek Finance Minister Yanis Varoufakis is to tell major investors and bankers later on Monday that Greece will be able to service its debt with no damage done to private investors, a source with knowledge of the matter said.
The source said Varoufakis planned to meet about 100 banks and financial institutions at an event later on Monday.
"We will be able to service the Greek debt on terms that will have no detrimental impact on, especially private, bond holders," said the source, who spoke on condition of anonymity because of the sensitivity of the matter.
"The message will be that we are very open to investment, that people should listen to the finance minister, who's got absolute confidence of the prime minister, rather than other noises from any other direction," the source said.
Varoufakis, wearing a bright blue untucked shirt and a black jacket with no tie, had a 45-minute meeting over coffee with besuited British finance minister George Osborne in Downing Street on Monday.
After the meeting, Varoufakis left Downing Street without public comment while Osborne said that a stand-off between Greece and the euro zone over Greek debt was fast becoming the biggest risk to the global economy.
"We had a constructive discussion, and it is clear that the stand-off between Greece and the euro zone is the greatest risk to the global economy," Osborne said after meeting Greek Finance Minister Yanis Varoufakis in London.
"I urge the Greek finance minister to act responsibly but it's also important that the euro zone has a better plan for jobs and growth," Osborne said.
"It is a rising threat to the British economy. And we have got to make sure that in Europe as in Britain, we choose competence over chaos."